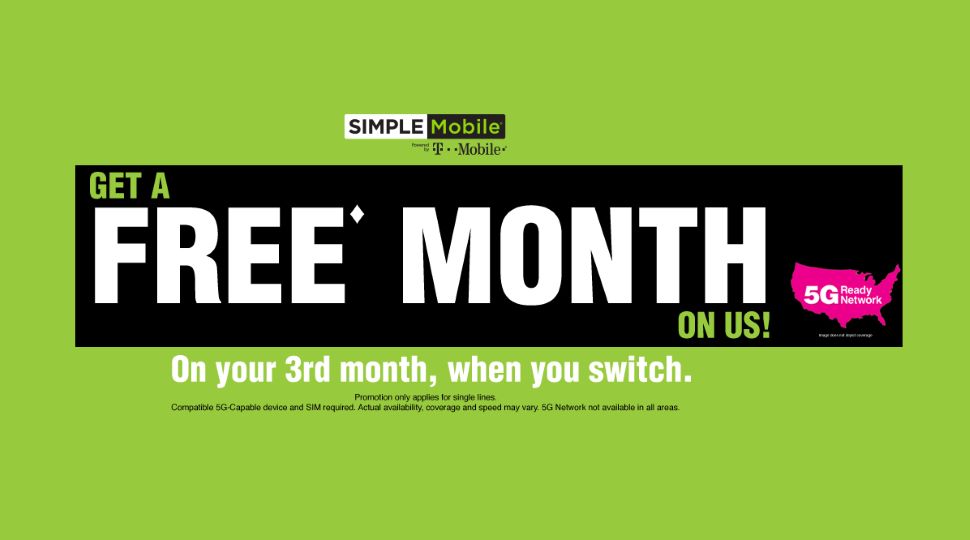 ---
Simple Mobile has a new switcher promotion running.  Customers who switch over to the Tracfone owned brand will receive their third month of service for free.  Simple Mobile's service is provided by T-Mobile towers.
"Free Month On US" Offer Details And Fine Print
This offer will be available at least until 3/31/2020.  It is available to single line customers only.  To get the offer customers must port-in from another provider that is not owned by Tracfone.  Customers are free to subscribe to any Simple Mobile single line plan.  The offer is unavailable online and can only be found through participating dealerships.
Be informed of the latest deals, plans and promotions from T-Mobile and every one of its MVNO's when you subscribe to the T-Mobile weekly newsletter. No spam and you can unsubscribe at any time!
To qualify for the offer subscribers must also remain active on their plan for two consecutive months with no interruptions in service. One month equals 30 days of service.
The free third month will be added to the account's reserve and will be equal to whatever plan the customer was subscribed to in their second month.
Eligible Phone Plans
Eligible phone plans include the following options:
$25 ($20 with autoreup for first 3 months only) - 3GB high-speed data
$30 ($28 with autoreup) - 5GB high-speed data
$40 ($37.50 with autoreup) - 15GB high-speed data
$50 ($45 with autoreup) - unlimited high-speed data plus 5GB mobile hotspot
$60 ($57 with autoreup) - unlimited high-speed data plus 15GB mobile hotspot and 50GB of cloud storage
All plans described unless stated otherwise include unlimited talk, text, and data with the specified amount at high-speeds before throttling to 2G data speeds.  Mobile hotspot is also included with each plan.  High-speed refers to either 4G LTE data speeds or 5G.  To get 5G data speeds customers must have a 5G compatible device and SIM card and be in a location serviced by T-Mobile's 5G network.
All plans also include unlimited international calling and texting and free international roaming while traveling in 16 Latin American countries.
The two unlimited high-speed data plans have a data prioritization policy in place.  Subscribers who consume more than 40GB of data in a month may have their data speeds temporarily slowed during times of network congestion.  Video streaming on each unlimited plan is limited to a resolution of 480p.
In general, during times of network congestion, Simple Mobile customers may notice reduced speeds on any Simple Mobile plan compared to T-Mobile direct subscribers.
Taxes and fees cost extra.
Simple Mobile also has also brought back it's prepay for 3-months in advance on the $40 plan and save $20.  This one also appears to be dealer only and you can check out the offer details in the graphic below.  The offer was originally brought back likely last October and may be one that Simple Mobile keeps extending the end date on.

---
---