Simple Mobile Offering "Free Month On Us"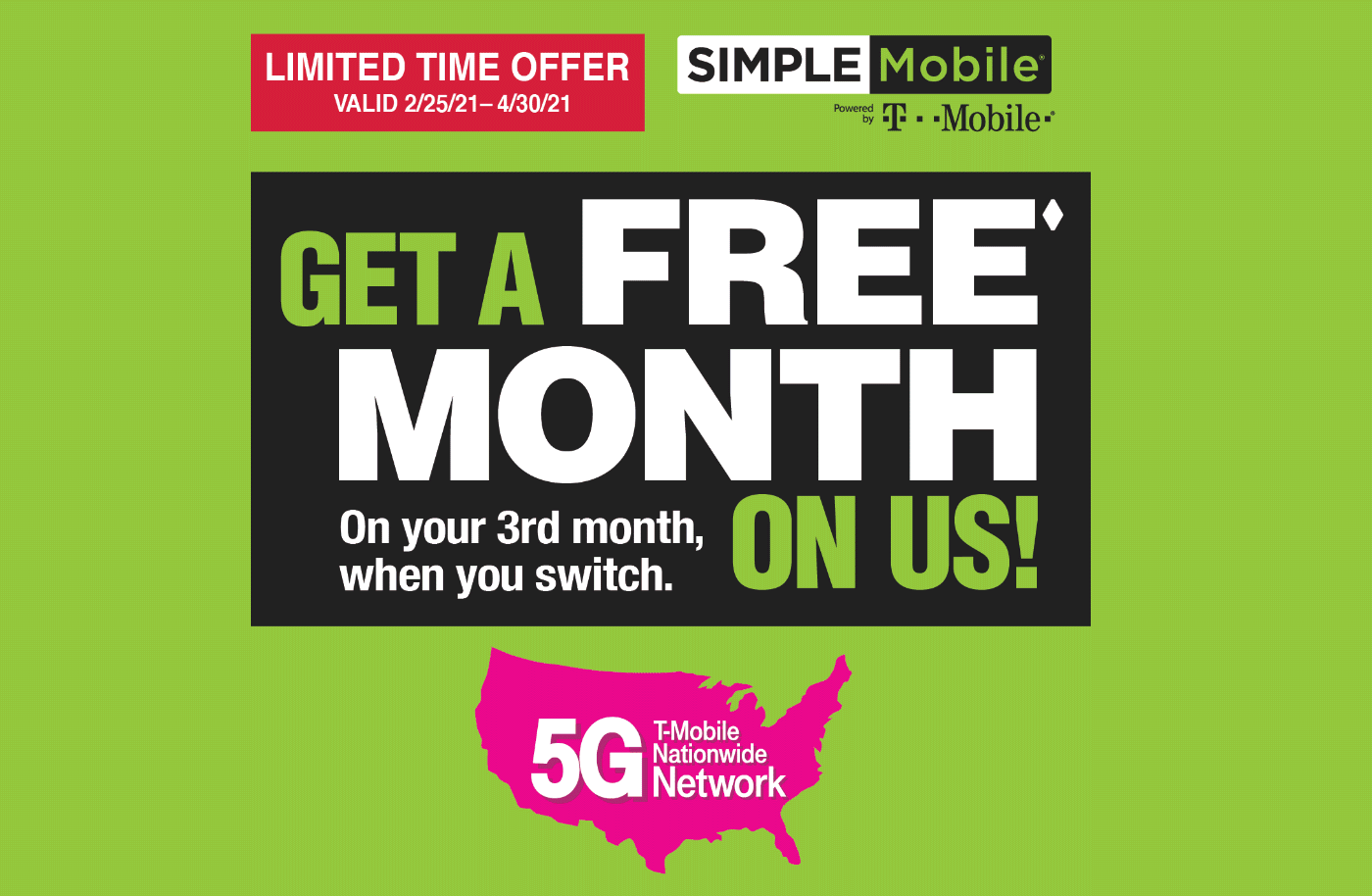 Simple Mobile has brought back its "Free Month On US" promotion. The offer was also available at this time last year.  Unfortunately, just like Simple Mobile's recently launched Traveler's Plan, it's a bit hard to get.
Free Month On Us Offer Restrictions And Eligibility Requirements
The Free Month On Us offer is only available through Simple Mobile authorized dealer stores. It is not available through national retail and is a limited-time offer scheduled to end on 4/30/21. It requires port-in and new service line activation. Customers porting from another Tracfone-related brand are not eligible for the promotion.
Potential subscribers interested in the offer must port to a Simple Mobile plan priced at $30 or higher. Customers must then stay active on their plan for two consecutive months. Those who fulfill the eligibility requirements will then get their third month of service for free. The free month of service will be equal in value to whatever plan the customer is subscribed to in month two. Subscribers who pick up a Simple Mobile multi-month 3-month plan will receive their 4th month of service for free. The offer fine print does not specify what Simple Month's 3-month plan is. But I believe customers can still get three months of service on the $40/month plan with 15GB of high-speed data for $100. This had been a long-standing offer available in stores and can actually still be found on eBay. I'm not 100% certain though if customers who purchase the multi-month plan on eBay will get their 4th month for free. So if you are interested in picking up the plan through eBay, you may first want to contact the dealer to verify offer availability.
Simple Mobile Eligible Monthly Plans
There are technically 4 monthly phone plans eligible for the promo. Here they are:
Be informed of the latest deals, plans and promotions from T-Mobile and every one of its MVNO's when you subscribe to the T-Mobile weekly newsletter. No spam and you can unsubscribe at any time!
$30 ($28 with autoreup) - 5GB high-speed data, unlimited 2G data
$40 ($37.50 with autoreup) - 15GB high-speed data, unlimited 2G data
$50 ($45 with autoreup, 1st 3-months only) - unlimited high-speed data plus 5GB mobile hotspot
$60 ($57 with autoreup) - unlimited high-speed data plus 15GB mobile hotspot and

 

50GB of cloud storage
All plans come with unlimited talk and text and international calling and texting to over 60 destinations. A minimum $10 international calling credit comes with all plans to call countries not included in the list of countries that customers can call free of charge with their plan. Free talk, text, and data roaming are also available in 16 Latin-American countries.
The get your third-month free offer does seem to be available through at least one eBay seller who is even offering it on the $25/month plan. But customers may want to exercise caution if considering a plan through this route. Simple Mobile does have an official eBay store through Tracfone, but the promotional offer IS NOT being sold through that store. So buying the plan through eBay would be buy at your own risk.
---
---