Simple Mobile Ups Data To 6 GB For $30 With Amazon Prime Subscription, Straight Talk Rumored To Have Data Bump As Well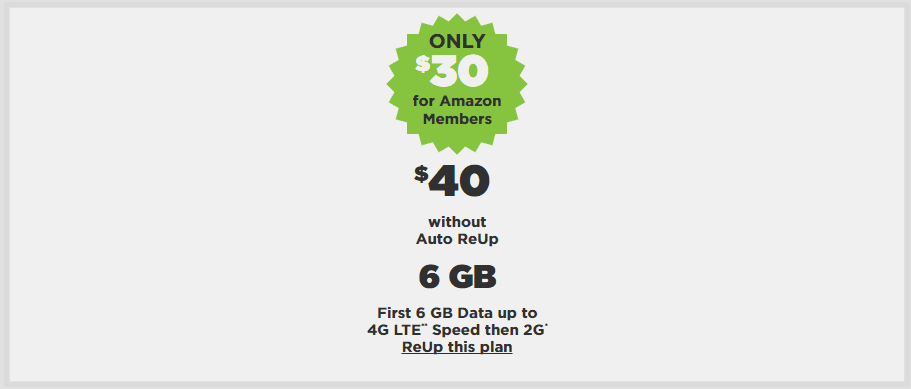 Simple Mobile, a TracFone owned MVNO that operates on the T-Mobile network, has increased the amount of data included with one of its cell phone plans.
The $40/month plan that costs $37.50 with auto pay, or $30 with an Amazon Prime subscription, just got a data bump up to 6 GB of 4G LTE data.  The plan previously came with 4 GB of data.  Data is unlimited, although speeds get throttled to 2G or about 64 kbps once the plans high speed data allotment gets used up.
|See also: Simple Mobile's exclusive pricing for Amazon Prime members
Taxes and fees are not included in the prices shown and do cost extra.
Like all Simple Mobile cell phone plans,  unlimited talk, text, and international talk and text are included with the plan.  Free talk, text and data roaming are also included while traveling in Mexico.  The data consumed while roaming in Mexico counts against the 6 GB of high speed data that the plan comes with.
Straight Talk Rumored To Be Increasing Data On Select Plans
In addition to a Simple Mobile plan getting a data increase, fellow TracFone brand Straight Talk Wireless is also rumored to be increasing the amount of data included with at least one of its plans.
According to a Howard Forums poster, Straight Talk's $45 plan is said to be getting an increase to 10 GB of data, which would be 2 GB more than what the plan currently comes with.  The poster claims to have spotted this at a local Walmart with a start date of August 22nd.
At the moment I cannot verify this claim, and nothing shows up on Straight Talk's website.  This could be a Walmart exclusive deal which we've seen happen in the past where Walmart customers get extra perks for subscribing to a plan through the retail store.  This type of Walmart exclusive deal has happened several times with Verizon Prepaid where customers have gotten more data for subscribing to Verizon Prepaid through Walmart than they would have if they signed up for the plan directly through Verizon.
I should have this claim verified or shot down one way or another within a day and will update this post when I do.
Updated: 8/29/17
The story is confirmed. Straight talk has raised the amount of data included with both the $45 and $55 plans.  More to come.
---
---