Good2Go Mobile Review, A Year Long Trial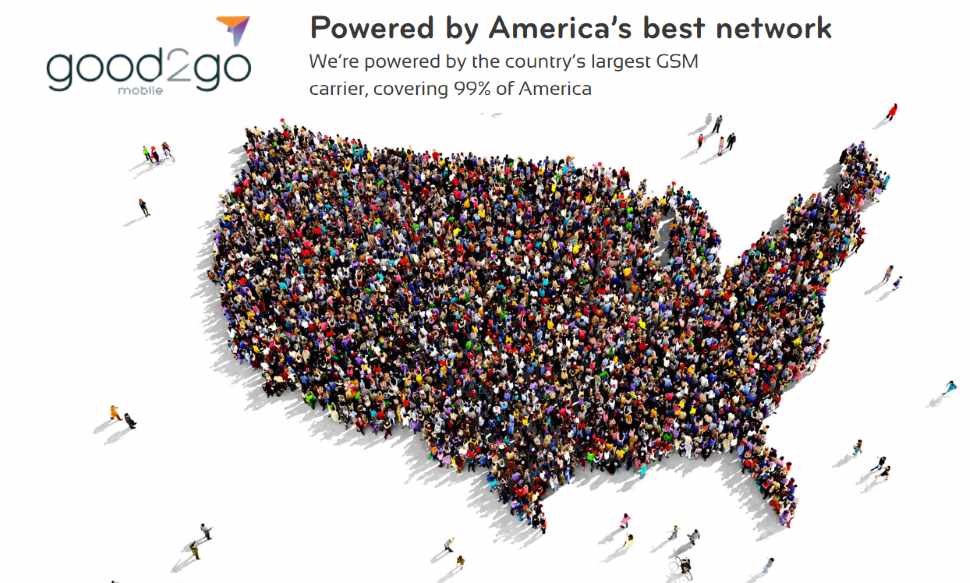 Good2Go Mobile A Quick Overview
Good2Go Mobile is a wireless provider that uses AT&T towers to provide service to its subscribers.  In order to subscribe to the network, a universally unlocked or AT&T compatible phone is required.
Good2Go Mobile has operated in the USA for about 5 years and is under the control of Ztar Mobile.  Ztar Mobile has been offering private label wireless services and software solutions to customers for more than 16 years.
(Disclosure: I was not paid or asked to do this review. However, when applicable, affiliate links are used within the post).
Good2Go Mobile Phone Plans
Good2Go Mobile offers 5 monthly phone plans, and 4 of them include data.  For a limited time, all plans include double data.  I do expect the double data offer to either be made permanent at some point or for the regular plans to be updated with more data.  The double data offer has been ongoing for many months with its original end date having been extended.  Good2Go Mobile's plans with double data offerings highlighted in bold are below.
$15/month - 2GB 4G LTE data
$20/month - 6GB 4G LTE data
$30/month - 10GB 4G LTE data
$40/month - 20GB 4G LTE data
The prices shown include a $5/month auto-pay discount.  All plans include unlimited talk, text, and data with the specified amount of data at high-speeds before throttling to 2G data speeds.
The unlimited talk and text only plan costs $10/month after a $5/month auto-pay discount.
There are add-ons available.  Extra high-speed data is priced at $10/GB.  Unlimited international calling to over 60 countries is also available for $5/month.
My Long Term Good2Go Mobile Trial And Review
I purchased a Good2Go Mobile SIM card kit from a local Best Buy store in January of 2019.  Unfortunately, since that time, Best Buy stopped carrying the kits.  As far as I'm aware, kits are now only available for purchase directly from Good2Go Mobile.
My SIM card kit did not include any airtime, so I had to buy a plan through the Good2Go Mobile website.  I subscribed to the $25/month plan ($20 with autopay) that at the time came with 3GB of 4G LTE data.  When Good2Go Mobile began their double data promo in December of 2019, the offer got extended to existing customers so I got a data upgrade to 6GB.  For my first month of service in March 2019, I had to pay $2.11 in taxes.  Every autopay refill charged to my account thereafter did not include a charge for taxes, instead, I was billed at a flat rate of just $20.
Account Registration, Porting My Number In and Line Activation
The SIM card kit I purchased at Best Buy came with an activation code but no plan.  I followed the instructions that were contained in the SIM card kit to activate service.  Upon going to the Good2Go Mobile website, I typed in my activation code into the website form and was then told the activation code was valid and that I next needed to create an account.
After activating my account I ran into some trouble.  I attempted to purchase the $25 plan with a Discover card but the sale would not go through.  For some reason, Discover viewed the purchase as suspicious, and they actually sent me a text message asking if the purchase was legit.  After verifying it was legit, Good2Go Mobile still would not accept the payment.  I found out it was a problem on Good2Go Mobile's end after calling Discover to ask why my payment was not going through even though I approved the charge.  After 36 hours passed I attempted to use the card again to purchase a plan just in case Good2Go Mobile was blocking the purchase after too many attempts to make one in a short period of time.  Unfortunately, it still would not go through, so I had to use another card altogether.  The other card worked without issue and I used it for autopay billing going forward.  This happened to me in March of 2019, so it's possible that whatever caused that issue for me has since been fixed by Good2Go Mobile.
Activating my Moto G4 Plus did require an IMEI and ICCID check.  Porting my number seemed pretty quick and easy.  I did not note a specific time that it took my number to port in, so I think it was pretty painless and quite the opposite of what it took to port into Unreal Mobile.  It took several months for my number to port to Unreal Mobile, fortunately, they let me port out without hassle.
Once activated, I had no issues with my service.  Everything just worked without a need to contact customer support.
Account Dashboard
Good2Go Mobile's account dashboard is detailed and easy to navigate.  Account settings, where to purchase plan add-ons and your profile settings are clearly labeled and just one click away.  I was also able to view my daily usage history so I could see how many text messages, minutes or MB of data were consumed.  The numbers called to or texted to were not recorded.  From what I could tell, usage history appears to be logged and kept on file for 90 days, at least that's how long mine was kept on file while writing the review.
Strangely, my plan history only tracked back the last 10 months, yet my payment history accurately showed every transaction I ever made.
Data Speeds And Consumption
Good2Go Mobile offers some fairly cheap plans on the AT&T network, particularly at the lower price points, but is it worth it?
Although I subscribed to the service for a year, I did not run a ton of speed tests.  A total of 25 were run, but this may get updated over the next few days as I'll continue to have service.  Most of the tests were done at home.  One was done in a state many miles from where I live.  As per usual, I tried to use the same nearby server every time to conduct my speed tests.  If at any time a test seemed unusually slow I immediately repeated the test by using a different server, sometimes from another city.  If the repeated test differed by more than 1-2Mbps the higher of the two tests was used and the lower discarded.  The reason I elect to do this is to help confirm that the unusually slow speeds I may be seeing are due to the network I am using, not the server I am using.  Rarely when I conducted my tests did I ever have full signal strength.  Most of the time I had about 1/4 to 1/2 bars.  That isn't the most accurate way to note network signal strength, but it is still something to note and keep in mind.
Taking those factors into consideration, during my trial, download speeds averaged 8.5 Mbps, and upload speeds 6.3 Mbps.  Not exactly earth-shattering, but pretty much par for the course compared to the other providers I have reviewed.  Ping times averaged 46ms.
In terms of real-world usage, the data-speeds did not present any problems for me.  I did not have any issues streaming any music from Pandora, Amazon or Spotify.  The occasional videos I watched on Youtube streamed clearly and without issue tested at a resolution of 1080p.  Mobile hotspot technically goes against Good2Go Mobile's terms of service, however, I was able to use it without any issues or speed differences.
Unfortunately, the app I use to track data usage malfunctioned during the review, so I don't know how much data I used.  All I can say is during my final 90 days of service I used over 1GB of data.
Voice Calls And Text Messaging
During the course of the review, I sent and received a total of 514 text messages using the Android Messages app.  That's a rather low number for year's worth of service, but keep in mind, it is not my main phone line and I did not use it every day.  I did not have any issues sending or receiving text messages.  As far as I know, all the text messages I sent were received.  Towards the last couple of months of the review period, I had RCS messaging enabled. For those that don't know, RCS  stands for "Rich Communication Services" and it allows you to send and receive much larger video and picture files than could be sent and received using old fashioned MMS messaging.  It also allows you to send and receive messages over WiFi and to see when your messages have been received and read.  You can read more about Google's RCS messaging implementation here.
I did not have any issues with phone calls.  In total, I logged 247 minutes worth of calls during the trial, with 117 of them being incoming.  I did not experience any dropped calls.  Unfortunately, I never had VoLTE working.  Good2Go Mobile states in their FAQs that they support VoLTE on both iPhones and Androids.  It's possible it never worked for me because I was using a custom ROM, but I did not explore this in depth.  My ROM did not have a setting to turn it on, however, when I used the dialer code *#*#4636#*#* it did say enabled.
Customer Support
Good2Go Mobile offers customer support 7 days a week from 7AM to 1AM EST.  Support is available over the phone and through a contact form on their website.  They also have Facebook, Twitter and Instagram pages, however, they only appear to be active on Facebook.  They note that if you send in an email through their contact form the wait time may be 24 hours.  Unfortunately, they do not offer online chat support, which would be useful to someone who couldn't get their phone working.
To test customer support out, I first deleted my APN settings, which is a configuration setting needed to allow the phone to properly connect to their data network and to be able to send MMS picture messages.  I called into support and told with the intent of letting them know that I could not connect to the data network or send picture messages.
When I called customer support, I was greeted with an automated menu system where I could press 1 for payments, 2 to activate and transfer a number, 3 for questions about text messages or making calls or 4 to speak to an agent.  I pressed 4 and was immediately connected to an agent without having to wait on hold.
The representative I spoke to was very clear and easy to understand.  Unfortunately, it did take the rep a little bit of time to diagnose the issue.
I was asked to put my phone on airplane mode, and then to turn the phone off while the rep put me on hold to do a network reset on their end.  Once the rep came back, I was asked to turn the phone on again while leaving airplane mode on.  Once this step was completed, the rep put me on hold for a quick second.  Upon returning, I was asked to turn off airplane mode to see if things were working.  I told the rep things still were not working and I was put on hold again while the rep did another reset.  When the rep came back, I explained that I still did not have data.  It was at that moment I was asked if I set up my APN settings.  I said no.  The rep then directed me to the Good2Go Mobile website and to the page I needed to go to with directions on how to configure and setup my APN.  In all, my phone call lasted 12 minutes.  I think that's pretty good timing to diagnose and fix my problem.  However, I wish they asked about the APN settings first, as I think that is a very common issue. Overall though, I was pleased with the support experience.
Good2Go Mobile Review Overall Impression And Ratings
I really had no issues with the service except when I had to travel to a remote location.  Everything just worked for me, so that makes Good2Go Mobile easy to recommend.  Do keep in mind though, your experience could vary greatly from mine.  If you live in a heavily congested area you may experience slower data speeds than I did.  If you live in a less congested area you may have faster data speeds.  If you have a different device than me and get a stronger network signal you may also experience different data speeds.  When it comes to reviewing MVNO phone plans, the experience is really different for everybody and really does vary based on device and location.  So the ratings below are just how things went for me.
Ratings
Pros
Everything Just Worked Out Of The Box
Very Nice Account Dashboard
Affordable Low Cost Plans
Cons
Data Speeds Could Be Faster
No App to track usage and pay bills
Besides price, no differentiating features when compared to other AT&T MVNOs
Finicky payment system
Account Dashboard Ease Of Use
9
Customer Support Response Speed
9
---
---