Good2Go Mobile Now Offering Double Data Promo To Existing And New Customers, Get 6GB Data For $20/Month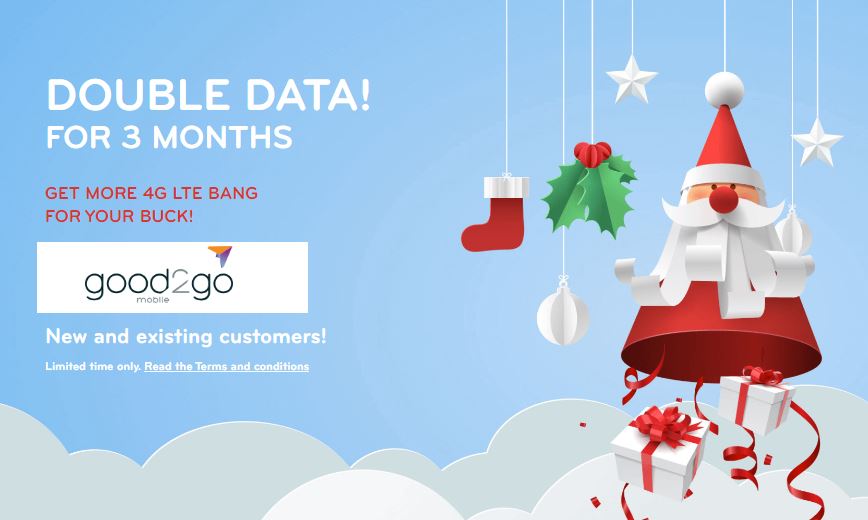 Good2Go Mobile has just launched a new promotion.  Both new and existing customers can for a limited time get double data on all plans for a period of 3-months.
Double Data Offer Fine Print
This offer started on 12/16/19 and will run until 1/16/20.  All new subscribers to Good2Go Mobile during this time period will receive double data with their plan for their first 3-months of wireless service.  After the 3-months is up, data allotments will return to their regular rates.
Update: 5/29/2020 - Good2Go Mobile continues to offer all new and current subscribers double data with a tentative end date of 7/31/2020.
Existing Good2Go Mobile customers will not need to do anything to take advantage of the promo.  Starting in January, all current customers will get double data for 3-months when their plans recharge.
Good2Go Mobile Double Data Plans
Good2Go Mobile sells a total of 5 wireless plans, but only 4 of them include data and are eligible for this promotional offer.  Good2Go Mobile's phone plans with the bonus data allotments highlighted are as follows:
$15/month - 2GB 4G LTE data, regularly includes 1GB
$20/month - 6GB 4G LTE data, regularly includes 3GB
$30/month - 10GB 4G LTE data, regularly includes 5GB
$40/month - 20GB 4G LTE data, regularly includes 10GB
All plans just described include unlimited talk, text, and data with the specified amount of data at 4G LTE data speeds before throttling to 2G data speeds.  Prices shown include a $5/month autopay discount.  Taxes and fees cost extra.  In regards to mobile hotspot availability, Good2Go Mobile's FAQ's aren't exactly clear cut about the feature.  One of the FAQ's is below:
"Can I use the cellular data service on a phone SIM to power, e.g. "tether" other devices like my laptop, tablet or GPS?

Technically no. Tethering is against the Terms & Conditions of Good2Go."
You should take this to mean that technically it's not allowed but you still may be able to use the feature.  I'm currently testing Good2Go Mobile's service for an upcoming review, and I can tell you mobile hotspot works fine for me on a Moto G4 Plus without a hitch.  But, there's no guarantee that everyone will have the same experience as me.  Good2Go Mobile is telling customers commenting on its Facebook Page, that hotspot will officially be available with its plans in early 2020.
The other Good2Go Mobile plan offered which is not part of the promo costs $10/month and only includes unlimited talk and text.  It does not come with any data.
Editor's Take
Often times current customers are excluded from promos.  So this is a really good gesture by Good2Go Mobile to make the promo available to all subscribers, not just the new ones.
Good2Go Mobile is an MVNO on the AT&T network, which means that the company uses AT&T's towers to provide wireless service to subscribers.  Promo pricing on the $30 and under plans for a customer's first 3 months of service is currently the best that I'm aware of for a provider offering a pay by the month plan using the AT&T network .  At the $40 price point however, Cricket Wireless may currently have the best promotional offering.  Cricket Wireless is offering a limited time plan for $40/month that includes unlimited LTE data to BYOD customers, although it does not come with hotspot.
---
---