Call Out: Red Pocket Mobile Should Stop Misleading Phone Deal Advertisements
Have you ever browsed Red Pocket Mobile's phone deals webpage? Right now, Red Pocket's Android deals page exclaims "save up to $250 when selecting our unlimited everything plan on any Android phone!" Furthermore, we see "deals" being advertised such as a Samsung Galaxy S20 Plus "starting at $379."
On the iPhone side we see deals advertised such as the Apple iPhone 12 Pro Max where subscribers can allegedly "save $300" and get it for as low as $34/month or $799. Then there's the iPhone 11 Pro Max with a banner attached to it that reads "save $400" with the price of the phone listed "as low as $25/mo ($599)."
But is any of this actually true?
It isn't. Red Pocket is being a little deceptive here.
Despite what is implied in the advertisements, none of Red Pocket's phones are available for hundreds of dollars off. Red Pocket is actually issuing plan credits when you purchase a phone with select plans to go along with discounts on phone pricing. And some plans come with bigger discounts than others. Let's actually click through that iPhone 11 Pro Max deal to see what is really being offered.
Once clicked on, the 64GB iPhone 11 Pro Max model is being shown as having a value of $999 with a $200 discount available upon purchase lowering the price to $799. There's also a financing option available for $33.29/month. That's a pretty good deal, but pretty misleading considering that Red Pocket is marketing it on its iPhone deals page as being available for "as low as $25/mo ($599)."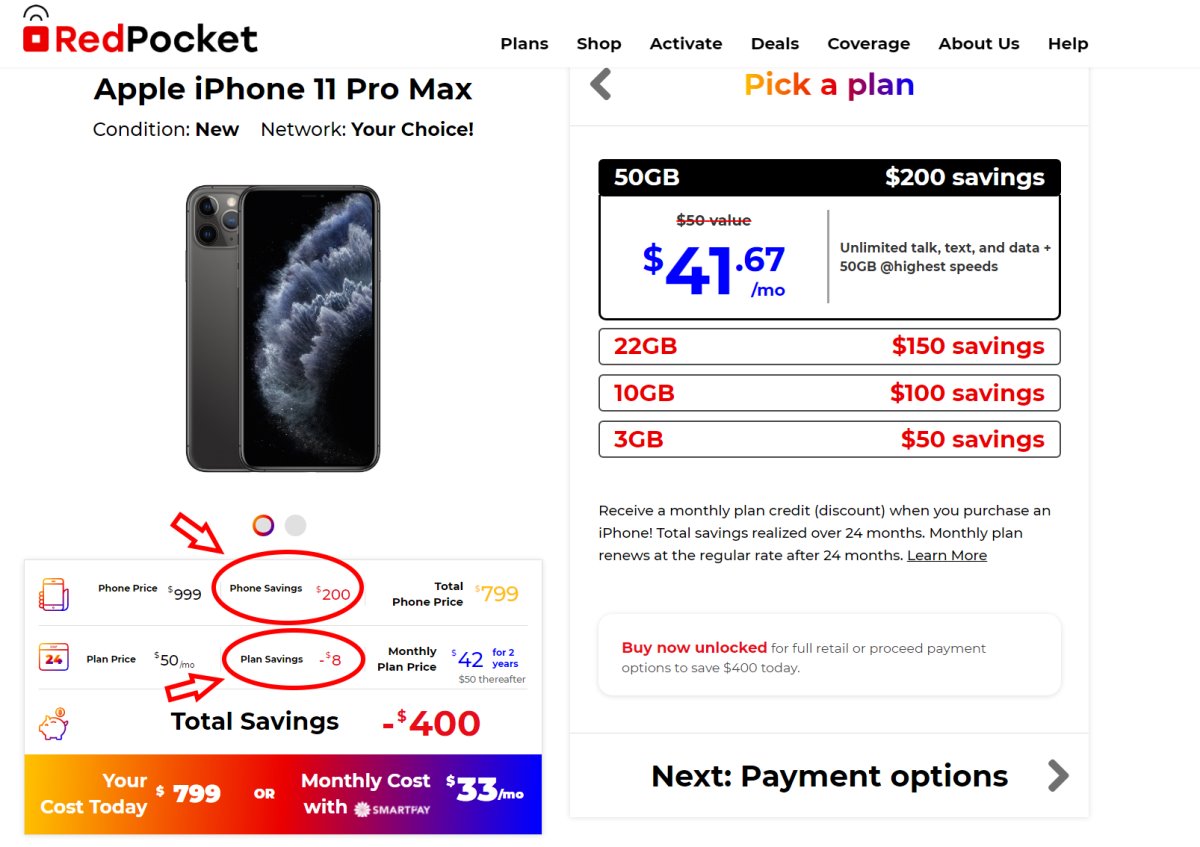 There's actually no way to get the phone for $599 from Red Pocket. But what you can do, is choose Red Pocket's most expensive phone plan ($50) on its GSMA network partner (AT&T) and get a discount of $8.33/month on the plan over the course of 24 months when you purchase it with that iPhone. Over that time frame you would save $199.92 on the plan vs signing up for the plan without buying the phone.
Red Pocket's newly released $50 plan comes with 50GB of high-speed data before throttling to 2G data speeds. There are other plan savings opportunities with the phone purchase as well. For instance, you could also pick up Red Pocket's $20/month plan with 3GB of high-speed data and save $2.08/month on the plan over 24 months if you purchase the phone with it. Still, none of this adds up to $400 in savings on the iPhone 11 Pro Max. I really wish Red Pocket Mobile would change their marketing strategy to be a little less deceptive here. At least Red Pocket does have a banner on its iPhone deals page (screenshot shown below) that highlights that you can "save $300 on the iPhone 12 family" with it explained in smaller print that you get a $100 instant discount and $200 in plan credits. But then when you browse the iPhone 12 models, they deceptively show the iPhone 12 prices as being $300 off, instead of the $100 off that they are in actuality.
Going back to that iPhone 11 Pro Max deal page, or any other individual Red Pocket phone deal page, there's also more marketing jargon and hypocrisy to take a look at. Red Pocket Mobile raises a question on those pages in bold lettering that reads "Other companies offer $500+ in discounts?" It's then followed up with: "It's true, there's bigger discounts out there, but they all come with long term commitments........"
Long term commitments??? Hmm.
Circling back to the iPhone 11 Pro Max example, if you want maximum savings with Red Pocket Mobile, i.e. save $200 on the phone and get $200 in plan credits, you'll have to stay subscribed to the plan for 24 months. That would be a bit of a commitment. Fortunately though, you can leave Red Pocket Mobile at any time without penalty long before 24 months is up, but you will lose out on the plan credits.
Now let's go back to the Android phone deals. Here Red Pocket is doing the exact same thing they are with the iPhone deals (Android example shown above). They are advertising higher savings on phones than you actually get as some of the savings comes in the form of monthly discounts on the phone plans not on the phones themselves. And what compounds the problem, is Red Pocket is advertising maximum savings on "our Unlimited Everything" plan. Red Pocket Mobile does not have what many of us would call a truly unlimited everything plan. Red Pocket makes the claim in reference to their $50 plan with 50GB of high-speed data before throttling to 2G data speeds. This is something pretty common for MVNOs to do. But in my eyes, and I'm not alone, an unlimited everything plan infers a plan with unlimited high-speed data and mobile hotspot without speed restrictions or throttling after a certain amount of data has been used in a billing cycle. Red Pocket simply does not offer a plan like this.
Now Red Pocket is offering some good deals here, it's just unfortunate that they are being marketed and promoted in deceptive ways. Red Pocket, please do better.
Update: Since the article came out, Red Pocket Mobile has responded to it with the following statement which is also located at the url https://shop.redpocket.com/bestmvno
"Red Pocket Mobile prides itself on clear communication and an impeccable customer experience, as evidenced by our 4.4 out of 5 star rating on TrustPilot, our 98.7% feedback rating for our eBay exclusive plans and our A+ rating from the BBB.

We were therefore very surprised to read your article criticizing us for providing device discounts in the form of bill credits. These sorts of promotions are extremely common in the industry, including this one mentioned positively by BestMVNO and offered by MetroPCS. We've seen tremendous success with our current device promotions - which all are approved in advance by the device manufacturers - and received zero customer complaints about them.

In fact, T-Mobile and AT&T are running similar deals right now, where they state the phone is free, but the savings are over 24- 36 month plan credits and requires a trade in:

All that said, we always welcome constructive criticism. We've recently made a few minor changes that do not modify the substance of the promotion, but that we hope will make the shopping experience even better!

Sincerely,

Red Pocket Mobile"
To that I reply, if another provider uses some sort of similar but not quite the same deceptive marketing, it's ok for Red Pocket to as well?
---
---