Red Pocket Mobile Gains Support For MMS, FaceTime On GSMA Network, Now Selling iPhone 11
Over the last couple of weeks, Red Pocket Mobile had been under the radar posting on forums and notifying subscribers to stay tuned for some upcoming announcements that would address the iPhone MMS issues on their GSMA network plans.
The MMS On iPhone Problem Explained
For those that don't know, Apple seems to have some sort of requirement in place that MVNOs and perhaps carriers must follow if they want their subscribers to be able to have access to features such as sending MMS messages and using Visual Voicemail on their networks. This requirement seems to mostly impact AT&T MVNO's.  Perhaps on other networks, carriers such as Verizon and T-Mobile foot the bill and take care of those requirements for their MVNO partners.
An individual claiming to be a former AT&T MVNO employee once told me Apple required them to buy "a large number of iPhones priced in the low seven-figure range" if they wanted their customers to have access to those features.  An AT&T MVNO once even posted publicly that they were in negotiations with Apple to enable MMS messaging on their network.  So it seems Apple has a lot of control over the networks which can indirectly affect pricing for consumers.  I've always been surprised that if these things are indeed true, no one has filed a lawsuit against Apple.  These issues occur even when the consumer has their own unlocked, paid in full iPhone.  But for now, independent MVNOs such as Red Pocket Mobile continue to have to negotiate with Apple if they want their subscribers to have access to basic service features that most people would take for granted with their cellular service.  And MVNOs that do have access to those features often have the upper hand compared to those that don't.
Red Pocket Mobile's MMS On iPhone Problem Is Now A Thing Of The Past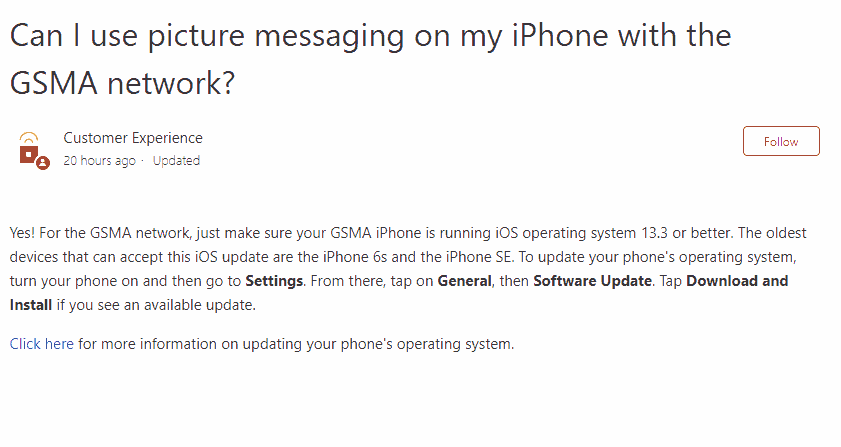 Today, Red Pocket Mobile made it official that they joined the club of providers that can now offer MMS texting messaging on iPhones among other features to customers that subscribe to their GSMA network plans.  The company's eBay plans also now highlight that MMS works on the GSMA network with iPhones as long as subscribers have iOS 13.3 or higher installed on their devices.  In fact, iOS 13.3 or higher is also required if subscribers would like to use other features such as FaceTime over the GSMA cellular network.  Mobile hotspot is also now supported with that iOS update.
Be informed of the latest deals, plans and promotions from Verizon and every one of its MVNO's when you subscribe to the Verizon weekly newsletter. No spam and you can unsubscribe at any time!
Editor's Take
It's great that Red Pocket Mobile can now offer all features that a subscriber should be able to take for granted on its GSMA network plans.  Hopefully, this doesn't come at a cost to subscribers down the road.  To date, Red Pocket Mobile has been able to lower costs on a regular basis and remain competitively priced in an MVNO industry where competition is fierce.  In fact, Red Pocket Mobile offers some of the best pricing around on select networks, particularly if you are willing to buy a multi-month or annual plan through their eBay store.  For instance, a current Red Pocket Promo via eBay offers subscribers an annual plan priced at $16.25/month that includes unlimited talk, text, and data with the first 5GB each month at 4G LTE data speeds on the subscriber's choice of either the AT&T, Sprint or Verizon networks.  That's cheaper pricing on those networks compared to virtually any other provider on the market.  Direct from the Red Pocket Mobile website, customers can pick up a monthly plan with unlimited everything including the first 7GB of data each month at 4G LTE data speeds for just $30/month on the subscriber's choice of either the AT&T or T-Mobile's networks.  That's also one of the most competitively priced AT&T MVNO and Sprint MVNO plans around.
With the update, Red Pocket Mobile is also now advertising on its homepage that customers can pre-order an iPhone 11 with prices starting at $30/month.  To my eyes, it's no coincidence that Apple's latest device is now available for purchase at the same time Red Pocket Mobile is now able to offer full-featured service on its GSMA network plans.  That seems to be the Apple way.
---
---