Pure TalkUSA Updates Plans With More Data, Get 8GB For $35/Month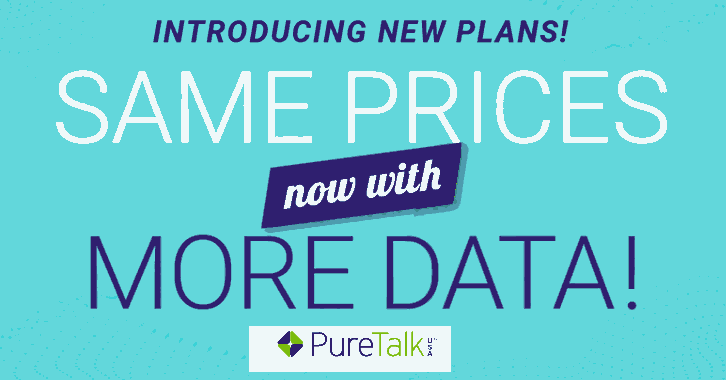 For the past couple of weeks, Pure TalkUSA has been touting on social media that something big is coming on 11/1/19.  Well, that time has finally come and Pure TalkUSA has updated its wireless plans to include more data than before.  The move corresponds with plan changes that leaked out of H2O Wireless a couple of weeks ago that also went live today.  Earlier in the year, H2O Wireless was bought out by Pure TalkUSA's parent company Telrite. The two wireless brands phone plan pricing structures seem to be converging now, although some differences still remain between the brands.  H2O Wireless continues to focus on those who need to make frequent contact with persons overseas by including unlimited international texting and calling with its plans, Pure TalkUSA does not.
Pure TalkUSA Updated Phone Plans Highlighted
Pure TalkUSA's phone plans have been updated in a major way.  You can check out the highlights below.
$20/month - 1GB LTE data, previously offered 500MB
$25/month - 3GB LTE data, previously offered 1GB
$30/month - 5GB LTE data, previously offered 3GB
$35/month - 8GB LTE data, previously offered 5GB
$45/month - 15GB LTE data, previously offered 10GB
$55/month - 22GB LTE data, no changes
All plans include unlimited talk, text, and data with the specified amount of data at 4G LTE data speeds before throttling to 128Kbps.  Mobile hotspot is not advertised but should be allowed as it was available with the old plan pricing structure.  Prices shown do not include taxes and fees, they cost extra.  Additionally, those who do not enable auto-pay billing on their account will be charged an extra $5 in fees each month. Multi-line discounts are available.  Customers with 2 lines will receive 10% off the total cost of their combined bill, 3 lines will get 15% off and 4 lines will get 20% off.
Editor's Take
In terms of basic price points, the plans are largely the same as H2O Wireless's new plans with a couple of other differences to note.  H2O Wireless now includes 10GB of data on their $36 plan, and H2O's unlimited data plan includes 30GB of data instead of 22GB before throttling to 2G data speeds.  H2O Wireless subscribers also save a little more with autopay billing on a few plans.  Subscribers pay $18/month with H2O for a plan with 1GB of data and $27 for one with 5GB of data.  One major difference to note between the brands is that H2O Wireless plans have data speeds that are limited to a maximum of 8Mbps download, there is no limit with Pure TalkUSA.
Although Pure TalkUSA's plan updates are certainly welcomed, as long as customers don't mind having their download speeds limited to 8Mbps, H2O Wireless appears to offer the better value between the two brands.  Both brands are competitively priced for service on the AT&T network at the $36 and under price points.
---
---