Mint Mobile Promo Offers 12GB Of Data For $15/Month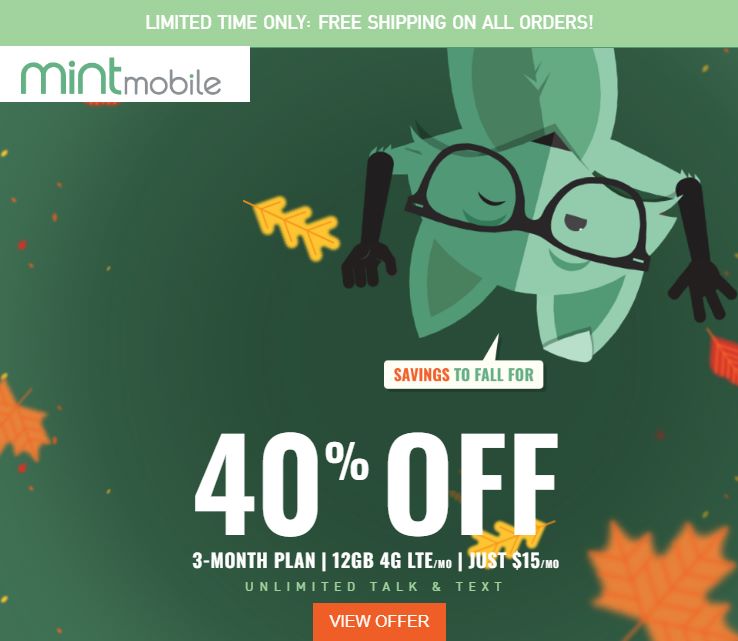 ---
Did you know BestMVNO is available to follow for free in Google News? Follow BestMVNO in your Google News app and keep up to date on wireless.
Follow BestMVNO In Google News
---
---
Mint Mobile has launched a promotion.  New customers can now get any 3-month plan for just $15/month.  Mint Mobile's most expensive 3-month plan regularly starts at $25/month for 12GB of data for new customers, but through this special offer, customers will save 40% on the plan when they pick it up at the sale price of $15/month.
Offer Details And Fine Print
This offer is for new lines of activation only.  It is scheduled to be available at least until 11/24/19.  Customers who purchase a sale plan must activate it within 45 days of purchase.  Taxes and fees cost extra.  There is a limit of 4 promotional rate plans that can be claimed per order.  Mint Mobile considers 3 months of service to be equal to 90 days, and one month to be equal to 30 days. Customers must pay for the full 90 days of service upfront.
Mint Mobile's other 3-month plans with any special pricing highlighted are:
$15/month - 3GB 4G LTE data, renews at $25/month
$20/month - 8GB 4G LTE data, renews at $35/month, on sale for $15/month
$25/month - 12GB 4G LTE data, renews at $45/month, on sale for $15/month
All plans described include unlimited talk, text, and data, with the specified amount of data at 4G LTE data speeds before throttling to 2G data speeds.  Mobile hotspot is included with all plans as is WiFi calling and texting.  Taxes and fees cost extra.
After the 3-month promotional plans run out, customers can elect to renew their plans at the rates shown above.  Alternatively, customers can renew for 6 or 12 months and gain additional savings over the 3-month renewal rate. The 6 and 12-month renewal rates are below:
3GB LTE data - $20/month for 6 months ($120 total) or $15/month for 12 months ($180 total)
8GB LTE data - $25/month for 6 months ($150 total) or $20/month for 12 months ($240 total)
12GB LTE data - $35/month for 6 months ($210 total) or $25/month for 12 months ($300 total)
Editor's Take
Once again Mint Mobile is offering great rates for new subscribers.  At the moment, I'm not aware of another provider offering better introductory rates at the $15/month price point.
Keep in mind that last year Mint Mobile offered a special Black Friday sale that gave new customers 3 months of wireless service for the price of 1.  I don't know if they'll be offering a similar sale this year, but that is something to be aware of if you are considering this current offer.
---
Be sure to follow BestMVNO on Twitter for additional wireless coverage, deals, insights, and even debates!
Follow @BestMVNO Twitter
---
---