Transfer To MetroPCS And Get An iPhone 6S For Just $49.99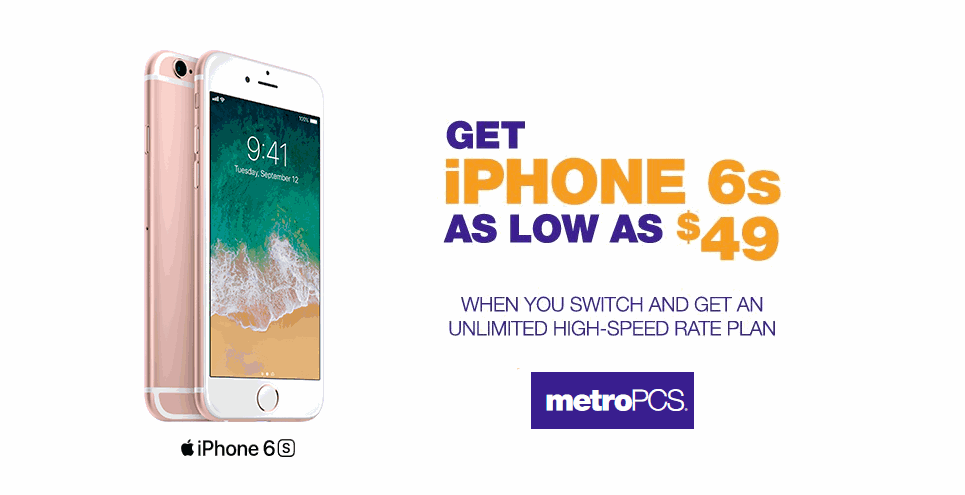 T-Mobile has announced several promotions for its prepaid brand MetroPCS.  New subscribers who port their number in can get an iPhone 6s for just $49.99.  This is just one of several special offers available to new port-ins.
iPhone 6S Offer Terms And Conditions
The $49.99 iPhone 6s deal is part of MetroPCS's back to school promo.  Customers that switch to MetroPCS can get $200 off the purchase of any phone.  The iPhone 6s is currently on sale for $249.99, but new customers get the additional $200 off.
This offer is available in store only at participating MetroPCS locations.  There is a limit of 5 phones allowed to be purchased per account and household.  To get the discount MetroPCS requires you to subscribe to one of their unlimited LTE data plans.  The prepaid provider sells 2 unlimited LTE plans and they are as follows:
$50/month - unlimited everything, but no hotspot allowed and video streaming limited to a maximum resolution of 480p.  Save - get 2 lines for $80/month.
$60/month - unlimited everything.  Includes 10GB of 4LTE hotspot data before throttling. Video streams limited to a maximum resolution of 480p.  Save - add additional lines for $30/month.  A maximum of 4 lines allowed.
MetroPCS has a generous data prioritization policy in place that works similar to other unlimited plans on the market.  Those that consume more than 35GB of data in a month may have their data speeds temporarily reduced during times of heavy network congestion.  The prices shown includes taxes.  There is a $10 per line activation fee.
Be informed of the latest deals, plans and promotions from T-Mobile and every one of its MVNO's when you subscribe to the T-Mobile weekly newsletter. No spam and you can unsubscribe at any time!
More Fine Print
If you are currently on the T-Mobile network or have been active on the network including with MetroPCS during the past 90 days, you are excluded from this promotion.  T-Mobile MVNO subscribers are also likely not eligible for the discount.
Other $200 Off Discounted Phone Deals
iPhones
iPhone 7 32GB for $349, regularly priced at $549
iPhone 7 Plus 32GB for $469, regularly priced at $669
iPhone 8 64GB for $499, regularly priced at $699
iPhone 8 Plus 64GB for $599, regularly priced at $799
iPhone X 64GB for $799, regularly priced at $999
Androids
Samsung Galaxy S9 for $499, regular price $699
Free Phones
If there's a phone you want that costs less than $200, it is now available for free to switchers.  The following phones are free:
LG Stylo 3 & 4
LG K20 Plus
LG Aristo 2
LG Aristo
Samsung Galaxy J3 & J7 Prime
HTC Desire 530
Moto E
ZTE Avid Trio
ZTE Blade Z Max
ZTE Avid 4
Alcatel A30 FIERCE
Cooldpad Defiant
iPhone SE
Alcatel 7
Additional Offers
Get $200 Off The Purchase Of A Second Phone
New and existing customers that purchase a second phone can save $200 off the cost of the price of the second phone.  The discount will come in the form of an instant rebate and the second phone must be of equal or lesser value than the first.  MetroPCS says the first phone purchased must be a "premium phone", which judging from one ad suggests it is just for iPhones.  They are also pushing the iPhone SE hard.  The iPhone SE is still available for free to switchers as part of their get an amazing iPhone on us offer.  And new customers can actually get 2 iPhone SE's for free with the activation of 2 lines.
Current customers who add a line are also eligible to get a LG K20 Plus, Samsung Galaxy J3 Prime or Alcatel A30 FIERCE for half off.  Customers who purchase an iPhone X can also opt to get an iPhone SE for free.
Free Month Of Service For BYOD Customers
Customers who bring their own T-Mobile compatible phone to MetroPCS will get their second month of service for free.
MetroPCS Unlocking Policy
Keep in mind that MetroPCS requires you to keep the line active on the network for at least 180 consecutive days before it can be unlocked.  So you can't just purchase one of these greatly discounted devices and expect to take them elsewhere.
---
---