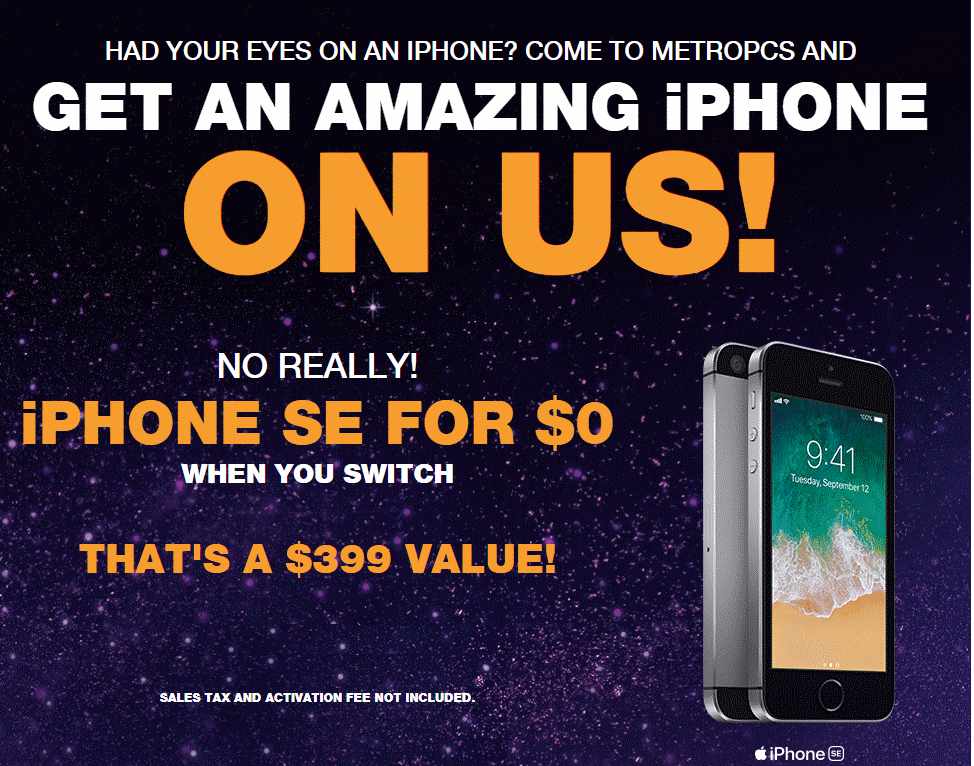 ---
MetroPCS has brought back the "Get An Amazing iPhone On US" offer that it initially had available back in March.  That means switchers can get an iPhone SE for free, or a $150 discount on any iPhone available through MetroPCS.  Select Android models including the Moto E4 are also free to switchers.  The T-Mobile owned brand is also offering new customers 4 lines for $100 with the ability to get 4 phones for free.
MetroPCS iPhone SE For $0 Offer Details
This deal is only going to be available for a limited time and only at participating MetroPCS stores.  Customers must purchase a 32GB iPhone SE, port a wireless number in and activate on an unlimited LTE data plan.  A $149 instant rebate will then be applied to the purchase price of the iPhone SE making it "free."  Of course free means you will still have to pay any applicable sales tax on the phone as well as a $10 - $15 activation fee.   MetroPCS unlimited LTE data plans start at $50/month with taxes and fees included.
The fine print for this offer says that phone numbers currently active on the T-Mobile network or MetroPCS in the past 90 days are not eligible for this deal.  This means its likely a no go for those that want to switch from a T-Mobile MVNO as well.  A maximum of 4 free iPhone SE's or $150 iPhone switcher rebates are allowed per household.
iPhone Switcher Rebate
The other iPhones that are available for $150 off after switching include the following:
iPhone 6S 32GB for $249, regularly priced at $399
iPhone 7 32GB for $399, regularly priced at $549
iPhone 7 Plus 32GB for $519, regularly priced at $669
iPhone 8 64GB for $549, regularly priced at $699
iPhone 8 Plus 64GB for $649, regularly priced at $799
iPhone X 64GB for $849, regularly priced at $999
Four Unlimited Data Lines For $100 With 4 Free Phones

Another promotion being run is for "Get A Great Phone And 4 Lines Of Unlimited LTE Data For Only $100."  MetroPCS is actually promoting a mix of different offers here with different rules and stipulations for each.  The unlimited LTE data plan being promoted includes unlimited talk, text and LTE data with data prioritization policies applied after more than 35GB of data has been used per line per month.  That means that if the network is busy you may experience temporarily slower data speeds.  Mobile hotspot is prohibited on the plan and video streaming is limited to a resolution of 480p.
How To Get Four Unlimited Lines For $100
This one requires the activation of at least one new line of service, so it is available to both current and new customers.  For some reason, the offer is unavailable in the state of Indiana.  Discounts are being offered on up to 5 lines.
Pricing is as follows:
1 line - $50
2 lines - $80
3 lines - $90
4 lines - $100
MetroPCS doesn't directly specify the rate for 5 lines, but it should amount to $125 as the company is advertising $25 per line for 4 lines.  I'm sure it extends out to the 5th line as well.  Unfortunately this is another in store only offer.  If any newly added line deactivates at any time, the discounted pricing is lost for all.  The offer can be combined with the MetroPCS free phone offer described below.
Free Phone Offer

Those who switch to MetroPCS are eligible to get one of four different phones for "free."  Those activating a family plan can mix and match phones.  The following are available for free to switchers:
LG K2O Plus - suggested retail price of $169
LG Aristo 2 - suggested retail price of $139
Samsung Galaxy J3 Prime - suggested retail price of $139
Motorola Moto E4 16GB - suggested retail price of $129
The phones will be made available for "free" via instant rebate.  MetroPCS does however say that you'll be responsible for taxes and fees including a $10 activation fee per line.  The offer is available to single line customers as well.
If you are interested in any of the phones offered here, including the iPhone, keep in mind that MetroPCS requires you to keep the phone activated for 6 months before they'll unlock it for use with another carrier.
---
---