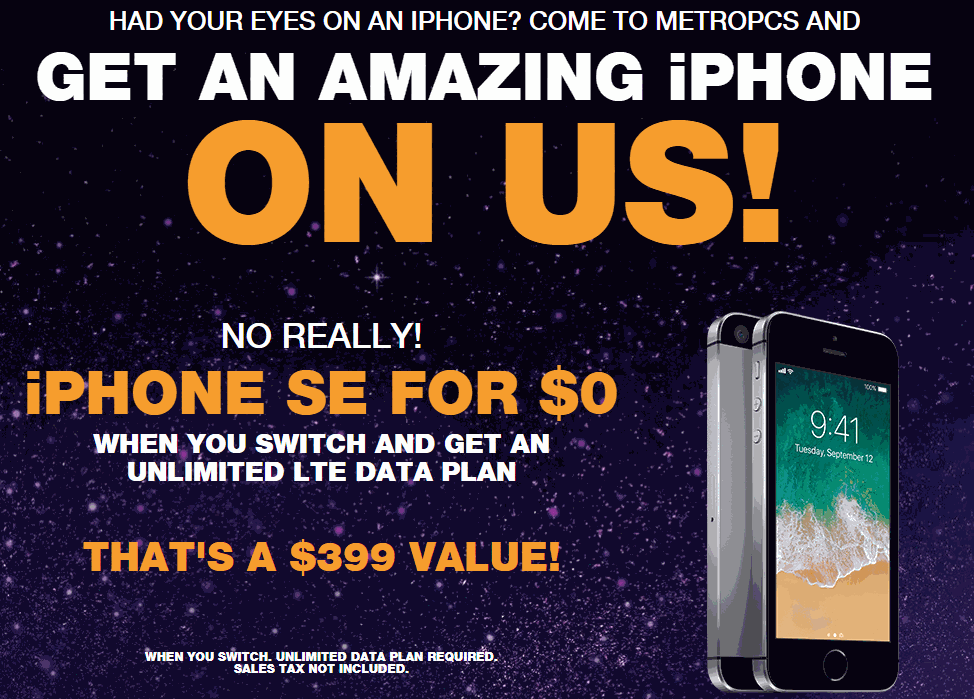 ---
MetroPCS is offering the iPhone SE for free to new customers who switch from another carrier and subscribe to an unlimited LTE data plan. Switchers can alternatively elect to receive a $150 credit to be used towards the purchase of any iPhone, including the iPhone X.
iPhone SE And Switcher Credit Terms And Conditions
MetroPCS values the 32GB iPhone SE at $399. Currently the company has it on sale for $149.99 for new lines of activation or phone upgrades. To get it for free, you will have to visit your local retail MetroPCS store and purchase it in full. You also have to port in a wireless number from a qualifying carrier or MVNO and activate it on an unlimited LTE data plan.
Qualifying carriers and MVNO's must be associated with either AT&T, Sprint or Verizon. MetroPCS says the offer excludes phone numbers that are currently active on the T-Mobile network or active on MetroPCS within the past 90 days.
Unlimited data plan pricing starts at $50 month and that of course gets you unlimited talk, text and data but no mobile hotspot. Additional lines can be added at a cost of $30 per line.
Video streams on this plan are limited to a resolution of 480p and a data prioritization policy gets applied after you consume more than 35GB of data in a month. That means that once applied, during times of heavy network congestion your data speeds may be temporarily slowed down. This is a policy practiced by all unlimited data plan providers.
MetroPCS sells another unlimited data plan that is priced at $60/month. It includes all of the same features that the $50 plan offers, except it also comes with mobile hotspot. Mobile hotspot data is unlimited on the plan, but only the first 10 GB of data is at 4G LTE data speeds.
To get $150 off of any iPhone, all the same terms and conditions apply as outlined above. MetroPCS is marketing this promotion as a way for you to spend your tax return.
Phones including Samsung and LG devices also continue to be given away for free as part of MetroPCS's Best Free Phone Event Ever promotion.
---
---