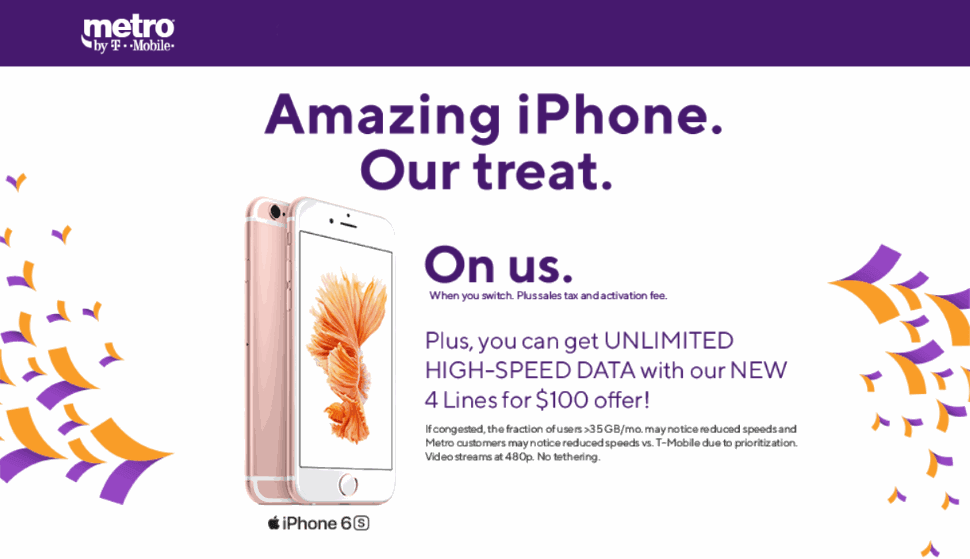 ---
Back in June, Metro By T-Mobile ran a "Get An Amazing iPhone On Us" deal.  That deal gave new customers a free iPhone SE.  A few days ago that offer got updated.  Now the iPhone 6s is also available for free.  Metro also recently launched a couple of other promotions.  New customers can now elect to get an LG Stylo 4 or Samsung Galaxy J7 Star as well as several other devices for free.  The wireless provider also brought back its "get 4 unlimited LTE data lines for $100" deal.
Free Phone Promo Details
iPhone 6s
The 32GB iPhone 6s is now available for free to switchers.  However, customers will still be responsible for paying sales tax based on the full retail price of the phone ($549) and a $15 activation fee.  The phone will be made available for free by way of an instant rebate when activated on an unlimited LTE data plan priced $50 or higher.  Phone numbers that were previously active on the T-Mobile network or Metro within the past 90 days are not eligible to get the iPhone 6s for free.
Free Android Models
Metro By T-Mobile is pushing the Samsung Galaxy J7 and LG Stylo 4 as part of a "get 4 free phones when you switch" offer.  Both devices have a retail value of $239.  Numbers that were previously active on Metro or the T-Mobile network within the past 90 days are ineligible for the offer.  The free phones will be made free by way of an instant rebate.  There is a limit of 5 free phones allowed per account and household.
Get 4 Unlimited LTE Data Lines For $100
The 4 free phones when you switch offer is being marketed alongside Metro's new 4 lines for $100 promo.  Current customers who activate a new line, and new customers that port in can now get 4 unlimited LTE data lines for $100.
The promotional unlimited data plan includes unlimited talk, text and LTE data.  Like all unlimited data plans on the market, there is a data prioritization policy in place.  Customers that consume more than 35GB of data in a month may have their data speeds temporarily slowed down during times of heavy network traffic.  Video streaming is also limited to a maximum resolution of 480p.  Mobile hotspot is not available with the plan.
Those that need mobile hotspot/tethering can opt to get 4 lines for $120 instead of $100.  A total of 15GB of mobile hotspot is available per line.  This offer also includes a subscription to Amazon Prime, for new Prime customers only.  A Google One subscription is also included.
Other Available Free Phones
Besides the "get 4 free phones when you switch"  promoted phones, Metro By T-Mobile is also offering the following phones free to switchers.  Taxes and activation fees cost extra:
Moto E Play 5th generation
LG K20 Plus
LG Aristo 2
Samsung Galaxy J3 Prime
Alcatel A30 Fierce
Coolpad Defiant
Alcatel GO Flip
ZTE Avid 4
LG K30
Samsung Galaxy J7 Prime
Alcatel 7
---
---