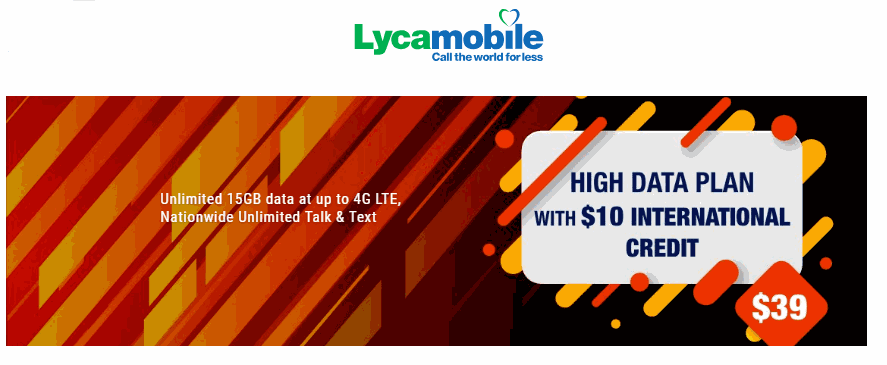 ---
On March 25, 2019, Lycamobile updated several of its wireless plans.  The provider's $39 plan now includes 15GB of 4G LTE data instead of 5GB and the $45 plan now includes 10GB of LTE data instead of 7GB. The changes were noted by the firm Wave7 Research.
Lycamobile continues to run several promotions which include 3 months for the price of 2, double data for buying multiple months in advance and a free phone when you purchase 6 or more months of service in advance.
Lycamobile's Updated Phone Plans Explained
Lycamobile's updated $39 plan includes unlimited talk, text, and data with the first 15GB of data at 4G LTE data speeds.  It also comes with unlimited international talk and text to over 75 countries.  Prior to the plan's update, it came with a $15 global calling card.  It now comes with a $10 bonus international calling card.  The bonus credit expires after 30 days.
Lycamobile's updated $45 plan includes unlimited talk, text and data with the first 10GB of data at 4G LTE data speeds.  It too also comes with unlimited international talk and text to over 75 countries.  It does not come with a bonus international calling card.  Unlike the $39 plan it does come with domestic talk and text roaming.  Subscribers get 200 minutes and 200 text messages to use while roaming, but no roaming data.
Taxes and fees are not included in the prices shown.  Lycamobile charges a 5% service fee for all plans to recoup regulatory costs.  The MVNO considers Puerto Rico to be domestic use, so you can use your plan while traveling to the region.
On March 20, 2019, Lycamobile announced another change.  Customers who have an inactive plan and haven't used their service for 60 days or more will have their assigned phone number and SIM expire.  Previously, customers had 90 days to reactivate service before losing their number.
In February, Lycamobile updated its $19 and $23 plans to include more data, but for new customers only.  Current customers on either plan were told their plan would not be updated to include more data.  I was hoping this would have changed by now, but unfortunately, it has not.  The $19 plan includes 1GB of data for new customers only, those who subscribed to the plan prior to 2/7/2019 are stuck at 500MB.  The $23 plan includes 2GB of LTE data for all customers who subscribed to it retroactive to 1/1/2019.  Old customers are stuck at 1GB of 4G LTE data each month.
All plans described come with a 10% off auto-pay discount.
Editor's Take
Lycamobile's plan updates are a bit puzzling to me.  First, the wireless provider improved its cheapest plans, however, legacy customers can't take advantage of the updates.  As far as I'm aware, this is an industry first and just bad business. Typically when a provider improves their plans, current subscribers automatically get updated to the improved plans or at least have the option to opt into them.  So this is definitely odd.  On the other hand, it's also a common practice for providers to offer new customers extra data or cheaper rates compared to current subscribers.  But those offers are described as being available for a limited time only and to new customers.  Lycamobile does not say that the plan updates are limited time offers.
The other thing that seems a bit odd is how Lycamobile structured its $39 and $45 plans.  Are customers really going to jump onto the $45 plan to get 200 domestic voice and text roaming minutes at the expense of 5GB of 4G LTE data?  The $45 plan also doesn't include the $10 international calling bonus credit.  To me, the $39 plan seems like a far better value between the 2 offerings.  It will be interesting to see if customers agree and if Lycamobile has to push out another plan update in the not so distant future.
Compared to other wireless plans on the market that offer similar features, Lycamobile's $39 plan does compare pretty favorably.  There are just a handful of plans that might beat it out in value.  Sprint's still got Unlimited Kickstart available for $25/month.  That plan includes unlimited LTE data.  Textnow offers a plan with 23GB of 4G LTE data at the $39.99 price point, and Visible offers an unlimited LTE data plan for $40/month.  Although with Visible, data speeds are limited to 5Mbps.
Lycamobile is an MVNO on the T-Mobile network. The provider focuses its plans on those that need international calling and texting features.
---
---