Lycamobile Gives New Meaning to Best Value
Updated: 02/17/2015
Well, it seems Lycamobile is no longer offering the great plans described earlier.  After a few short days on the market, the MVNO has rescinded the plans as if they were some sort of mistake, or plans that their partner T-Mobile did not approve of.  My personal feeling is that the plans were not approved by T-Mobile given that Lycamobile gave thumbs up to the original post below via twitter.  The revised plans are still pretty good although not the great values they could once be considered.  Plans that have been revised are at the $35 and $45 price points. The revisions only affect the amount of data included with each plan and are highlighted below.
$35 plan will include 2 GB of LTE (instead of 4 GB)
$45 plan will include 4 GB of LTE (instead of 6 GB)
Be informed of the latest deals, plans and promotions from T-Mobile and every one of its MVNO's when you subscribe to the T-Mobile weekly newsletter. No spam and you can unsubscribe at any time!
     Lycamobile, a T-Mobile MVNO, came out today and redefined what it means to be best value in prepaid wireless.  Lycamobile's $35 plan which includes unlimited talk, text, data and international texting just got a bump up in its high speed data allotment going from 1 GB to 4 GB of 4G LTE.  At this price point, there is currently no other carrier that offers more data for less that also seemingly includes unlimited talk and text.  To top it off, the plan also includes unlimited international texting as well as a small credit of $2.50 to apply towards international phone calls.
        Now I mentioned the word seemingly here because if you read Lycamobile's fine print, it says that they consider unlimited to mean 10,000 minutes of talk, and 5000 text messages.  Those semantics are quite misleading and in the future I wouldn't be surprised if a lawsuit pops up considering how companies like Tracfone have recently been nailed for using similar tactics to describe unlimited data without it being truly unlimited.  With that being said, you are still looking at a great value here, and most of you will probably never get close to using 10,000 minutes of talk, although 5000 text messages might prove challenging for some of you with teenagers.
        The $35 plan wasn't the only plan to change though.  Lycamobile also bumped up data on the $45 and $55 plans.  The $45 plan saw a data bump from 3 GB to 6 GB which now allows them to offer more data than any other carrier or MVNO at that price point, while the $55 plan got a bump from 5 GB to 8 GB of LTE which isn't particularly impressive considering the 10 GB of LTE data that Cricket and Boost Mobile offer at those price points.  The $45 plan also includes a $5 international calling credit while the $55 plan has a $7.50 international calling credit.  A summary of Lycamobile's phone plans can be found in the infographic below.
Note: Anywhere specified as unlimited means either 10,000 talk minutes or 5000 text messages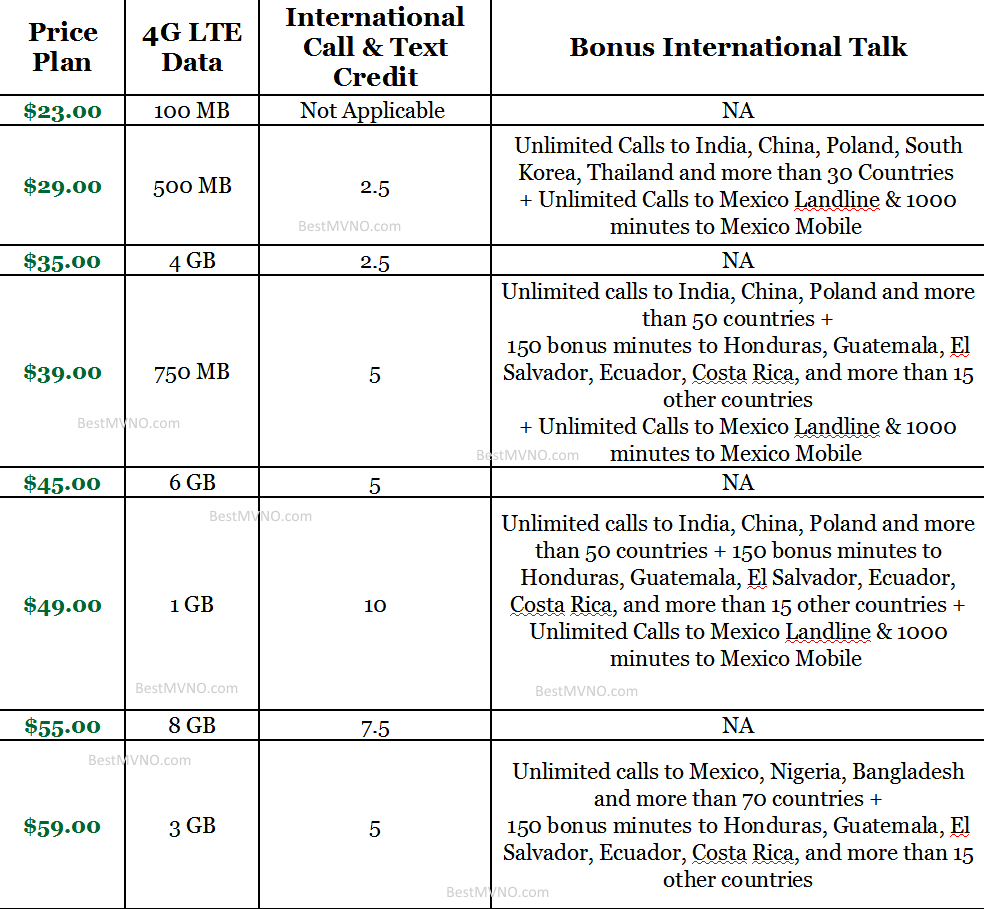 ---
---