Google Fi Partners With Ellen DeGeneres To Give New Subscribers A $100 Service Credit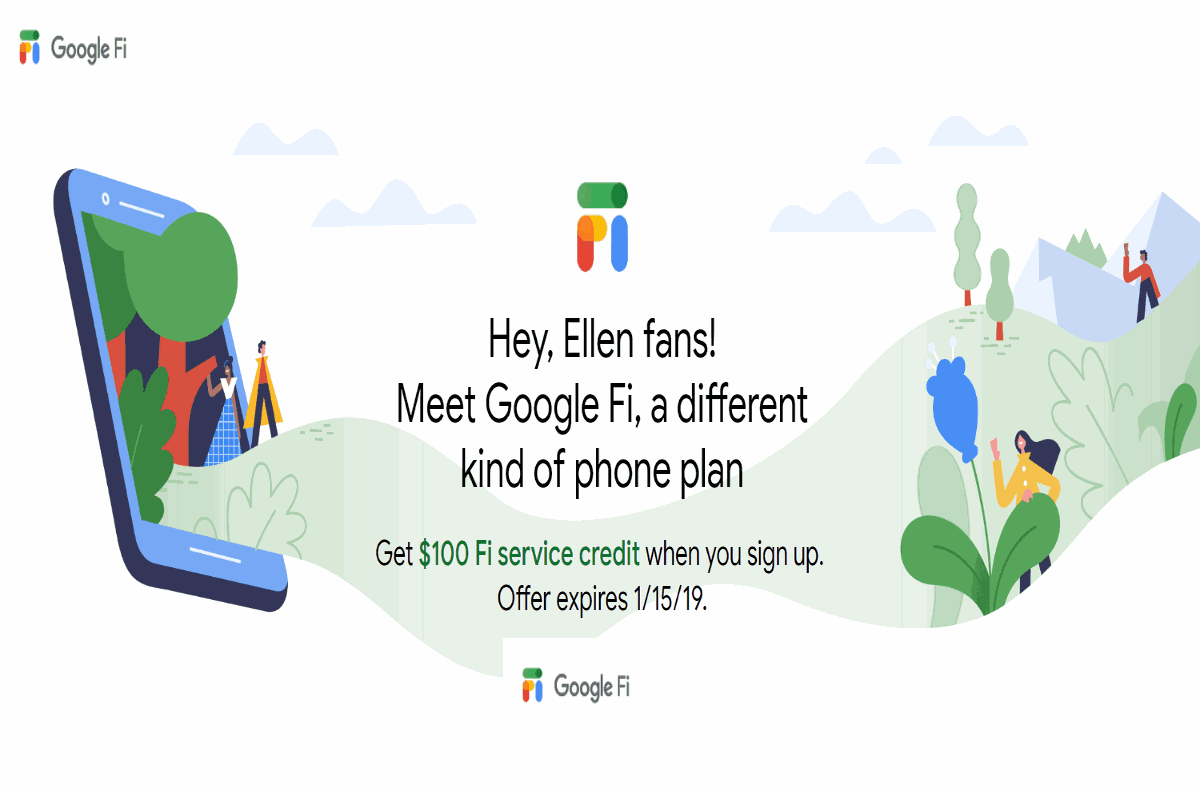 Google has perhaps gotten a little more serious about growing its Google Fi wireless brand.  To help make the brand a household name, Google just gave away one year of free service and a Google Pixel 3 to audience members at a recent taping of the Ellen DeGeneres show.  Fans of the show who weren't at the taping will be happy to know that they can still receive a $100 Fi service credit when they subscribe to the network by 1/15/19.
Excited is an understatement—we're talkin' about a @TheEllenShow level of excitement. ????

This holiday season, sign up with Google Fi and score $100 in credit.#GoogleFi

https://t.co/1k5jXyoAuk pic.twitter.com/M83xQfHDak

— Google Fi (@googlefi) December 20, 2018
$100 Service Credit Terms And Conditions
The offer is only available to new Google Fi users and new group plan accounts.  Subscribers must also join Fi through this specific landing page.  The offer will be available until 11:59 PM PT on 1/15/19.
There is a limit of one $100 service credit allowed per person and one per group plan account.  Current subscribers and existing group plan accounts adding a new member are not eligible for the promotional credit.
Customers who purchase a device from Fi must activate it within 30 days of shipment.  Customers who bring their own device to Fi must activate it by 11:59 PM PT on 1/31/19.  Subscribers must then remain active on their plan for 30 days to receive the credit.  Customers can expect to see the service credit added to their accounts within 45-60 days after activation.  Credits can only be used to pay for service, they cannot be used to purchase a device or device financing.
The offer can be combined with certain other offers from Google that involve a device purchase.
Get Additional Service Credits When You Purchase One Of The Following Devices
Google Fi is offering a $100 service credit with the purchase and activation of either a Google Pixel 3 or Pixel 3 XL.  This one is available to new and existing customers.  Eligibility requires that those porting in must have active service and have been active with their previous carrier since 8/29/18.  Subscribers must also remain active for a minimum of 60 days on the network.  Pricing for the devices start at $799.
New and existing customers who purchase a Google Pixel 2 XL will receive a $300 Fi credit as long as they keep their line active for at least 30 days.  The Pixel 2XL is priced at $749.
Those who want an LG G7 or LG V35 will be happy to know that they can get a $200 service credit with purchase of either device.  A $200 discount is also being offered on the device itself.  The offer is available to new and existing customers and subscribers must remain active on the network for 30 days to qualify for the service credit.  Discounts on the devices will be offered instantly at checkout.  With the discount, the LG G7 is priced at $549 and the LG V35 at $699.
Those who purchase either a Moto G6 or Moto X4 are eligible for a $100 service credit as long as they maintain active service for at least 30 days.  This offer is available to new and existing customers.  Activate a Moto G6 and you'll also receive a $50 discount on the device dropping the price from $249 to $199.
If you are interested in a Android One Moto X4 you'll receive up to $150 off when you activate it on Fi.  It must be activated within 30 days of device shipment.  If it is not activated within that time frame, Google will charge the discounted amount back to your account.  The 32GB Moto X4 is being discounted from $399 to $249.  The 64GB variant is being discounted from $419 to $299.
---
---