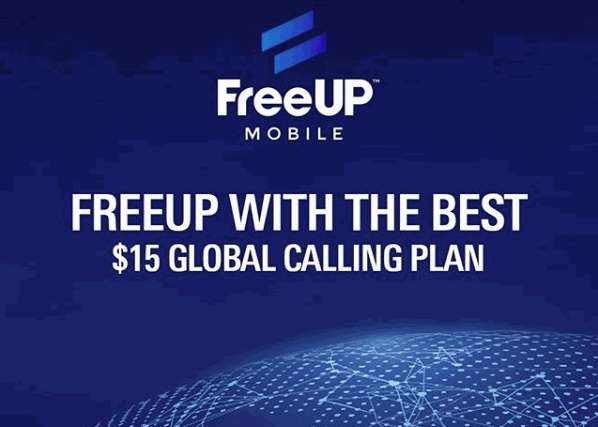 ---
Two weeks after tweaking its plans to include unlimited data at 2G speeds, FreeUP Mobile is out with another change today.  The AT&T MVNO is now offering a multi-month plan.
FreeUP Mobile's new multi-month plan is priced at $40 for 3 months of wireless service.  That works out to an average cost of $13.33/month.  The plan includes unlimited talk and text with 500MB of hard capped data each month and 500 international long-distance calling minutes to Canada and Mexico.  Unlike several other FreeUP Mobile phone plans, customers who run out of data on this plan cannot add a data top-up.  Other FreeUP Mobile plans include top-up options priced at $10 for an additional 1GB of data at 4G LTE data speeds.
FreeUP Mobile offers several other phone plans and they are as follows:
$15/month - 500MB 4G LTE data hard capped data
$20/month - 2GB 4G LTE data
$30/month - 6GB 4G LTE data
$45/month - 15GB 4G LTE data
The plans just described all include unlimited talk and text and unlimited global talk and text to over 150 countries.  Sales tax costs extra but other telecom taxes and fees are included in the prices shown.  Mobile hotspot is not supported.  Unless stated otherwise, all plans also include unlimited data at 2G data speeds once the plans allotment of 4G LTE data runs out.
Editor's Take
FreeUP Mobile's new multi-month phone plan is strangely priced.  It seems to be based upon FreeUP Mobile's $15/month plan.  Customers who opt for the multi-month plan will only save $1.67/month or $5 total over the course of 3-months compared to the $15/month plan.  While there's nothing really wrong with the savings, the problem is the multi-month plan seems to offer fewer features compared to the $15/month plan and that may be a problem for some.  As feature upgrades to the multi-month plan, customers on the $15/month plan get unlimited global talk and text and can add additional data to their plan at any time if they run out of it. Hopefully FreeUP Mobile can improve the plan going forward to allow for data add-on purchases.   Without that option, I suspect they won't be able to maximize customer acquisition and conversion to that new multi-month plan.
---
---