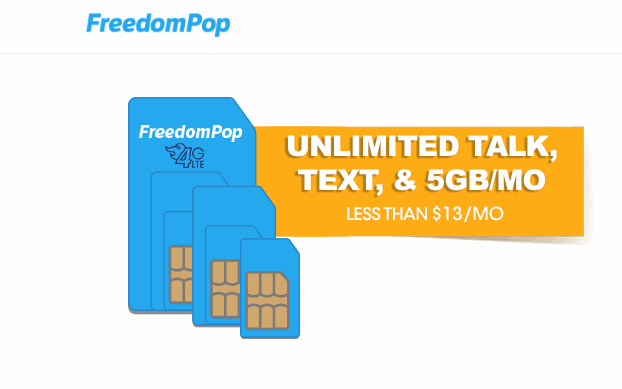 ---
FreedomPop has just launched a new new plan that utilizes their GSM partner's network.  The coverage map for the plan indicates that their network partner is AT&T.
FreedomPop's new annual plan includes unlimited talk and text with 5GB of monthly 4G LTE data at an average cost of just $12.50/month.  Priced annually it is $149.99 and that must be paid up front.  Additionally, the MVNO's Best Buy exclusive plans are no longer exclusive to Best Buy.  You can now get unlimited talk, text and 1GB of data on the AT&T network for less than $7/month directly from FreedomPop.
Be informed of the latest deals, plans and promotions from AT&T and every one of its MVNO's when you subscribe to the AT&T weekly newsletter. No spam and you can unsubscribe at any time!
New 5GB Plan Details
The new 5GB plan is actually a departure from what FreedomPop has traditionally sold.  The plan actually includes voicemail and MMS, two service features that the company previously charged extra for.
Other included features are:
30 day money back guarantee
Free SIM card
The ability to renew the plan at the exact same rate, no introductory pricing
Works with out of contract phones from AT&T and AT&T MVNO's that have been paid off in full and have no other obligations.  Works with unlocked phones from T-Mobile and T-Mobile MVNO's.
Best Buy Plan That Lost Exclusivity
The former Best Buy exclusive plan includes all the same features that the new 5GB plan does including voicemail and MMS.  What's different is that the plan only comes with 1GB of 4G LTE data.  It's also only available as a multi-month 3 month plan priced at $19.99 for the 3 months.  That works out to an average cost of $6.66/month.  This is what is now available directly from FreedomPop.
There is also an annual option for the plan, but for the time being it still seems exclusive to Best Buy.  Customers pay $49.99 for 12 months of service or an average cost of $4.17/month.
Shop FreedomPop's 3 Month Plan
More About FreedomPop
FreedomPop uses VoIP technology to provide voice service to subscribers.  Keep this in mind if you'd like to try out FreedomPop.  Some folks find VoIP to induce conversational lag, where one person speaks and there's a slight delay before it gets heard on the other end.  It's not an issue that bothers everyone, but for some people it's a deal breaker.
---
---