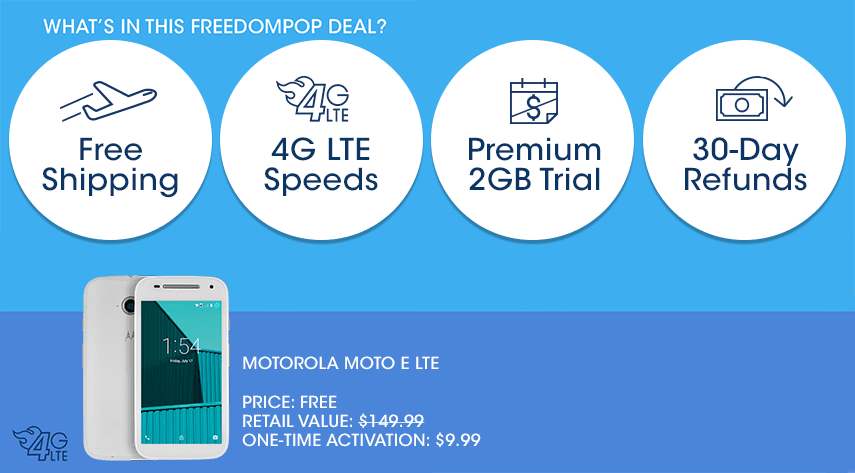 ---
FreedomPop is now giving away the 2nd generation Motorola E for $9.99.  With the purchase of the phone comes a 2 week trial of FreedomPop's service on its CDMA network partner Sprint. Additionally the MVNO's Best Buy exclusive plans are now on sale.  A new trial offer of the company's GSM plan with 2GB of data is available for $4.99.
Moto E 2nd Generation Offer
FreedomPop is actually marketing the 2nd generation Moto E as being given away for free.  By free, the company means you'll have to pay a $9.99 activation fee to get it with a trial plan.
The trial plan being offered includes 14 days of service with unlimited talk and text and 2GB of 4G LTE data. The data and unlimited talk and text will come by way of what FreedomPop calls its 2GB Premier package.  After the 14 day trial service is up, subscribers are expected to pay $24.99/month to maintain service.
FreedomPop is also offering its Phone Premier Package as part of the trial.  That package includes the following:
Visual Voicemail
Data Rollover - rollover your unused data and bank up to 20 GB for use anytime
Premium Voice - Higher quality voice calls when the network data connection is weak.  Without premium voice, phone calls are placed and received strictly over VoIP either through Sprint's 4G LTE network or Wi-Fi.  Some people find VoIP to offer a lower quality conversational experience.
MMS picture and group text messaging
Data compression technology to help your data last up to 2x longer
FreedomPop private internet service - encrypts your internet, talk and text connections
Ad blocker
Faster data speeds
After the 14 day trial is up, FreedomPop will charge you $9.99/month to maintain the service package.
Best Buy Exclusive Plans Discounted
FreedomPop sells two Best Buy exclusive plans.  One is a 12 month annual plan, the other is a 3 month plan.  Both plans include unlimited talk and text, voicemail, MMS and 1GB of high speed data.
The 12 month plan normally retails for $49.99 or about $4.17/month.  Sale pricing drops the cost down to $44.99 or about $3.75/month. The 3 month plan retails for $19.99 or about $6.77/month.  Sale pricing knocks that down to $17.99 or about $5.99/month.
The Best Buy plans being offered are for service on FreedomPop's GSM network partner, otherwise known as AT&T.
FreedomPop's 3-In-1 SIM Kit GSM Plan Trial Offer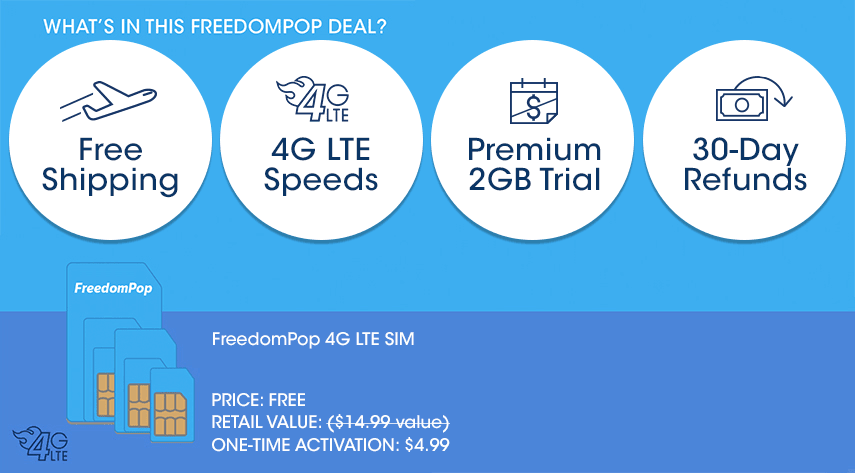 The GSM plan 14 day trial offer will cost $4.99 and comes with the following:
2GB of LTE data plus an additional 2GB of bonus LTE data
Unlimited talk and text
30-day money back guarantee
Free international calling to over 60 countries
SIM ships activated
The trial also includes FreedomPop's Phone Premier package which was described in the Sprint deal.  FreedomPop's Phone Premier GSM package differs from the Sprint based one in that hotspot/tethering and premium voice are not included. Calls are only offered by VoIP.  The price of this package after the 14 day trial is up is $7.99/month.
The 2GB Premier package described in the Sprint deal is also what is being offered with this GSM plan. Pricing is the same at $24.99/month.
---
---