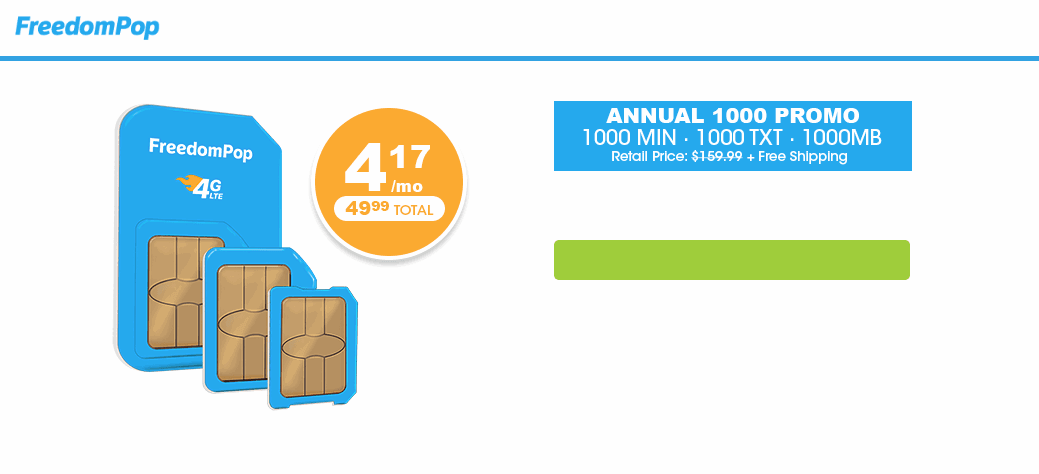 ---
In August of 2017, FreedomPop launched a promotional annual plan that included monthly allotments of 1,000 minutes, 1,000 text messages and 1GB of data priced annually at $49.99. The plan was available on the Sprint network and a GSM network believed to be AT&T as the coverage map seemed to indicate.
Now it seems that plan has returned, but this time it is limited to use on the GSM network. FreedomPop is calling the plan the Annual 1000 Promo.
Annual 1000 Promo Details
The Annual 1000 Promo plan will cost you $49.99 a year which works out to just $4.17/month. It also includes the following:
30 day money back guarentee
Compatible with most unlocked phones
Free shipping and free SIM
Ships with a SIM already activated
Things To Be Aware Of
FreedomPop provides service through VoIP.  That means all calls will go through a data network, and not a cellular voice network. Some people who use VoIP services complain of latency.  That means that when they speak, the person on the other end of the line will have a slight delay in hearing what is said and vice versa.  Sometimes this leads to people talking over one another.  This is not an issue for everyone though.
Text messages are also sent and received over data.
FreedomPop has not said if the plan includes MMS and voicemail. Often times those two features are available as add on packages. If I were purchasing the plan myself, I would assume that they are not included. FreedomPop likes to use features like those to try and up-sell its customers on services that generate more revenue for the company.
As long as you are ok with those potential pitfalls, the plan will provide you with great value. It is the cheapest plan around to offer at least 1GB of monthly data.
---
---