FreedomPop Introduces $49 Annual Plan With 1,000 Texts, Minutes And MB Of Data Each Month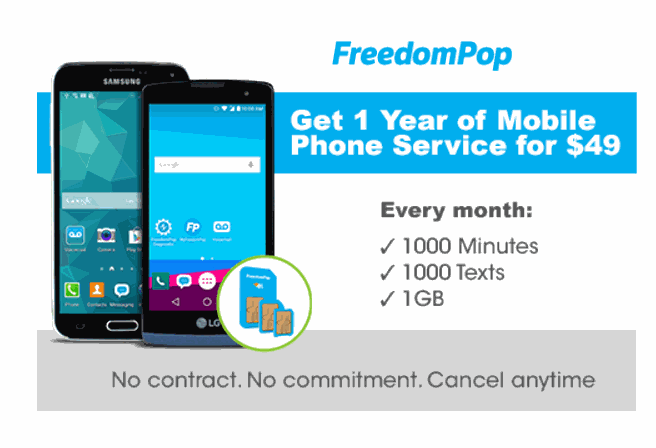 FreedomPop has just launched a new phone plan targeted at those who want cheap service without unlimited LTE data.  The plan requires subscribers to pay for service one year in advance at a cost of just $49/year.
The new annual plan will operate on the Sprint network or the AT&T network depending on which option is chosen during signup, and it gives subscribers 1,000 text messages, 1,000 minutes and 1 GB of data to use each month.  At a price of $49/year this works out to an average cost of just $4.08/month making it the cheapest limited plan around.
In addition to offering the new plan, FreedomPop is bundling the plan with a couple of phones at an additional cost.  For $79 subscribers can get the yearly plan with an LG Tribute.   A Samsung Galaxy S5 bundle is also available priced at $149.
Be informed of the latest deals, plans and promotions from AT&T and every one of its MVNO's when you subscribe to the AT&T weekly newsletter. No spam and you can unsubscribe at any time!
FreedomPop's COO Steven Sesar, had the following to say in regards to the new offering:
"We're moving away from the idea that a mobile service has to come with a monthly bill..... For a one-time purchase of under $80, you can get a smartphone and service and not have to think about ongoing payments. With U.S. mobile prices coming down, we felt it was time to lead the industry to even further price drops, offering massive discounts for annual plans like most online subscription companies have been doing for years"
I find the last part of his comment to be a little funny, given that he stated it was time they start leading the industry to even further price drops by offering big discounts on annual plans.  FreedomPop has actually been doing this for quite awhile.  Some of those annual plans which include this  AT&T based plan , feature unlimited talk, text and 2 GB of data at an average cost of $11.99/month have even been listed through BestMVNO.com.
Annual and multi month plans have seemed to gain more traction recently.   Red Pocket Mobile offers an annual plan with 3GB of data at an average cost of $21.25/month that is available on all 4 major wireless networks.  Ultra Mobile just changed up their monthly plans to include more features for those who are willing to pay for service 3 months in advance.  Ultra's other brand, Mint SIM, exclusively sells multi month plans with big discounts.  Both Ultra Mobile and Mint SIM operate on T-Mobile's network.
---
---