FreedomPop Plans On Sale At Both Target And Best Buy, Get 1GB LTE Data For $3/Month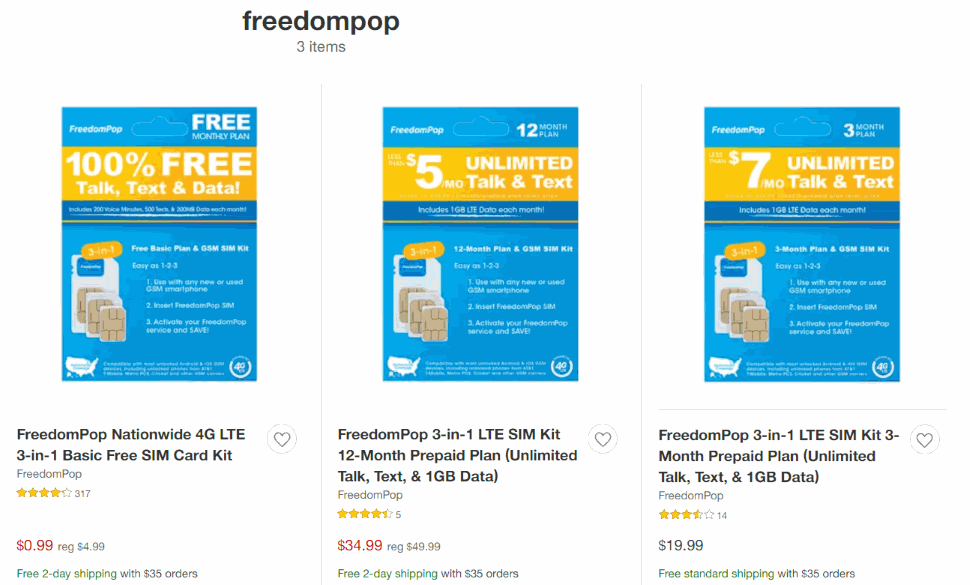 ---
Did you know BestMVNO is available to follow for free in Google News? Follow BestMVNO in your Google News app and keep up to date on wireless.
Follow BestMVNO In Google News
---
---
FreedomPop phone plans are currently on sale at both Best Buy and Target.  The plans that are on sale are multi-month plans.  Customers can choose from either a 3-month plan or a couple of annual plans.  The best cheap plan option includes unlimited talk and text with 1GB of monthly LTE data for $34.99 or an average cost of about $2.92/month.  This deal is available at Target.  At Best Buy the same plan is on sale for $39.99 or an average cost of $3.33/month.  Taxes and fees are not included in the prices shown.  Both retail stores normally sell the plan for $49.99.
Other FreedomPop Plans On Sale
Target only has the one FreedomPop plan on sale.  However, it is selling FreedomPop SIM cards at a discount.  SIM cards are on sale for 99¢ marked down from $4.99.
All FreedomPop phone plans are on sale at Best Buy.  Best Buy carries a total of 3 plans, one of which has already been described.  The other plans carried are on sale as described below:
$15.99 or an average cost of $5.33/month - 3-month plan with unlimited talk, text, and 1GB of LTE data each month.  Regularly priced at $19.99.
$119.99 or an average cost of $10/month - annual plan with unlimited talk, text, and 5GB of LTE data each month.  Regularly priced at $149.99.
FreedomPop is an MVNO that operates on both the Sprint and AT&T networks.  However, service on the plans sold in stores is on the AT&T network.  Customers who pick up their plan at Best Buy will get a free 3-month subscription to SiriusXM's streaming radio service.
If you are interested in any of the plans described, keep in mind that they require the use of the FreedomPop app to place phone calls and send text messages.  Voice calls are not placed over a traditional cellular network, VoIP is used instead.  So call quality may not always be ideal.  I recently reviewed Unreal Mobile which is an MVNO that is owned by FreedomPop and also requires the use of an app to place phone calls when service is on the AT&T network.  Call quality was definitely mixed for me, so you may want to check out that review before you make a purchase if that's something that is important to you.  You can expect FreedomPop's call quality to be nearly the same if not identical to that provided by Unreal Mobile.
---
Be sure to follow BestMVNO on Twitter for additional wireless coverage, deals, insights, and even debates!
Follow @BestMVNO Twitter
---
---