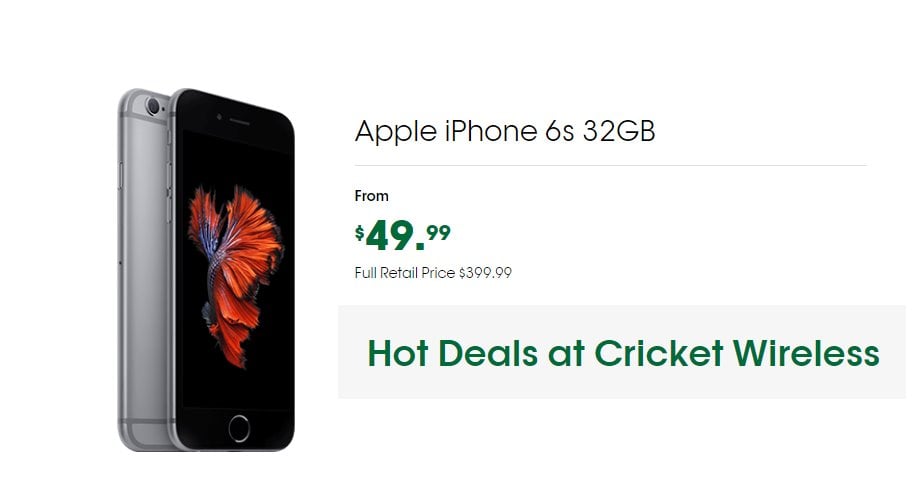 ---
A week after a major promo reset, Cricket Wireless has altered some of its promos for the better.  The iPhone 6s is once again $49.99 with port-in to Cricket's $60 unlimited plan.  It also requires a valid ID.  The same offer was made available during the 2019 holiday shopping season but was temporarily discontinued when the price of the phone went back up to $149.99 for all customer types on 1/10/2020.  Cricket has also released a few other promo updates that are detailed below and Lady Red's Tech Reviews is also putting out a vlog about the deals.
Cricket Wireless's Updated Promo Details Highlighted
Besides the iPhone 6s deal, Cricket Wireless has also updated pricing on the iPhone 6s+, Moto G7 Supra and the LG Stylo 5 for port-in customers only.  All port-in promos require customers to port-in to Cricket Wireless's $60 rate plan.
The iPhone 6s+ is now available for $99.99 with a valid ID.  This is down from the $199.99 price announced last week.  It is available at the same price for both 32GB and 128GB device configurations, however, the 128GB configuration is only available in-stores. This matches the deal offered over the holiday shopping season.
The Moto G7 Supra is now $9.99, down from $99.99.  It was free during the holiday shopping season.
The LG Stylo 5 is now $9.99 down from $109.99.  It was also free during the holiday shopping season.
Customers who purchase and activate their phones in-store may be subjected to a $25 activation or upgrade fee and a $3 fee will be assessed to those who need customer assistance paying their bill.  The $3 fee is increasing to $4 at the end of January.
The deals are scheduled to be available at least until 2/13/2020.  Phones will be restricted to use on Cricket Wireless for 6 months but can be unlocked for use on another network after 6 months.  Sales tax may apply based on location.
Cricket's $60 Unlimited Plan Is Required And Here Are The Plans Details
In order to pick up one of the new port-in promo details, customers will have to subscribe to Cricket Wireless's most expensive phone plan priced at $60/month or $55 with auto-pay billing enabled.  The plan includes the following features:
Unlimited talk, text, and LTE data
Talk, text, and high-speed data usage in both Canada and Mexico at no extra charge
15GB of mobile hotspot at 4G LTE data speeds before throttling to 128Kbps.  Hotspot usage requires having an eligible phone
Multi-line discounts are also available for lines 2-5.
2 Lines - $90/mo ($30 discount)
3 Lines - $110/mo ($70 discount)
4 Lines - $130/mo ($110 discount)
5 Lines - $160/mo ($140 discount)
After the first month of service is up, customers can switch to a lower cost Cricket Wireless plan without penalty.  Taxes and fees are included in the plan prices shown.
Editor's Take
Cricket Wireless's updated promos are a step back in the right direction.  Still, I'd rather see the iPhone promos be for the iPhone 7 to match what is going on at both Boost Mobile and Metro-By-Mobile.  Boost Mobile has the iPhone 7 for $49.99 while Metro as it for $99.99.  So having an iPhone 6s available for $49.99 seems like a dated offer to me.
One other thing to note is that Cricket Wireless now requires a valid ID to get select promos.  This may be the start of a new trend in prepaid.  Metro-By-T-Mobile also recently made that a requirement.  The change was put in place to help prevent fraud.
---
---