Consumer Cellular Has New TV Ad Campaign With Ted Danson, Opening 13 More Stores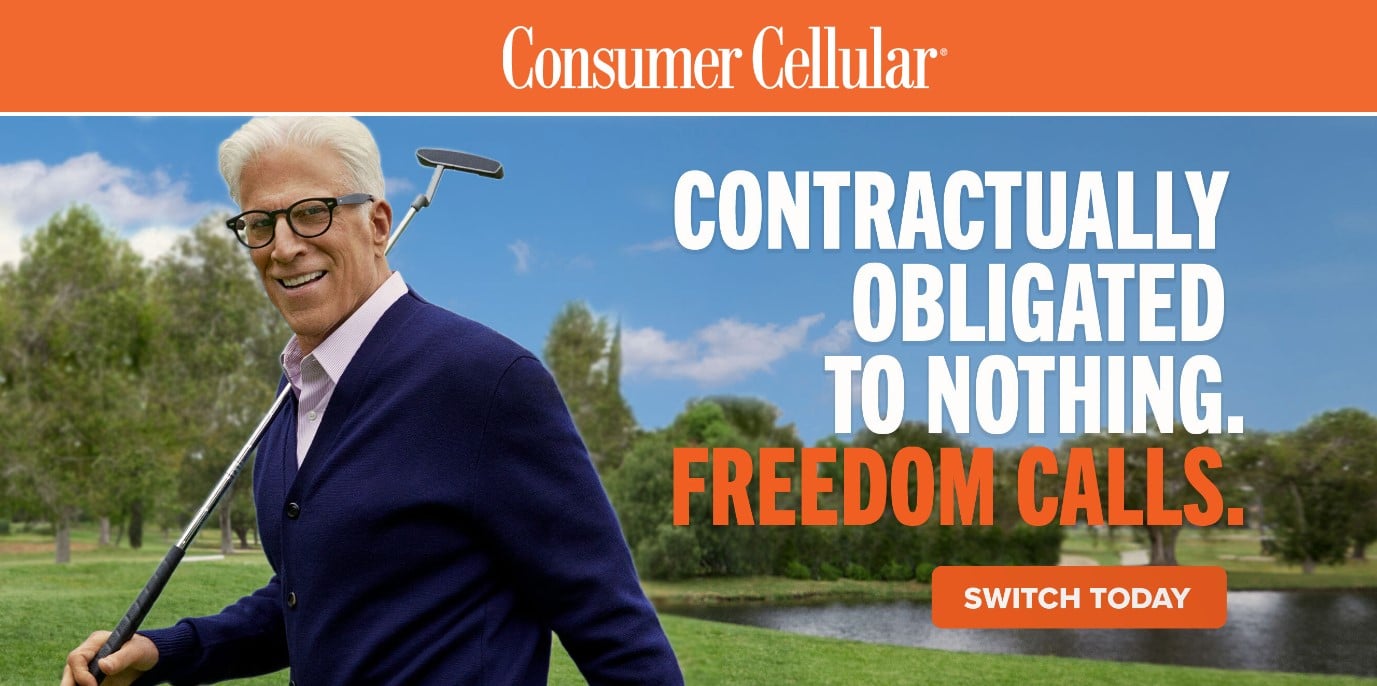 In March 2022, Consumer Cellular signed Ted Danson to be their company spokesperson. Soon after that, Danson appeared in a plethora of TV ads touting the brand. His face was also plastered onto the Consumer Cellular website. But no new TV ads featuring Ted Danson had launched since September 2022. And in April, Danson's face was briefly removed from the MVNO's website. However, the latest prepaid report from the firm Wave7 Research detailed a new campaign launch from the brand and it once again stars Ted Danson. The campaign is centered on the tagline "Freedom calls." A new TV ad has launched with Danson and the tagline. Consumer Cellular's website has also been updated with a new image of Danson on the homepage along with the slogan "Contractually Obligated To Nothing. Freedom Calls."
The new ad campaign from Consumer Cellular isn't the only change from the brand. Wave7 Research reports that the company has now opened a total of five stores. Three are in Arizona, and two are in Florida. But the number of stores opening is set to rapidly expand. A recent check of online postings by the firm turned up job offers from Consumer Cellular in 13 additional cities with "Retail Store Manager" posted in the job titles. Those cities are Tucson, AZ, Arnold, Saint Charles, and Chesterfield, MO, Charlotte, NC, Timonium, MD, Fort Myers and Brandon, FL, Las Vegas and Henderson, NV, Lancaster, PA and Georgetown and Pflugerville, TX.
In addition to the store launches, the company has shuffled around its plan lineup. In March of 2023, BestMVNO reported that Consumer Cellular reduced its number of plan offerings from six down to three. The company has now relaunched its $25/month plan with 5GB of high-speed data bringing the total number of available plans up to four. Additional lines are still priced at $15/line. BestMVNO has also heard from some readers that Consumer Cellular has dropped T-Mobile as a network partner, making them exclusively an MVNO of AT&T. BestMVNO has not been able to independently verify those claims.
Consumer Cellular's New TV Ad 'Freedom Calls: Issa' With Ted Danson
Consumer Cellular's newest TV ad with Ted Danson, 'Freedom Calls: Issa' launched on June 12. It features Danson in the back of a golf cart riding with three golfers. Danson is not a part of the trio and is there to portray the thoughts of one of the golfers, Issa Tanaka. As Issa sets up for the 18th green, Danson voices Tanaka's thoughts and says "My brother may think he's a better golfer, a more witty conversationalist. He may think he's superior, but he's not. Because I switched to Consumer Cellular, for the same coverage for up to half the cost." The ad continues with Issa sinking a put and speaking for himself by proclaiming "I'm the one who wins." The ad finishes with Danson stating; "When freedom calls, we're here to answer." You can watch the ad below.
According to Consumer Cellular representatives in contact with BestMVNO, this will be a major campaign for the brand moving forward. There will be a significant push through TV, radio, print, and social media.
Consumer Cellular has long focused on those older than 55 as its primary demographic. The company's new ad campaign seeks to challenge the "negative stereotypes about aging in the media" and Danson will star in it. The "Freedom Calls" campaign will focus on the 50+ demographic and celebrate the "freedom and joy of this phase of life."
In late 2020, the Chicago investment firm GTCR purchased a majority stake in Consumer Cellular in a deal valued at around $2.3 billion. The company has since invested heavily in the brand. In early 2022, the brand began to launch in Walmart stores. According to Wave7 Research, Consumer Cellular is now carried in over 1500 Walmart locations, about 42% of their stores. The Walmart launch was followed up with the signing of the company's first major celebrity endorser in Ted Danson. And now the company is busy opening up its own retail stores. All are big moves designed to acquire customers helping them to compete with major carriers and their affiliated brands.
"Consumer Cellular is aggressively moving forward in multiple ways.  Among its current efforts are launching stores, gaining more of a presence at Walmart, starting a new ad campaign with a famous TV star, and expanding its customer service capacity, such as the fairly new care center in Louisville.  Consumer Cellular is also doing advertising and marketing in a variety of ways, ranging from being pitched by talk show hosts to a special discount for podcast listeners."
---
---