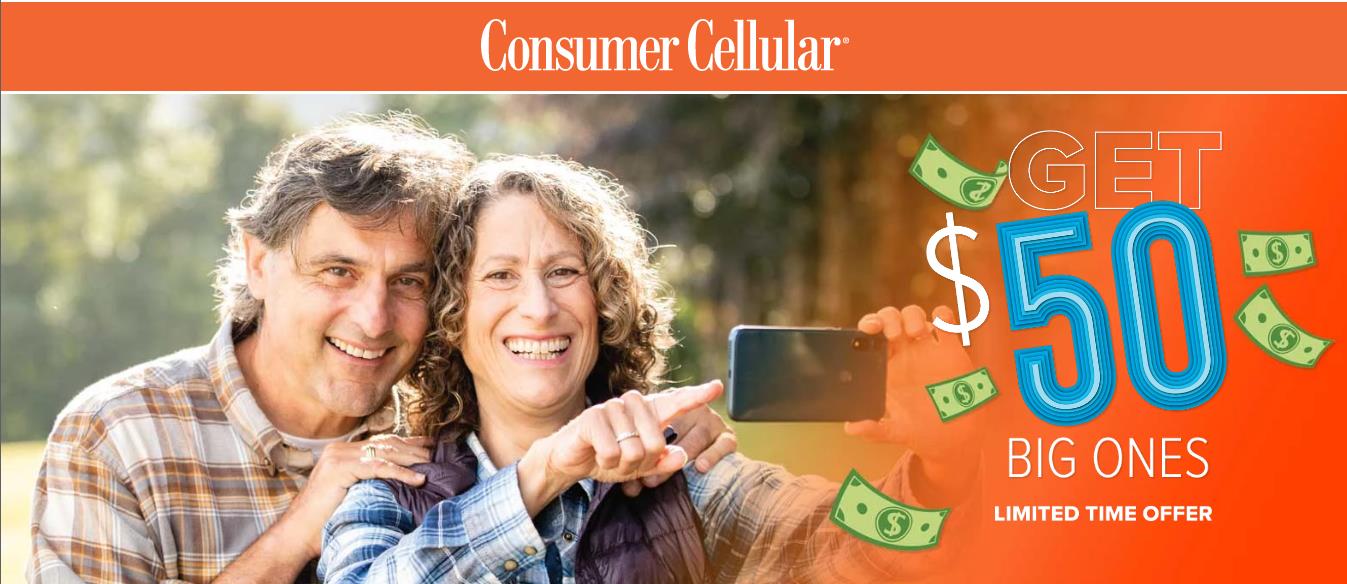 ---
Consumer Cellular has a new promo out featuring the tagline "Get $50 Big Ones." The promo offers all new lines of service up to $50 in account credits.
Offer Fine Print
Consumer Cellular is usually pretty straightforward about the fine print associated with its offers, and it's no different this time.
This deal is running from February 15 to March 31, 2021. It is available to ALL new lines of service. Whether you add a line to an existing account or are signing up with a brand new account you are eligible for the deal. Even customers adding a new GrandPad tablet or wireless home phone base line can get the credits. Customers adding multiple lines to their accounts will receive multiple credits. The $50 in new line credits will not be issued all at once. Subscribers will receive $10 in account credits every month for 5-months. If a line gets canceled before the end of 5-months, the full $50 in account credits will not be received.
This is the exact same deal Consumer Cellular offered last year. At that time it was considered their biggest account credit offering ever. A commercial was even released to highlight Consumer Cellular's benefits and the promo. I expect the commercial or a new derivative of it to begin airing again. You can watch last year's commercial below.
More About Consumer Cellular
Consumer Cellular was acquired back in October of 2020, for about $2.3 billion by the private equity firm GTCR. The brand continues to be sold through Target. Service is provided by both the AT&T and T-Mobile networks. Very recently the brand began to promote on its homepage that nationwide 5G network access is now available.
Unlimited talk and text plans start at $25/month for a plan with 250MB of hard-capped shared data. Unlimited data plans with 35GB of high-speed shared data before throttling to 2G data speeds start at $60/month. Additional lines can be added to any plan for $15/line. AARP members save 5% on the cost of their plans.
---
---