Consumer Cellular Offering 1 Month Of Free Service To Switchers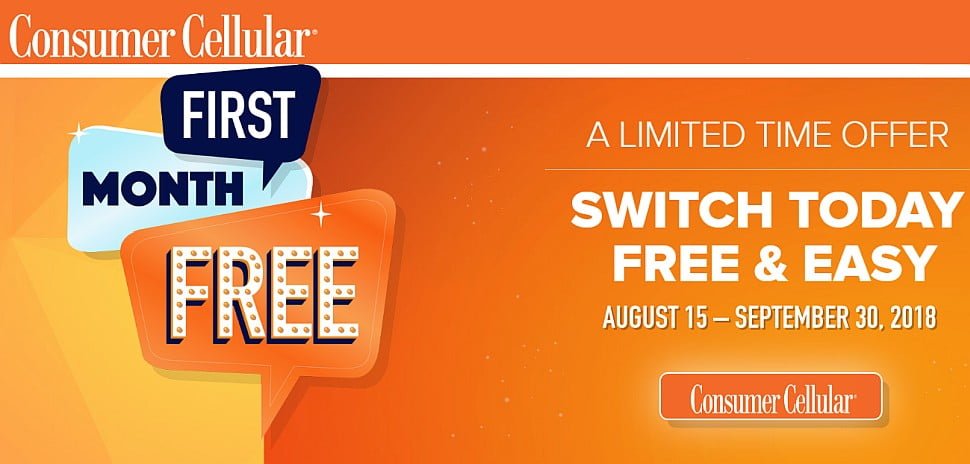 Consumer Cellular is once again offering a free month of service to new subscribers.  It is the same offer the company had available earlier this year.  Subscribers can once again get unlimited talk and text with 10GB of 4G LTE data free for one month.  The plan's regular rate is $60/month for a single line or $75/month for two lines with shared data.  AARP members can save 5% on the cost of their phone bill.
Offer Fine Print
Good news.  There isn't any fine print or gotcha's to be aware of.  However, the offer will only be available until 9/30/2018.  If you're a current customer you're not eligible for a free month.  However if you add a line to your account, the second line will be free for a month.
What Plans Can You Get For Free?
Consumer Cellular allows its customers to build their own phone plan.  Subscribers first pick how many minutes they want, and if they so choose they can add data to their plan.  Text messaging is unlimited but it is only available with plans that have data.  The table below shows what type of plan combinations are available.
| | | |
| --- | --- | --- |
|  Data | 250 Minutes | Unlimited Minutes |
| 250 MB | $20 | $25 |
| 1 GB | $25 | $30 |
| 3 GB | $35 | $40 |
| 5 GB | $45 | $50 |
| 10 GB | $55 | $60 |
A talk only plan with 250 minutes is available for $15/month, while an unlimited talk only plan is available for $20/month.  Customers can add a second line for $15/month.
Be informed of the latest deals, plans and promotions from AT&T and every one of its MVNO's when you subscribe to the AT&T weekly newsletter. No spam and you can unsubscribe at any time!
If a customer goes over their allotment of data or minutes in a month they will automatically get bumped up to and billed for the next highest tier.  Those who consume more than 10GB of data in a month will experience slower speeds and be billed at a rate of $5/GB for a maximum of 18GB.  If a subscriber goes above 18GB, their data will automatically be disabled until their next billing cycle.  Taxes and fees are not included in the prices shown.  Mobile hotspot is not supported but WiFi calling is.  An additional 5% in savings is available to those who are AARP members.
More About Consumer Cellular
Consumer Cellular is an MVNO that operates on both the AT&T and T-Mobile networks.  It is a rapidly growing provider that is expected to soon surpass 3 million subscribers.  It was founded in 1995 and consistently ranks high in customer satisfaction and loyalty.
---
---