Consumer Cellular Announces Samsung Galaxy J3, J7 And $20 Credit For Port In's And New Line Activations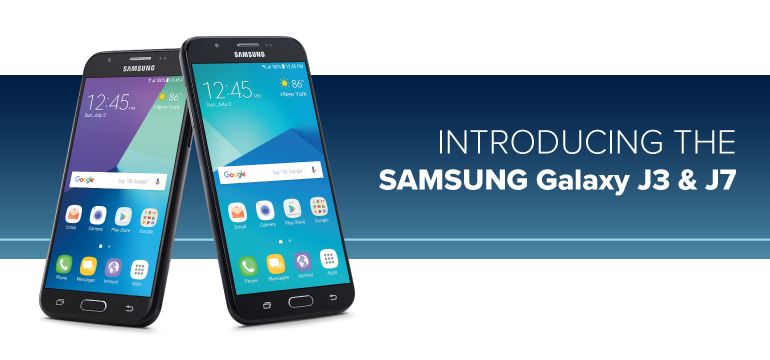 Consumer Cellular announced today the addition of two new phones to its lineup, the Samsung Galaxy J3 and Samsung Galaxy J7 priced at $100 and $150 respectively.  Both phones are considered budget devices.
The Samsung Galaxy J3 features the following:
5" 720p resolution screen
8 MP rear camera with a 5 MP selfie camera
8 GB of internal storage with only 4.3 GB that is usable, however it is expandable with a microSD card
1.5 GB RAM
1.5 GHz Quad Core CPU
2600 mAh removable battery
The Samsung Galaxy J7 is a fairly significant step up from the J3 in terms of specifications and it features the following:
5.5" 720p resolution screen
13 MP rear camera with a 5 MP selfie camera
1.5 Ghz Octa Core processor
16 GB of internal storage
2 GB of RAM
3000 mAh battery
$20 Account Credit For Port-Ins/New Lines Of Service

In addition to launching the new phones, Consumer Cellular has an ongoing promotion which is for a $20 account credit to those who activate a new line of service with the MVNO.  The new line of service can come in the form of a port in, or by adding another line of service to an existing account.  Those who are adding a new line of service will find that minutes, text messages and data are all shared between each subscriber.  Calls between each subscriber on the same account are free.  New lines of service must be activated by 8/15/17 in order to take advantage of this limited time promotional offer.
About Consumer Cellular
Consumer Cellular is both an AT&T MVNO and a T-Mobile MVNO.   Plans start at $10/month for bill per use, where minutes are deducted at a rate of 25¢ per minute.  Monthly plans start priced at $15/month for 250 minutes.  Subscribers have the option of adding talk and data allotments to their line if they so choose.  AARP members are offered a discount of 5% off their monthly bill as well as 30% off select accessories.  For more on Consumer Cellular or to activate a new line of service to receive a $20 bill credit, head on over to the Consumer Cellular website.
---
---