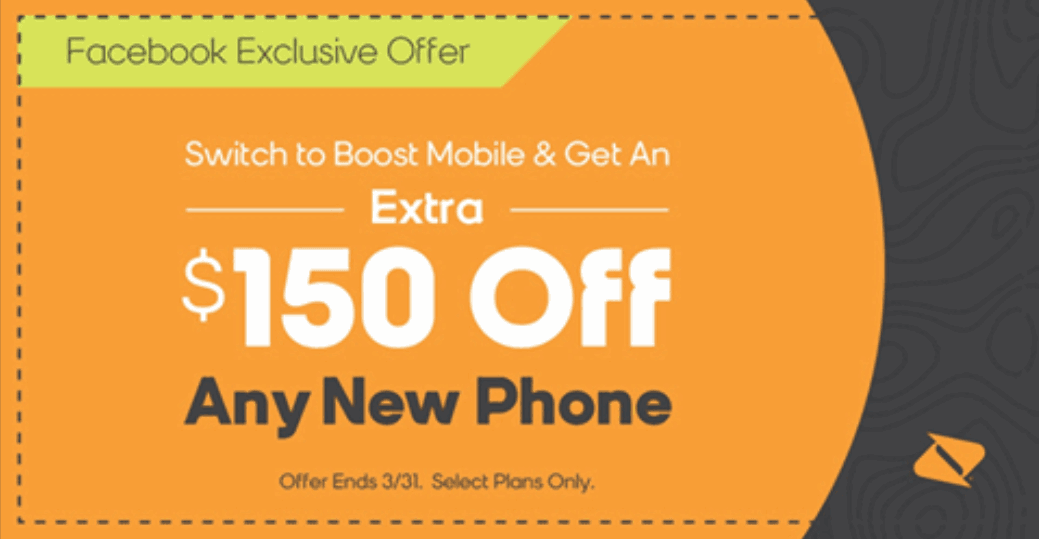 ---
Select Boost Mobile stores are offering $150 off the purchase of any new phone.  The deal is available exclusively through a Facebook offer.
Fine Print
The fine print for this offer is a little bit scarce, mostly in regards to availability.  For now, this is what is known.
At least one Boost Mobile dealership has posted the deal through a Facebook Offer.  To claim the offer you must literally click the claim offer button in the Facebook post shown below.  Once you do, you'll be emailed the offer and shown where it can be redeemed.  The offer will also be saved to your Facebook offers.
It's possible this deal is only available at one dealership.  However, once claimed the fine print for the offer reads "available in select Boost Mobile stores."  The fine print also tells dealers to redeem the coupon through ePay.  So it's possible that the deal is only available to Boost Mobile dealers using the ePay platform.  I have reached out to ePay for comment.
This offer was launched yesterday on 3/14/19 and will be available until 3/30/19.  Customers who take advantage of the deal must activate their service by 3/31/19.  It is only available to subscribers who activate on either Boost Mobile's $50 or $60 per month single line plans or multi-line unlimited plans.  A number port-in is required. There is a limit of 1 coupon code allowed per family.
Eligible Plans
$50/Month Plan Details
12GB of hotspot at LTE data speeds
Video streaming limited to a resolution of 480p
Music streaming limited to 500 Kbps
Gaming streams limited to 2 Mbps
Up to 4 additional basic unlimited data lines can be added to the account priced at $30/month
Available with only 1GB of mobile hotspot per line at a rate of $100 for 4 lines
$60/Month Plan Details
30GB of hotspot at LTE data speeds
Video streams at up to 1080p
Limited time offer of unlimited talk and text to Mexico for $1/month.  Includes up to 8GB of data roaming in Mexico at 2g/3g speeds.
2 lines for $100, $40 for each additional line
Available for a limited time, subscribers can get 4 lines for $120 with 30GB of hotspot or 3 lines with 20GB of hotspot for $100
Both plans include unlimited talk, text and LTE data.  Like other unlimited data plans, there is a data prioritization policy. Subscribers who consume more than 35GB of data in a month may have their data speeds temporarily slowed down during times of heavy network congestion.  Both plans include 50 domestic voice roaming minutes
If this Facebook offer is more work than you are willing to go through, Boost Mobile currently has another online-only deal running. Until 3/18/19 customers can use the coupon code LUCKY2019 to get 20% off any new Android phone. Boost Mobile is still offering deals on several other phones.  Switchers can continue to get the iPhone 6s for $25 or the LG Stylo 4 for free.
---
---