Boost Mobile Updates Unlimited Plans With More Options and Adds Family Plans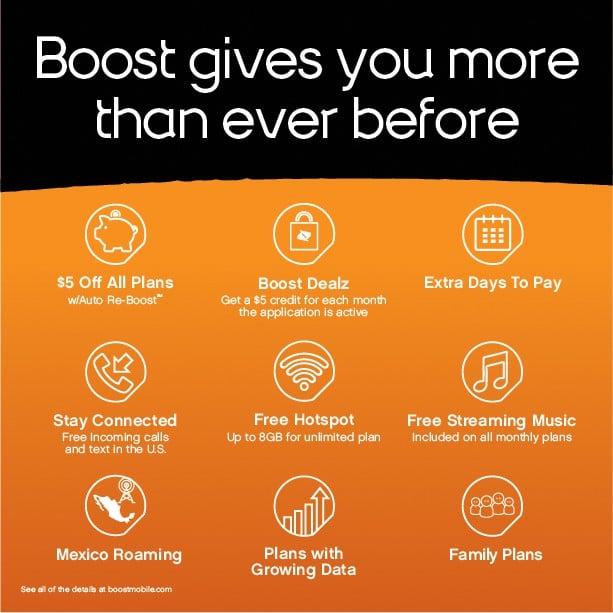 Boost Mobile, founded in 2002, announced today what it is calling the "best value in its history" with the launch of updated unlimited plans and family plan options.
Boost Mobile Family Plan
The Boost Mobile Family Plan launches with two lines for $70/month and 5GB of 4G LTE data per line.  Unlimited talk, and text is also included.  A third line can be added for $95/month and $120/month for a fourth.  For those that don't need as much data, 3 lines can be purchased with 1.5GB of data each line for $90/month and $100/month for 4 lines.
Boost Mobile is also offering a buy one get one free deal for new customers when activating a family plan.  A maximum of 2 free smartphones will be given out, and selection is limited to the following phones, ALCATEL ONETOUCH Elevate, Motorola Moto E, LG Tribute, LG Tribute 2 and the ZTE Speed.  The BOGO deal is only available in store and will run until 4/5/16.
Unlimited Plan Options and Enhancements
Auto Re-Boost- $5 off any Boost Mobile plan with autopay or as Boost calls it Auto Re-Boost enabled.
Boost Premier - For a limited time, customers will get up to 14 days to pay their bill after their payment due date before service is interrupted.  Even with interrupted service, customers can still receive free incoming calls and text messages for up to 60 days.  If your account is cancelled, you will not receive calls and messages.
Mexico Roaming and International Calling - For $5 more a month, customers can get unlimited talk and text and up to 8 GB of data while roaming in Mexico.
$5 Credit Every Month With Boost Dealz App - Available exclusively to Android users, the Boost Dealz app lets customers view special deals and ads in exchange for a $5 credit for each month the app remains active on their smartphone.  The app will display ads at various times such as when a subscriber unlocks their phone.
Free Mobile Hotspot - Mobile hotspot is now included with all plans.  Data comes from the customers monthly high speed allotment.  On the unlimited data plan, hotspot is limited to 8GB.
Like before, Boost Mobile's plans also include data free unlimited streaming music from select providers as well as growing high speed data as a reward for customers who make consecutive on time payments.
---
---