Boost Mobile Offering LG G6 For $49.99 To New Customers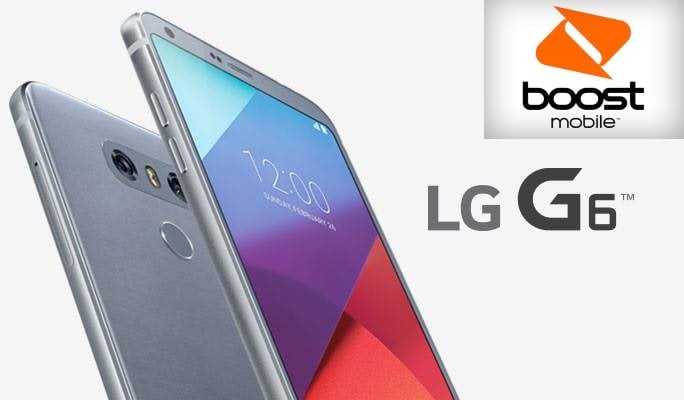 Dennis Bournique uncovered a deal via reddit that shows that the LG G6 is available at Boost Mobile for just $49.99 to new customers.  The deal is currently nowhere to be found on the Boost Mobile website.  However, BestMVNO was able to locate several dealers on Facebook that are currently promoting the offer.
An authorized dealer in Belle Glade, Florida and one in Buffalo, NY show that the deal is available until 1/7/2019 or while supplies last.  A dealer in Lincoln Park, Michigan says that their offer is only available until today, October 28, 2018.
Offer Fine Print
The deal is currently available in store only in select markets and at select locations.  It is only available to new customers who port in to a Boost Mobile plan priced $50 or higher.  Those who want to port from a Sprint related carrier are not eligible for this offer.  There is a limit of one device allowed to be purchased per line.  Taxes cost extra.  (Update: 11/14 - one BestMVNO reader left a comment that Boost charges taxes based on the price of the phone being $600.  So if interested in this offer, be prepared to pay a fair amount in taxes.  The reader had to pay $51.)
Eligible Plans
If you are interested in this offer, you will have to port-in to one of the following plans:
$50/month - unlimited talk, text and LTE data.  8GB of mobile hotspot is included.  Video streams limited to a maximum resolution of 480p, music limited to 500Kbps and gaming streams are limited to 2Mbps.  Additional lines $30/month.
$60/month - unlimited talk, text and LTE data.  20GB of mobile hotspot.  Video streams at 1080p.  Additional lines $40/month.
$80/month - unlimited talk, text and LTE data.  40GB of mobile hotspot.  Video streams at 1080p, music stream at up to 1.5Mpbs and games at up to 8Mbps.  Also includes TIDAL premium, international calling and texting and priority care service.  Additional lines $60/month.
For all plans, taxes and fees are included in the prices shown.  Those that consume more than 35GB of LTE data in a month may experience slower data speeds during times of network congestion.  This is a practice that is similar to other unlimited data plans on the market.
This is probably one of the best deals around for an LG G6.  It certainly trumps an online deal from Boost Mobile where the phone is available for $215.99.  Keep in mind that if you do purchase this phone or any other from Boost Mobile, it will be locked to the network until it has been used on the network for a period of 12 months.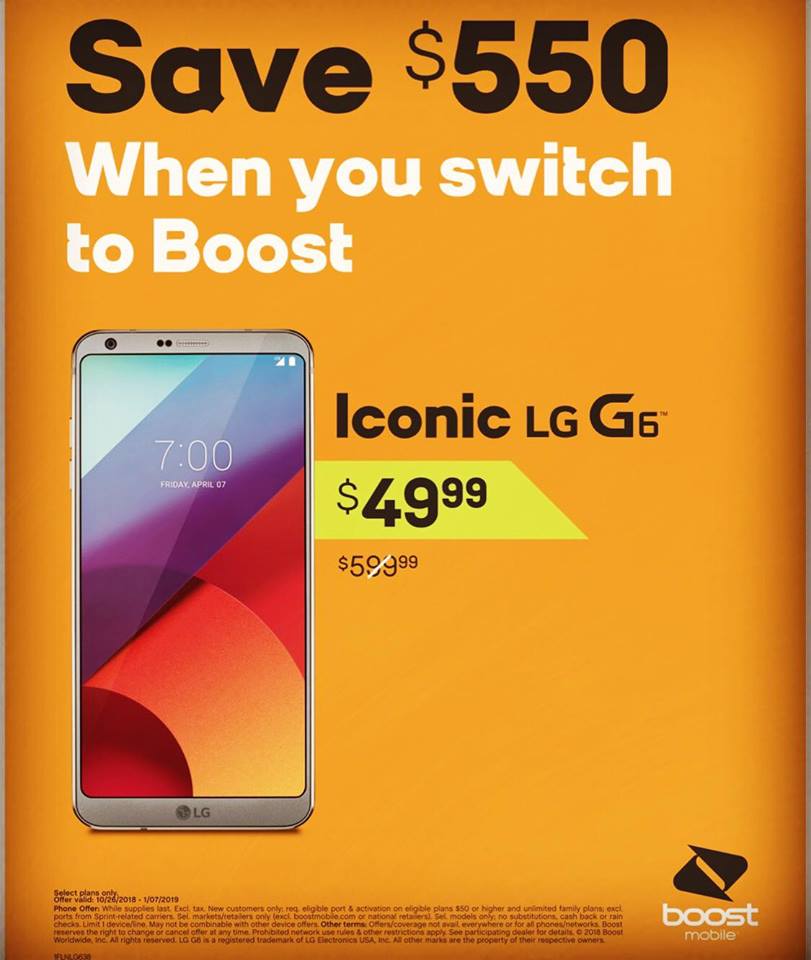 ---
---