Boost Mobile Offering Buy One Get Two Free With Moto G7 Play, LG Stylo 4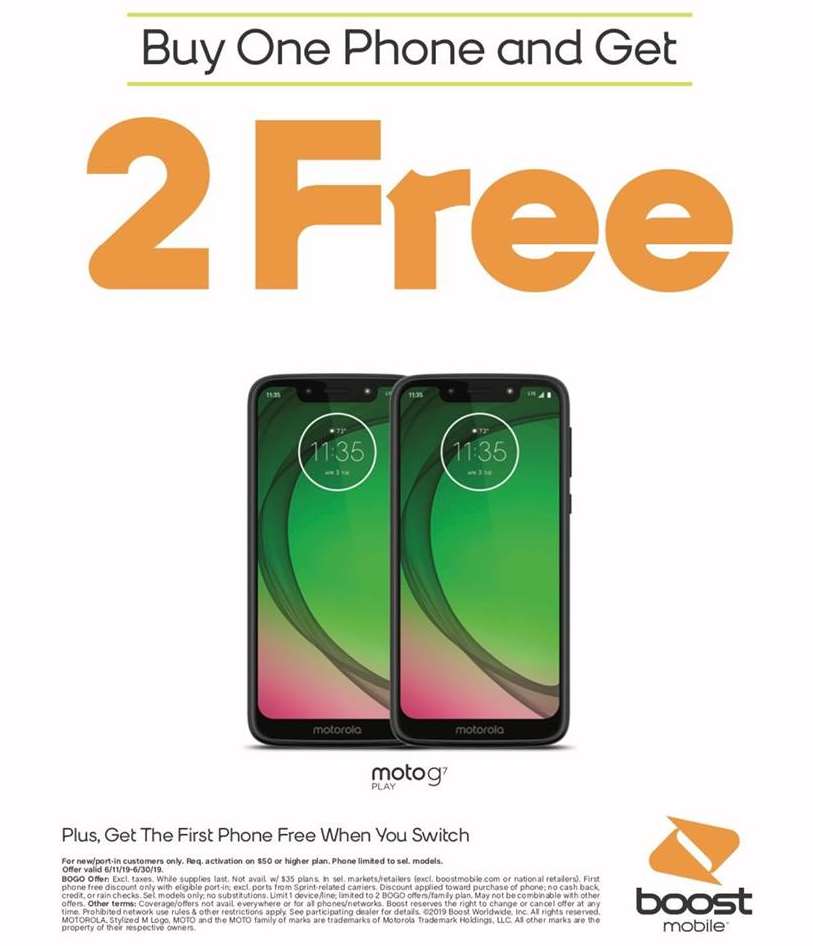 Boost Mobile recently launched a couple of new promos.  One promo offers new subscribers a buy one get 2 free offer on the LG Stylo 4 and Moto G7 Play.  Customers are allowed to mix and match devices.  The Moto E5 Play is being offered for $5 to new lines of activation, while those that port in will get it for free.  There are also several other ongoing offers running including an LG Stylo 4 BOGO, a Golden Ticket Promo, 4 free phones, and an offer for a free iPhone 6S Plus via a Facebook Promo. Several of the offers come with variations and all have their own fine print.
Buy One Get Two Free Offer Details And Variations
Customers who add new lines of service or new customers that don't port in are can buy one Moto G7 Play for $129.99 and get two free. Three lines must be activated on an unlimited LTE data plan priced $50 or higher to get the offer.  New customers that port in at least one number from another provider that isn't associated with Sprint are eligible to get all 3 devices for free.  This offer is also available with the LG Stylo 4 which sells for the same price as the G7 Play.  Customers can mix and match the devices.  The deal will be available at least until 6/30/19.
Get A Moto E5 Play For $5
The Moto E5 Play as available for $5 to any customer that activates on a Boost Mobile unlimited LTE data plan priced $50 or higher.  The offer is available to the first 5 lines that activate on one account. Customers that port their number over to Boost from a provider that has no relationship with Sprint will get it for free. The offer will be available at least until 6/30/19.
LG Stylo 4 BOGO Plus 4 Free Phones Offers
New customers or those that add new lines of service without porting in can buy one LG Stylo 4 and get 1 for free.  A maximum of 2 BOGO deals are allowed per customer account.  New customers who port in and activate on an unlimited plan can get the LG Stylo 4 for free.  New customers that port at least 1 line and sign up for Boost Mobile's 4 unlimited lines for $100 offer will get 4 LG Stylo 4's for free.  The LG Tribute Dynasty, Samsung Galaxy J3 Achieve and Moto G6 Play are also part of the 4 free phones offer.  The deals are scheduled to last at least until 7/8/19 although the BOGO offer could end earlier.  Those porting from a Sprint-related carrier are not eligible for the promos.
Golden Ticket Promo
The Golden Ticket Promo is an on again off again offer from Boost Mobile.  The offer first ran several months ago.  It gives those that port from either Metro or Cricket Wireless $10/month off the regular price of Boost Mobile's $50 unlimited plan for life.  It also offers customers 4 unlimited lines for $90/month instead of $100 for life.  This offer could disappear in a flash.
Free iPhone 6S Plus Offer
Another promo that has come and gone repeatedly (shown below) is one that gives customers $150 off the purchase of an iPhone. This one is a Facebook exclusive deal and requires shoppers to claim the offer via Facebook.  Once claimed, the coupon can be used to get an iPhone 6S or 6S Plus for free or a discount on other iPhone models.  This deal is set to expire on 6/30/19.

All offers described are in-store-only and are not all actively promoted on the Boost Mobile website.
---
---