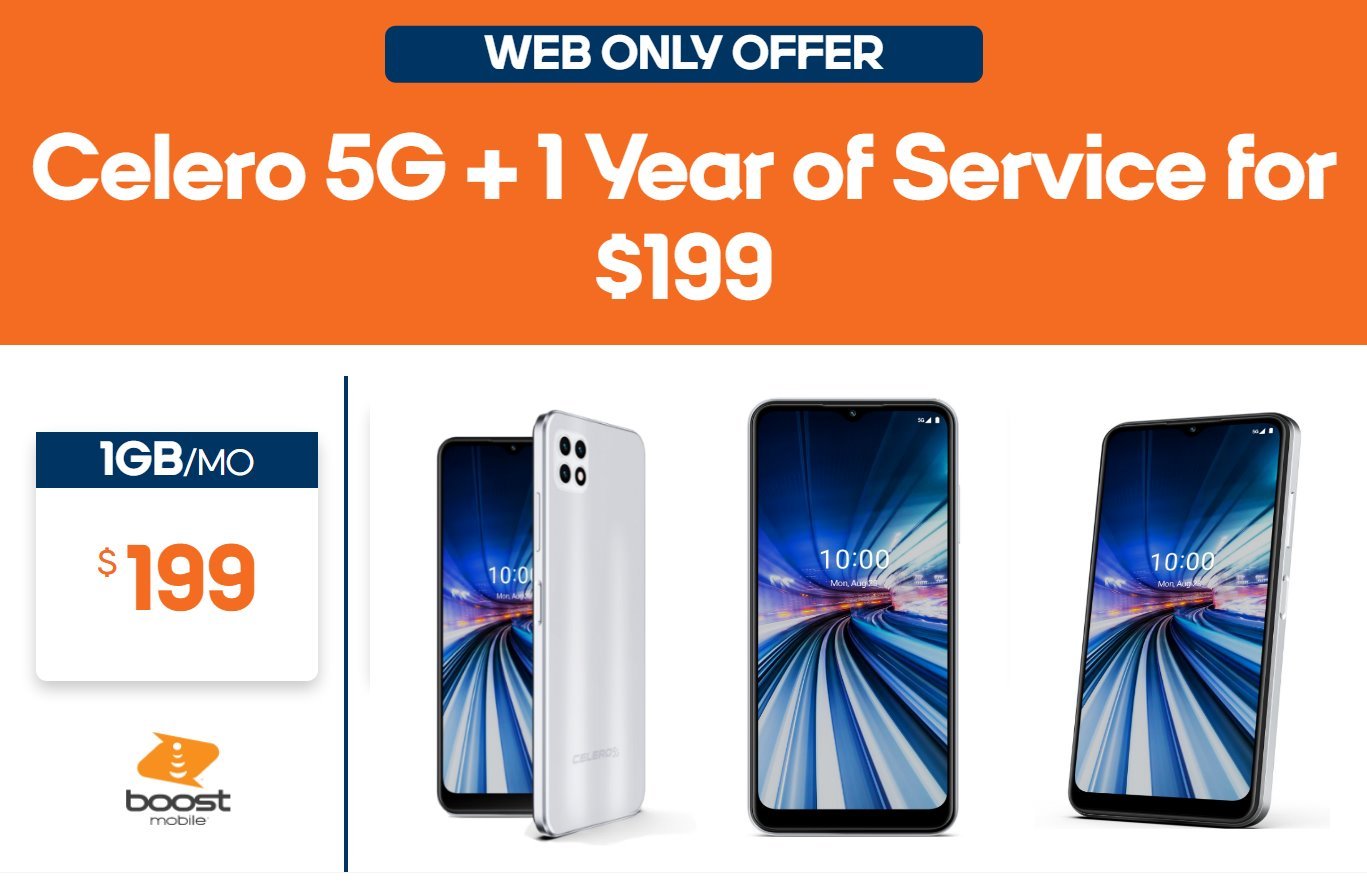 ---
Boost Mobile has new offers out featuring the Celero 5G bundled with phone plans. The featured offer includes a Celero 5G bundled with a 1GB annual plan for $199. Boost recently issued a press release to announce the offers as their latest Carrier Crusher deals.
There are several offers for plans and discounts at the Dish Network's Prepaid MVNO Boost Mobile including more Celero 5G Carrier Crusher deal plan bundles, a $0.99 for the first-month 5GB trial plan deal, and a Samsung Galaxy A02 plan bundle deal.
Celero 5G Bundle Deals With a 1GB, 5GB, Or 15GB High-speed Data Plan
The Celero 5G bundle details include a new Celero 5G Android smartphone, ( $279.99 reg price) with 1GB of monthly high-speed data, and unlimited talk and text for one full year for $199.00. The bundle price breaks down as $100 for the one-year 1GB service plan and the Celero 5G at $99.00.
There is also a 5GB per/month option, with unlimited talk and text for $279.99. 5GB high-speed data plan is usually (168.00) and the Celero 5G is discounted by $168.99.
The third option in the bundle is for a 15GB high-speed data plan, with unlimited talk and text and the Celero 5G for $340.00. The discount is $179.99 and the usual price for the 15GB plan is $240.00 for one year of service.
Data is hard-capped for all plans.
The Celero 5G is a Boost brand, runs Android 11, and is custom-made for Boost Mobile by Wingtech Technology, in fact, the internal name of the phone when connected to a PC is WT Celero 5G.
Celero 5G Specs
The quick specifications include
Triple lens camera on the back
16 mp main lens
5 mp ultra-wide lens
2 mp depth sensor
8 mp camera on the front
6.52-inch 720p screen
Headphone Jack
64GB internal storage, expandable with a microSD card
4GB RAM
4000 mAh battery
No end date for the bundle has been specified.
Update: Seeing the Celero 5G Carrier Crusher plan bundle deals may require you to put in your zip code and email address when you go to look at them by visiting my.boostmobile.com. Without doing that, you may only see phone plans.
5GB Trial Plan For $0.99 For One Months Offer Details
The $0.99 first-month deal includes one month of 5GB of high-speed data, unlimited talk and text, ($25 value) on the 5G network of AT&T or T-Mobile. The deal is for new customers only that bring their own device. The SIM card is free, and so is the shipping of the SIM. Data is hard-capped at 5GB.
Samsung Galaxy A02 Bundle With A 2GB High-speed Data Plan for $45.00 Details
The Samsung Galaxy A02 bundle is set up to offer a one month 2GB high-speed data plan with unlimited talk and text, for $45.00 at check out. The Galaxy A02 has a $124.99 regular price and the plan is normally priced at $15/month. That's a savings of $94.99 if each item were to be purchased separately at its regular rate. This offer is for new lines with port-in only.
These deals are all web only, not at Walmart stores or at Boost Mobile locations.
It is unknown which networks are being used with each offer. BestMVNO has reached out to DISH representatives for clarification. This post will be updated if a response is received.
Last summer, the DISH Network inked a deal with AT&T to allow AT&T to be the primary service partner for DISH's MVNO brands after its relationship with T-Mobile soured. Boost Mobile does use both the T-Mobile and AT&T networks. Recently, Light Reading reported that DISH's relationship with T-Mobile is on the mend. DISH and T-Mobile have a new MVNO agreement in place pending DOJ approval.
---
---