Boom Mobile! Offering Free Trial Plan On Your Choice Of 3 Major Networks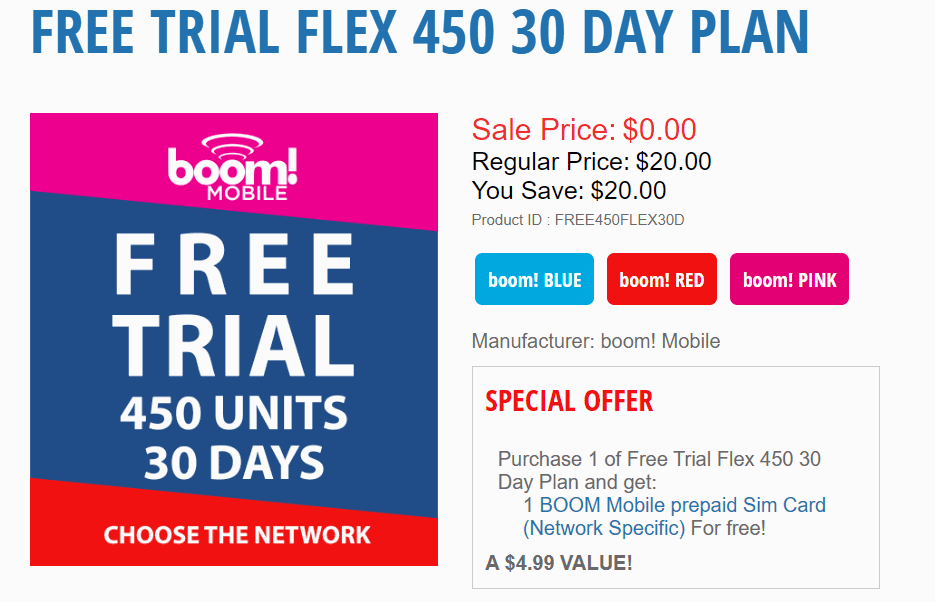 ---
Did you know BestMVNO is available to follow for free in Google News? Follow BestMVNO in your Google News app and keep up to date on wireless.
Follow BestMVNO In Google News
---
---
Boom! Mobile has been providing wireless service to subscribers in the USA for approximately 5 years. The brand operates on the AT&T, T-Mobile and Verizon networks with service on T-Mobile only recently launched.
Right now the MVNO is offering a free trial plan on the customer's choice of any of the three networks that it offers service with.  Of course, there is some fine print associated with the offer, so let's dig into it.
Boom! Mobile Free Trial Offer Fine Print
The free trial offer is for service on Boom! Mobile's Flex 450 30 day plan.  The Flex 450 plan comes with 450 service units.  One service unit can be used for 1 minute, 1 text message or 1MB of data.  The subscriber can choose to consume the plan however they'd like.  Boom! Mobile provides a few examples of how the service units work which I've copied below:
Example 1:
100 min + 150 sms + 200mb = 450 Flex Units
Example 2:
50 min + 50 sms + 350 mb = 450 Flex Units
Example 3:
5 min + 5 sms + 440mb = 450 Flex Units
Customers can choose to have the plan on whichever network they'd like to, but there is an important difference on how the free trial will work depending on the network.  Boom! Mobile refers to its AT&T based plans as boom! blue, Verizon based boom! RED and T-Mobile based boom! PINK.  Customers who elect to initiate service without porting a number in will have to pick up a second SIM card if they'd later like to port a number in for use with either a BLUE or PINK plan.  BLUE and PINK SIMs cannot be used once deactivated, however, this isn't an issue for those interested in a boom! RED plan.
Although the plan is being marketed as a free trial plan, Boom! Mobile is charging for shipping.  In my area, the cheapest shipping option came to $8.73 for USPS 1-3 days shipping with tracking.
If you are interested in the trial offer you can pick it up here.
---
Be sure to follow BestMVNO on Twitter for additional wireless coverage, deals, insights, and even debates!
Follow @BestMVNO Twitter
---
---