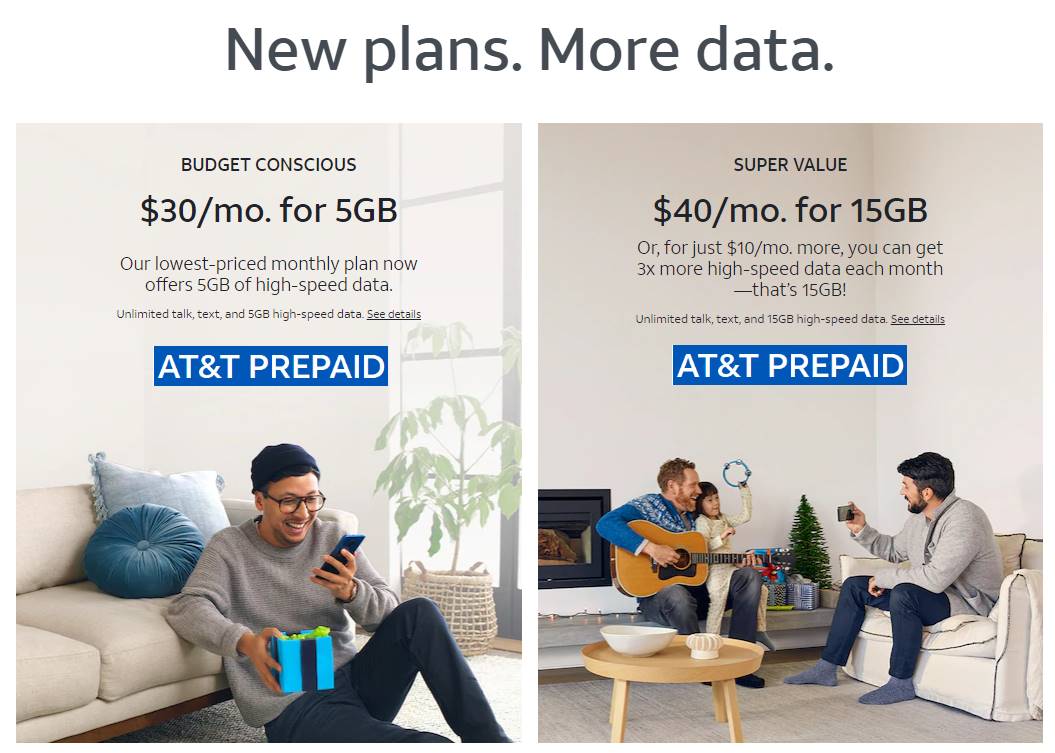 ---
AT&T Prepaid has had a very productive year as far as plan updates and offers are concerned. Throughout the year AT&T Prepaid made a much bigger push into the multi-month discount plan market, a space that has mostly been dominated by MVNO providers. Three and 6-month multi-month discount plans were introduced based on AT&T Prepaid's $40 plan with 8GB of data. There was even a dealer exclusive $40/month 3-month discount plan with 12GB of data available. And earlier this year, AT&T Prepaid's $35 plan got updated to include 2GB of high-speed data instead of 1GB. But now AT&T Prepaid has eliminated that $35 plan in favor of a cheaper and better plan with 5GB of data for just $30/month. AT&T has also eliminated its $50 plan ($40 with autopay) that included 8GB of high-speed data in favor of a new plan priced at $40/month with 15GB of high-speed data. The multi-month discount plans are now their own separate entities with the same pricing and 8GB high-speed data allotment as before. Now let's dig a little deeper dive into these plan updates.
AT&T Prepaid's Updated Plans Are A Big Improvement
The AT&T Prepaid plan updates are a big improvement over their predecessors. Previously customers needed to enable autopay billing on their accounts to get the best pricing on each plan. But that is no longer the case. In fact, the fine print for each plan specifically states that neither is eligible for an autopay billing discount. A brief summary of the plan changes is highlighted below.
$30/month - 5GB high-speed data, outgoing plan included 2GB and required autopay billing to get the price down to $30/month. It was $35 without autopay.
$40/month - 15GB high-speed data, similar outgoing plan included 8GB and required autopay billing to get the price down to $40/month. It was $50 without autopay.
Taxes and fees cost extra.
Both plans have a lot of basic features in common. Here are the highlights.
Features Common To Both Of AT&T Prepaid's Updated Plans
Unlimited Talk
Unlimited Text
Unlimited 2G data - after allotted high-speed data is used, data speeds slow to a maximum of 128Kbps for the rest of the billing cycle
Rollover Data® - unused high-speed data rolls over to next month.
Mobile hotspot - draws from plans high-speed data allotment.
SD video streaming - videos stream at a resolution of 480p or about 1.5Mbps
Multi-line discounts - families and groups get additional savings per line with multiple lines. AT&T has not disclosed if the savings has changed with the new plans but it should be lines 2 & 3 get a $10 discount and lines 4 and 5 get a $20 discount.
Unlimited international texting to over 100 countries
The plans differ in that the $30 plan offers pay-per-use talk and text to Mexico and Canada while the $40 plan includes talk and text to Canada and Mexico at no extra cost. The $40 plan also includes free talk, text, and data roaming while traveling in either country.
There is a $15 activation fee that applies to both plans if they are bought in stores. If they are bought online the fee is waived.
AT&T Prepaids Legacy $50 Plan With 8GB Of Data Will Live On Through Multi-Month Discount Plan Offerings
Although AT&T Prepaid has replaced its $50 plan with 8GB of data with the new $40 plan, the basics of the $50 plan will live on in the form of multi-month discount plans. AT&T Prepaid will continue to offer a plan with 8GB of high-speed data for customers willing to pay for service either 3, 6, or 12-months in advance. The price options are detailed below.
12-month plan - $25/month, $300 total due upfront
6-month plan - $30/month, $180 total due upfront
3-month plan - $33/month, $99 due upfront
Taxes and fees do cost extra. The multi-month discount plans include all the same features that are available with the new $40 plan including rollover data, free roaming in Canada and Mexico, unlimited text to over 100 countries, and mobile hotspot. One area where the plans differ is that the multi-month plans offer streaming in HD at a resolution of up to 1080p whereas the new $40 plan is limited to a resolution of 480p. There also doesn't appear to be a multi-line discount available on the multi-month plans.
Editor's Take
The plan updates seem like they are a huge win for AT&T Prepaid fans. But I do imagine a small number of people will be upset with the loss of HD video streaming on the $40 plan. Update: Thanks to a reader tip, I was reminded that the $40 plan is still available as a special deal through Walmart. Customers who purchase an AT&T Prepaid phone at Walmart with the plan will receive 25GB of data with it instead of 15GB. So that will be a better option for some potential subscribers.
Get through Walmart and get 25gb instead of 15gb. Through Autopay of course. pic.twitter.com/vAZXMEh898

— Bighouse Productions (@Bighouse_33) November 20, 2020
The new plans may create a problem for AT&T's other prepaid brand, Cricket Wireless. AT&T Prepaid's updated plans will now offer a better value for many subscribers compared to Cricket Wireless and particularly at the $30 price point.
Both AT&T Prepaid and Cricket offer a $30 phone plan. Cricket's plan has its download data speeds limited to a maximum of 8Mbps and it only includes 2GB of high-speed data. It does include taxes and fees in the price, but that would only add a couple of dollars to the AT&T Prepaid plan. Cricket's $30 plan also lacks multi-line discounts. So a majority of people trying to decide between AT&T Prepaid and Cricket at that price point would be better served by AT&T Prepaid. Things are a little better looking for Cricket with their $40 plan. Although it includes less data than AT&T Prepaid with only 10GB of high-speed data offered, the price of the plan drops down to $35/month with autopay billing enabled. That price difference may make it enough of a difference to offer a better value to some subscribers. But AT&T Prepaid's plan does offer faster data speeds and mobile hotspot usage which is unavailable on Cricket's plan.
Given the big improvement to AT&T's prepaid plans, I'm keeping an eye out to see if Cricket updates its plans in the near future. Because right now, AT&T in some cases is offering a better value through AT&T Prepaid than it is with Cricket. Cricket has traditionally been AT&T's budget-oriented brand, but AT&T Prepaid's plan updates further blur the lines between the two brands.
---
---