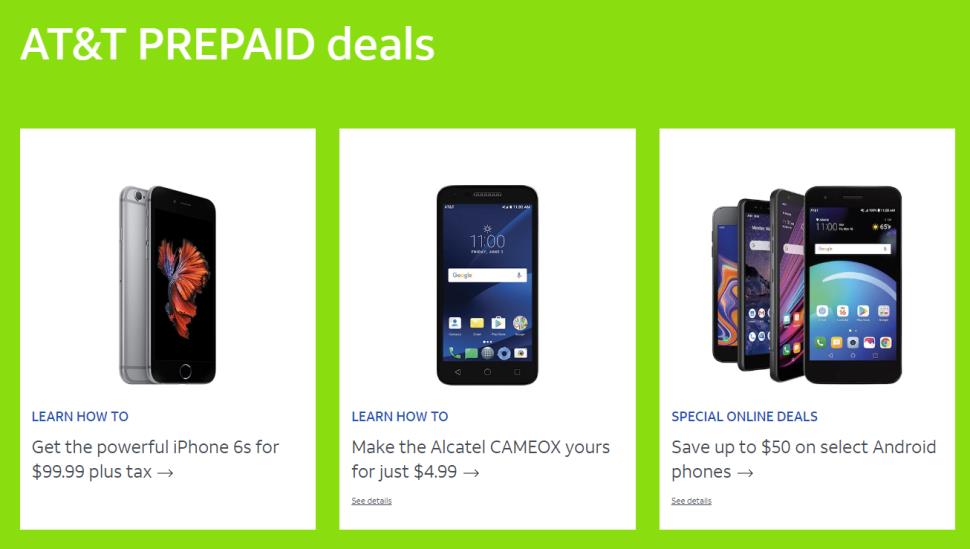 ---
AT&T Prepaid had a promo reset on 1/10/2020.  The provider extended its $20 autopay discount on its unlimited plan offerings at least until 3/23/20 online and 4/2/20 in stores.  The $99 iPhone 6s deal continues to be offered and has been extended until 4/2/20 as well.
What's new are some special online pricing deals on Androids.  AT&T Prepaid is now advertising that customers can "save up to $50 on select Android phones."
The price of the iPhone 6S+ has been increased to $199.99 with the purchase of a plan priced $50 or higher, up from $149.99.
Discount Android Phones Now Available From AT&T Prepaid
The following AT&T Prepaid devices are now discounted online direct from AT&T.  Regular pricing is shown in parenthesis right next to the sale price.
Phone Deals That Require Plan Purchase Of $35 Or Higher
Samsung Galaxy Express 3 - $29.99 ($129.99)
ZTE Maven 3 - Free ($34.99)
AT&T CAMEOX Certified Restored - $4.99 ($34.99)
Plans qualifying for the above phone deals include:
$35/month

 

(or

 

$30/month with autopay

 

billing) - 1GB of data each month at high speeds.
$50/month

 

(or

 

$40/month with autopay) -  8GB of data each month at high speeds.  Includes talk, text, and data roaming while traveling in either Canada or Mexico.
Features common to both plans include unlimited talk and text, mobile hotspot, and unlimited texting to over 100 countries.  Multi-line discounts are also available.
Phone Deals That Require Purchase Of A $65 Unlimited LTE Data Plan Or Higher
Alcatel Tetra - $29.99 ($49.99)
LG Phoenix 4 - $39.99 ($69.99)
Samsung Galaxy J2 Dash - $59.99 ($99.99)
Nokia 3.1A - $49.99 ($89.99)
LG Arena 2 - $69.99 ($119.99)
The two unlimited talk, text, and data plans that customers must subscribe to in order to pick up one of the phone deals are priced as follows:
$65/month

 

(limited time offer of

 

$45/month with autopay

 

billing) - unlimited LTE data with video streaming limited to 1.5Mbps or a resolution of about 480p.  Any time network is congested users may temporarily experience slower data speeds. 

 

No mobile hotspot

 

allowed.
$75/month

 

(limited time offer

 

$55/month with autopay) - unlimited LTE data, Includes

 

10GB of mobile hotspot

 

at 4G LTE data speeds.  Hotspot can only be used in the USA.  Customers who consume more than 22GB of data in a month may have their data speeds temporarily slowed during times of heavy network congestion. Videos stream at a resolution of up to 1080p. Previously priced at $85/month without autopay billing.
Phone Deal Offers Fine Print Highlighted
No matter which deal you pick up, be aware that your phone will be locked to AT&T Prepaid for 6-months.  So you must keep your account active for that amount of time before you can request the phone to be unlocked for use on another carrier or MVNO.  Other things to note include:
Taxes and fees cost extra, for both the phones and the phone plans
New lines of service are required
If buying an unlimited plan with a phone deal, signing up with autopay is required
There is a $15/line activation fee charged for in-store activations and in-home expert activations
Editor's Take
The AT&T Prepaid deals come off as a mixed bag to me.  The continuation of the auto-pay discounts on their unlimited data plans is great and helps keep them competitively priced compared to other unlimited plans on the market. The iPhone pricing is a bit of a let down to me though.  The iPhone 6s pricing does match offers from competing brands, namely Tracfone but does not compete well when compared against competing offers from other major carrier prepaid brands.  Boost Mobile has the newer iPhone 7 model available for cheaper than what AT&T is selling the 6s for.  It's available at Boost for just $49.99 when purchased with an unlimited plan.  Metro-By-T-Mobile has the iPhone 7 for $99.99.
---
---