ATT Prepaid Now Offering 8GB Of Data For $40/Month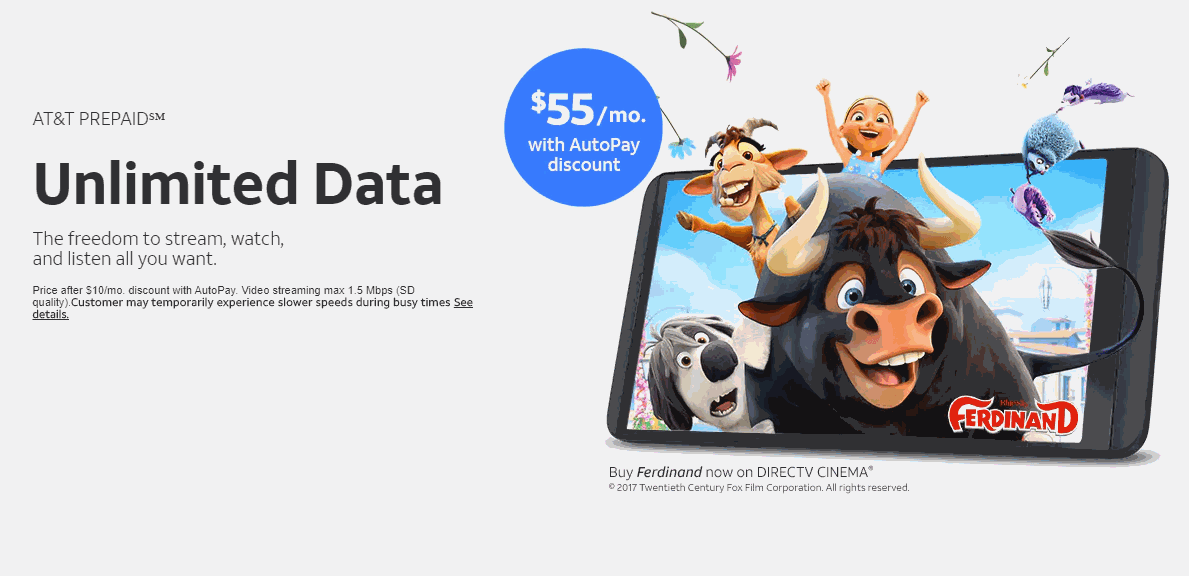 ATT has just updated its prepaid plans.  A $45 unlimited plan ($40 with autopay) that contained 6GB of data has been removed.  In its place is a new plan priced at $50/month that contains 8GB of data, however with autopay enabled, the price of the plan drops to just $40/month. Other highlighted changes include deeper family plan discounts, more hotspot data on the highest tiered unlimited plan, and a larger autopay discount on its $65 unlimited plan.
ATT Prepaid Plan Changes Breakdown
All of AT&T's monthly prepaid plans include unlimited talk, text and data with the specified amount at high speeds.  They also include unlimited texting to over 100 countries. Unless specified, all plans include unlimited talk and text to Mexico and Canada with a 50% usage in the USA requirement.  Free talk, text and data roaming is included within those countries as well.
Here's a breakdown of AT&T's revamped phone plan lineup with the differences between each plan and new changes highlighted:
$35/Month Plan
No changes, still includes 1GB of high speed data and no international usage or calling to Mexico and Canada.  No autopay discount available. Includes mobile hotspot and video streaming at a resolution of up to 1080p.
Be informed of the latest deals, plans and promotions from AT&T and every one of its MVNO's when you subscribe to the AT&T weekly newsletter. No spam and you can unsubscribe at any time!
$50/Month Plan
New plan with 8GB of high speed data. Includes mobile hotspot and video streaming at a resolution of up to 1080p. Autopay discount of $10 is available.
$65/Month Plan
Only change is in the price.  This plan was previously priced at $60/month with autopay billing enabled.  The new autopay price is $55/month.  The plan includes unlimited LTE data with speeds temporarily restricted at any time the network is experiencing a lot of traffic. Video streaming is limited to a maximum resolution of 480p, and there is no mobile hotspot allowed.
$85/Month Plan
The only change with this unlimited LTE data plan is that the amount of hotspot data included got increased to 10GB up from 6GB.  Hotspot data is unlimited but gets reduced to a maximum of 128 Kbps once the high speed allotment gets used up.  With autopay enabled the plan is still priced at $75/month.  Video streams at a resolution of up to 1080p. Those that consume more than 22GB of high speed data in a month may see their data speeds temporarily reduced during times of heavy network traffic.
Group/Family Plan Discounts
There have been some reports around the web that AT&T's family plan pricing is going to change.  So far though, AT&T has not updated its website to show the changes.  In fact, at the time of this publication, AT&T's multi-plan discount explanation page still only shows its old prepaid plans and their discounts.
It's old group plan rates were as follows:
line 2 - $5 off
line 3 - $10 off
line 4 - $15 off
line 5 - $20 off
If the new rates materialize, we should see discounts as follows:
lines 2 and 3 - $10 off each line
lines 4 and 5 - $20 off each line
Each line should also be eligible for an autopay discount as well.
AT&T's Other Prepaid Plans
AT&T offers 3 other prepaid plans and they remain unchanged and are as follows:
$30/month ($25 with auto pay) unlimited talk and text with no data. Data is available on an as needed basis priced at $5 for 250 MB.
$2/day - includes unlimited talk and text, but only need to pay on days that you use the phone.
Pay Go - 25¢ per minute for all nationwide calls.
Taxes And Fees
AT&T charges taxes and fees in addition to the prices shown.  Taxes and fees of course vary based on your location.
Analysis
This is the second time that AT&T has made changes to its prepaid plan lineup in as many months and third time this year. Prices seem to have gone down across the board and that is a major win for the consumer.  In some cases, subscribers are even getting more data.
What is particularly interesting here, is that there is now some overlap in pricing between AT&T's prepaid plans and AT&T owned Cricket Wireless's plans. Perhaps some changes to Cricket Wireless's lineup will soon be in store.
Another important thing to note, is that AT&T's prepaid lineup changes really puts the brand ahead of many of its MVNO partners at the $40 and up price points.  Perhaps will start to see changes elsewhere as well.
---
---