AT&T Prepaid Has The iPhone 6s For $99, Phone Prices Are Fall-ing At Walmart
---
Did you know BestMVNO is available to follow for free in Google News? Follow BestMVNO in your Google News app and keep up to date on wireless.
Follow BestMVNO In Google News
---
---
AT&T Prepaid has launched a new promotion.  Customers can now get an iPhone 6s for $99 instead of $199.  Walmart is also offering special deals on select AT&T Prepaid iPhone models bundling the phones with an airtime card.  As noted by the firm Wave7 Research, Walmart has recently kicked off a new sales campaign in stores with the slogan "Prices are fall fall falling." Online Walmart has announced that "Prices are fall-ing" with  "Fabulous deals for fall."  The campaign highlights lower prices on several popular phone models as well as several other promotions that continue to run including Walmart's triple data promo on AT&T's $40 prepaid plan.  The LG Xpression Plus 2 has also recently launched exclusively at Walmart on AT&T Prepaid for $99.
AT&T Prepaid's iPhone 6s Promo Details
AT&T Prepaid is offering the 32GB iPhone 6s for $99 to customers who activate a new line of service on an unlimited high-speed data plan priced $65 or higher.  The $65 unlimited plan is actually $50 with auto-pay billing applied.  AT&T Prepaid's two qualifying unlimited data plans for the offer are as follows:
$65/month ($50 with auto-pay) - unlimited LTE data, data speeds may be temporarily slowed at any time network becomes congested.  No mobile hotspot, video streams limited to a maximum resolution of 480p.
$85/month ($70 with auto-pay) - unlimited LTE data, after 22GB of data gets consumed in billing cycle data speeds may be temporarily slowed during times of heavy network congestion.  Video streams at a resolution of up to 1080p.  10GB of mobile hotspot included.
Both plans also include unlimited talk and text and international texting to over 100 countries.  Customers can use their talk, text, and data while traveling in either Mexico or Canada at no extra charge.  Taxes and fees are extra and not included in the prices shown.
To get the discounted price, customers must do 3 things at once:
purchase the iPhone 6s
make a payment and activate on one of the qualifying plans
signup for AutoPay billing
After the first month of service, customers should be able to change to a lower rate plan if they wish.  There is a limit of 3 discounted iPhones that can be purchased per single transaction.  The offer is scheduled to be available until 1/9/20 (update 1/13/20 - the offer has been extended until 4/2/20) or while supplies last.  The iPhone is sold locked and must be used with AT&T Prepaid's network for 6 months before it is eligible to be unlocked for use on another network.
Walmart AT&T Prepaid iPhone Offers
Walmart is offering 2 AT&T Prepaid iPhones online at a discount.  Customers can get the 32GB iPhone 6s Plus for $299 with a $45 airtime card bundle, down from its regular rate of $344. The 32GB iPhone 7 Plus with a $50 airtime card bundle is available for $399 down from its regular price of $449.99.  Additionally, the 32GB iPhone 6s is available for $244 with a $45 airtime card bundle and the 32GB iPhone 7 is available for $349 with a $50 airtime card bundle.  The airtime bundles come in the form of an account credit upon device activation.  Those who purchase an 32GB iPhone 6s in-store and activate in-store can save an additional $50 lowering the price to $194.  Customers interested in any of the Walmart iPhone offers may want to consider buying and activating all in-store in order to be able to take advantage of the triple data offer.  Customers who buy an AT&T Prepaid phone and activate it in-store on the $50 plan ($40 with auto-pay) will receive 25GB of data each month with their plan instead of the plan's regular allotment of 8GB.
Prices Are Fall-ing At Walmart Offers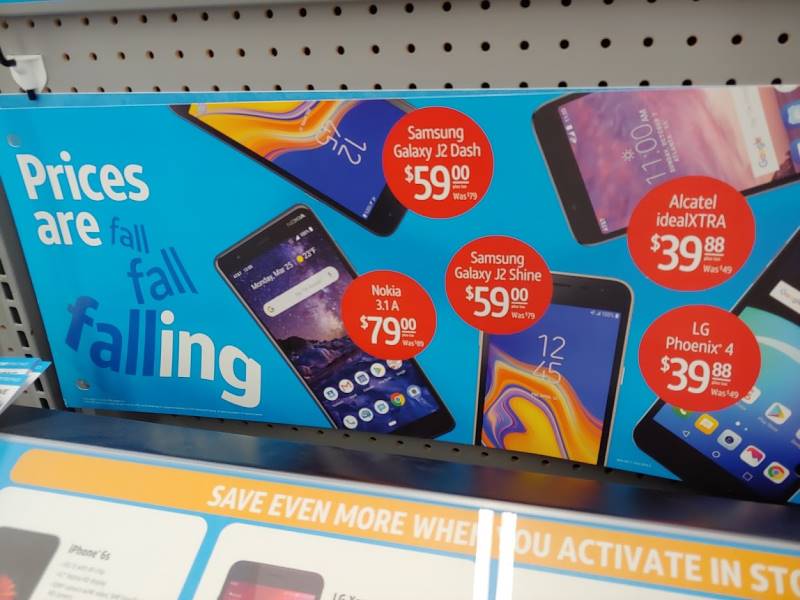 Walmart has marked down the prices of several AT&T Prepaid phones as part of their prices are fall fall falling campaign.  The marked down phones are as follows:
Nokia 3.1A 32GB - $79, regular price is $89
Samsung Galaxy J2 Dash 16GB - $59, regular price is $79
Samsung Galaxy J2 Shine 16GB - $59, regular price is $79
Alcatel idealXtra 16GB - $39.88, regular price $49
LG Phoenix 4 16GB - $39.88, regular price is $49
LG Xpression Plus 2 32GB
The 32GB LG Xpression Plus 2 has recently launched for $99 exclusively at Walmart for AT&T Prepaid. The budget device has the following specifications:
5.7" 1440 x 720 display
3000 mAh battery
13MP main camera with 5MP selfie camera
32GB internal storage with 2GB RAM
Android Pie 9.0
MediaTek Octa-core processor featuring 4 x 2.0 GHz cores and 4x 1.5 GHz cores
Support for the following LTE bands:
2,4,5,12,14,29,30,66
---
Be sure to follow BestMVNO on Twitter for additional wireless coverage, deals, insights, and even debates!
Follow @BestMVNO Twitter
---
---