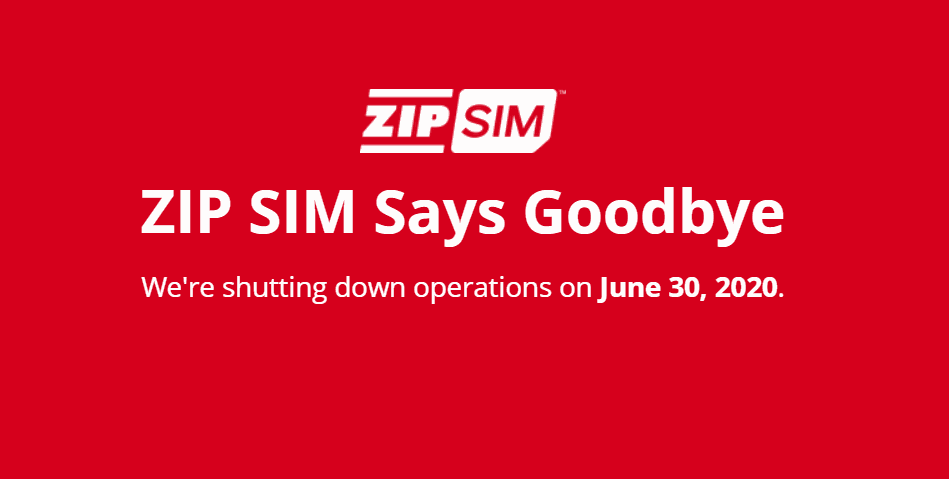 ---
ZIP SIM, an MVNO that specializes in temporary phone plans designed for travelers to the USA is shutting down. The company sent out an email today notifying its subscribers the reason for its exit from the wireless market place.
"To call COVID-19's impact on travel, "severe" would be an understatement. As a business built on enabling communication for travelers, ZIP SIM has, unsurprisingly, been significantly affected. As a result, we regret to inform you that ZIP SIM will cease operations on June 30, 2020. "
Ultra Mobile's Tourist Plan May Be An Alternative To ZIP SIM
ZIP SIM operates on the T-Mobile network. If you have a phone number with the provider you'll want to start out the port out process well in advance of the June 30, 2020 shutdown or risk losing that number. One potential place ZIP SIM subscribers may want to consider porting into could be Ultra Mobile.
Last year, Ultra Mobile made a significant move for itself when it landed in T-Mobile stores. T-Mobile and Ultra partnered together to allow Ultra Mobile to sell its "Tourist Plan" at T-Mobile retail locations. Ultra's Tourist plan is a replacement offering for similar plans that T-Mobile previously sold but opted to discontinue. Like ZIP SIM, Ultra Mobile's Tourist Plan is designed for travelers who only need short term cell usage.
Important Dates For ZIP SIM Subscribers To Take Note Of
Now if you do plan to stick with ZIP SIM until the end, there are some other important dates you'll want to take note of. On June 15, 2020, ZIP SIM will be permanently suspending all top-ups. That means subscribers will no longer be able to extend their plans. Those who currently have store credits with ZIP SIM or unactivated SIM cards will need to file for reimbursement or refund before August 31, 2020. ZIP SIM has put up a support page detailing everything else subscribers may want to know about the shutdown.
Not surprisingly, ZIP SIM is telling its customers that they may want to consider switching to Ting. That's because Tucows, Ting's parent company, actually purchased Roam Mobility and thus ZIP SIM back in September of 2017.
---
---