Xfinity Mobile Offering BYOD Customers A $100 Prepaid Refill Card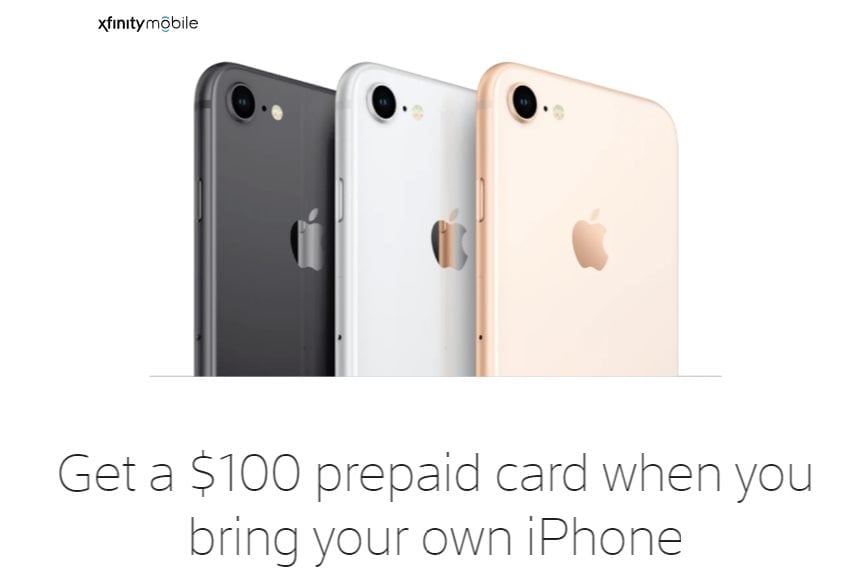 Xfinity Mobile has relaunched a promotion that gives customers that port-in with their own device a $100 Visa Prepaid Card.  Unfortunately for Android lovers, this one is restricted to iPhones (Update 7/24/19 - more phones including Android devices are now supported and part of the promo).  Xfinity Mobile does not offer support for bringing your own Android.  Still, this offer is one step ahead of Spectrum Mobile who briefly offered BYOD via their website, only to pull it down a short while later.
Xfinity Mobile Offer Fine Print And Eligible Plans
This offer is scheduled to end on 1/27/19 (update 7/24/19 - the offer is back and available until 8/4/19).  Xfinity Mobile requires you to have a post-pay subscription to their Xfinity Internet service before you can even sign up for a mobile plan.  The offer is only available for select iPhone models.  The following iPhone models are eligible:
AT&T, Sprint, T-Mobile And SIM Free Compatible BYOD Models
iPhone 6
iPhone 6 Plus
iPhone 6s
iPhone 6s Plus
 iPhone SE
iPhone 8
iPhone 8 Plus
iPhone X, XS, XS Max, XR
Verizon And Sprint Only Compatible BYOD Models
Update 7/24/2019 - the Samsung Galaxy S8, S8+, S9, S9+, Note 8 and Note 9 are now eligible for Xfinity's BYOD program and $100 gift card promo.  Most carrier versions should be supported.
If you meet all of the above eligibility prerequisites, you'll have to activate your phone within 30 days of ordering the line, and request a number port at the time of activation.  Your account must then remain active and in good standing for at least 90 days.  If those requirements are met, Xfinity Mobile will mail the prepaid card within 16-18 weeks after activation to the Comcast account holder.  The card expires within 180 days.  If you previously had a line with Xfinity Mobile, you are not eligible for this promotion.  There is a limit of 5 phones and thus 5 prepaid cards that will be awarded per account.
Phone Plan Options
Xfinity Mobile does offer two main phone plans.  There is a "By the Gig" option and an unlimited option.  On the By the Gig option, customers are charged $12 for every GB of data that they consume.  On the unlimited plan, subscribers pay $45 a line for the first 20GB of data at LTE data speeds.  If you use more than 20GB of data in a billing cycle, your speeds get reduced to 1.5 Mbps download, and 750 Kbps upload.
Video streaming on both plans is limited to a resolution of 480p.  Mobile hotspot speeds on the unlimited plan are restricted to 600 Kbps.  Both plans include unlimited talk and text.  Xfinity Mobile actually offers subscribers a free plan that includes unlimited talk and text with 100MB of LTE data.  Subscribers who use more than that get billed at the By the Gig rate.
Although the unlimited plan isn't truly unlimited, the throttled data speeds should be useable for many.  Most of the time when a service gets throttled, data speeds get reduced to 128 kbps, so 1.5 Mbps download is a big step up from that.
Xfinity Mobile is an MVNO that operates on the Verizon network. The service was launched by Comcast in 2017.
---
---