Verizon Prepaid's Family Plans Are A Match For Metro by T-Mobile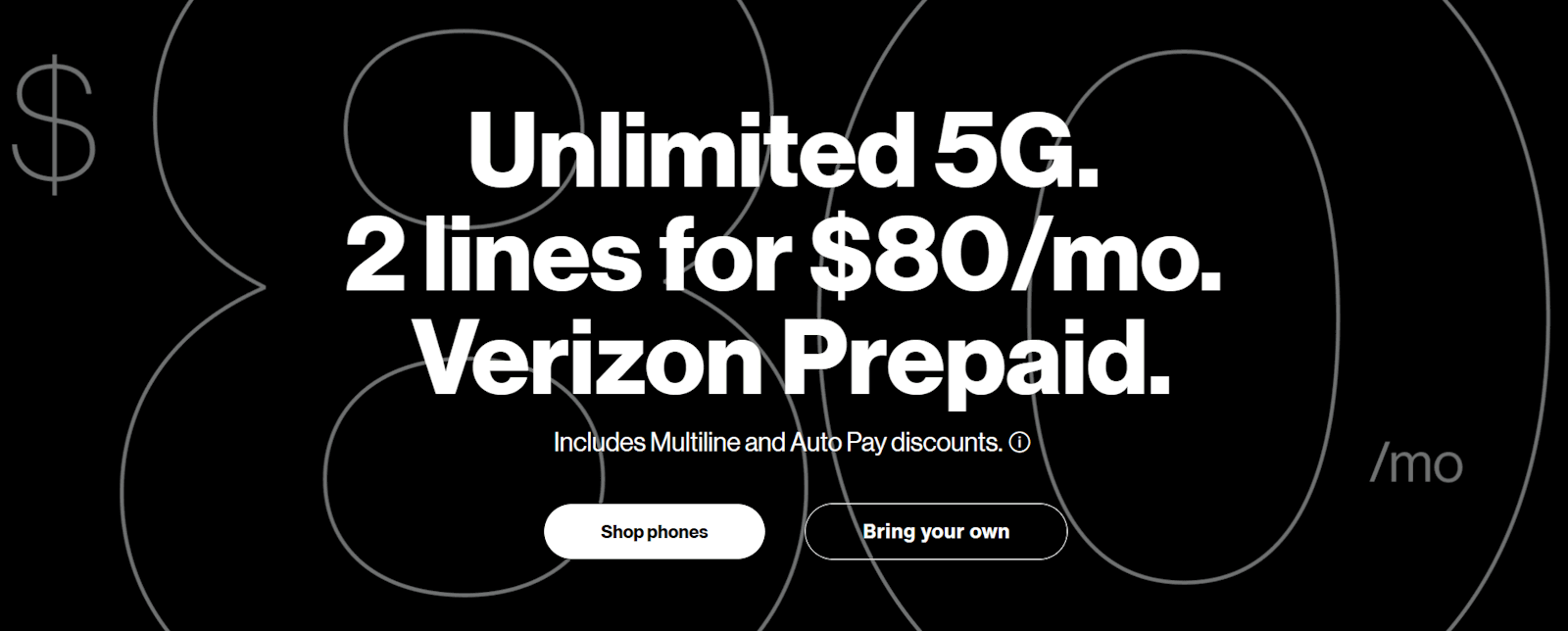 Three years ago Verizon Prepaid discontinued multi-line family plan discounts in favor of offering plans with loyalty discounts. Today, Verizon Prepaid has opted to bring back multi-line family plan discounts while keeping its loyalty and autopay discounts in place.
But there is a catch.
The multi-line discounts are only available with Verizon Prepaid's two unlimited high-speed data plans that have starting prices of $60 and $70. Its 15GB, $35/month plan (after applicable discounts are applied) is not available at an additional discount with multiple lines.
The way the multi-line discounts will work is that customers receive $20 off each line after line 1 and in month two an additional $10 off the line with autopay billing enabled. The primary line can be any plan. It can be a data only plan or a phone plan and Verizon Prepaid will give you a discount for the second line as long as it's an unlimited data phone plan.
What's particularly interesting about all of this is that Verizon Prepaid's homepage now highlights that you can get two unlimited high-speed data lines for $80/month. This seems like it's becoming an industry standard as it is exactly the same pricing that Metro by T-Mobile offers for two unlimited lines as does Cricket Wireless and T-Mobile Prepaid, although Metro and Cricket include taxes and fees in their pricing and Verizon Prepaid and T-Mobile do not.
Metro and Verizon Prepaid offer tiers of unlimited data plans with the most expensive ones offering more features than their counterparts. Verizon Prepaid has opted not to match Metro's pricing on its flagship plans. But it does price match line for line its other unlimited plan, a clear indication of who Verizon is targeting with its pricing structure. Below is a table comparing Verizon Prepaid's unlimited plan pricing to Metro by T-Mobile's and Cricket Wireless's.
Metro by T-Mobile does offer three different unlimited plans, this table compares their top two flagship plans to Verizon Prepaid's. AT&T's Cricket Wireless brand also offers two unlimited plans, but Verizon is not matching the pricing of either of them. T-Mobile Prepaid offers the same pricing as Metro and was excluded from the table for brevity's sake.
Verizon Prepaid, Metro by T-Mobile & Cricket Wireless Unlimited Plan Family/Multi-Line Discounts Offerings

| | 2-Line | 3-Line | 4-Line |
| --- | --- | --- | --- |
| Metro by T-Mobile | $80 | $110 | $140 |
| Verizon Prepaid | $80 | $110 | $140 |
| Cricket Wireless | $80 | $90 | $100 |
| Metro by T-Mobile Premium | $90 | $120 | $150 |
| Verizon Prepaid Premium | $100 | $140 | $180 |
| Cricket Wireless Premium | $90 | $110 | $130 |
Overall, Verizon Prepaid's new multi-line discounts are a welcome addition, especially for families who need multiple lines. However, as the table indicates there may be better and cheaper unlimited data plans out there if you have multiple lines. In fact, one of Verizon's other prepaid brands, Visible by Verizon is currently offering unlimited lines starting at $25/month for each line.
---
---