Verizon and Sprint LG G2's on Sale for $149.99, ATT For $174.99
---
Did you know BestMVNO is available to follow for free in Google News? Follow BestMVNO in your Google News app and keep up to date on wireless.
Follow BestMVNO In Google News
---
---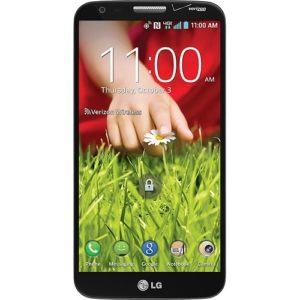 Best Buy is currently running a sale on the Verizon and Sprint LG G2 models, the VS980 and LS980 respectively.  This is quite a good price for this 2013 flagship device.
The Verizon variant differs from the Sprint in that it is fully unlocked to work both on the ATT and T-Mobile networks.  You likely will be unable to get LTE though using ATT based networks, except for in a very few areas.  Your overall coverage won't be quite as good as using a native ATT phone although it should work in most places, and most of the time you'll be on HSPA+.  If you were to use the phone on a T-Mobile based network you may find more places with LTE coverage although you'll still be restricted to T-Mobile's less robust nationwide coverage.
One other big difference between the two variants is that the Verizon one includes Qi wireless charging whereas the Sprint variant does not.
Both phones sport a 5.2 inch 1080p HD IPS display, with a 3000 mAh battery, 13 MP rear facing camera with optical image stabilization, a Snapdragon 800 2.26 GHZ quad core processor and a 2.1 MP HD front facing camera.
If you're interested in this deal, hit the button below and grab one while they're still available.  The Verizon variant is currently only available for in store pickup.
Updated: 5/7/2015 The ATT variant is also for sale for $174.99, and you'll have to select replacement phone to see that price.
---
Be sure to follow BestMVNO on Twitter for additional wireless coverage, deals, insights, and even debates!
Follow @BestMVNO Twitter
---
---