US Mobile Updates Plans With All-In Pricing, Adds New Unlimited Plan And Shareable Data Plans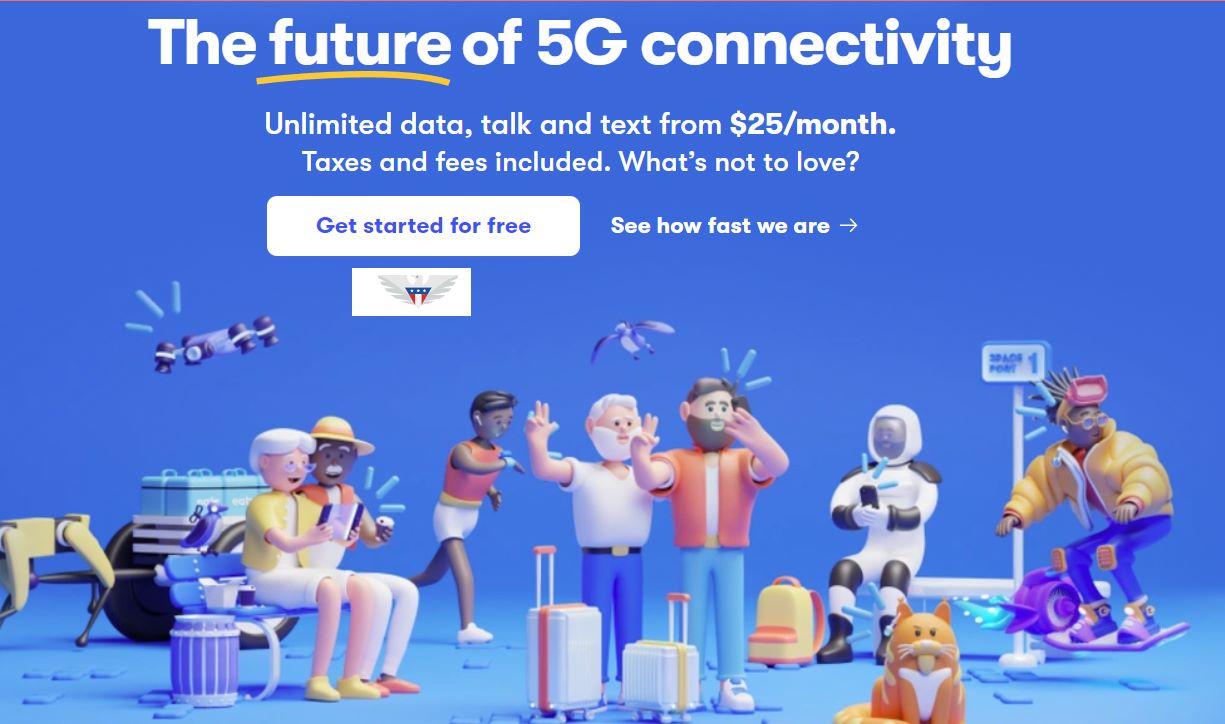 For a couple of months, US Mobile had been teasing on Reddit about coming out with new plans and features. And those plans are finally here.
To start, data allotments are now the same no matter which network you use US Mobile with, its GSM network (T-Mobile) or Warp 5G network (Verizon). Previously, Warp 5G unlimited plans included more data than GSM plans did. There's also a new unlimited plan called "Unlimited Starter" with 20GB of high-speed premium data for $25/month.  There are new shareable data plans. Customers with multiple lines can share data across all their different devices even if the devices are using different networks.
All US Mobile plans now include taxes and fees in their pricing. And international calling has been released as a beta feature to customers with GSM 5G SIMs. The feature is planned for launch on the Warp 5G network in the next few months.
US Mobile's Updated Unlimited Plans
Here is how US Mobile's new and updated unlimited plans are priced.
Be informed of the latest deals, plans and promotions from T-Mobile and every one of its MVNO's when you subscribe to the T-Mobile weekly newsletter. No spam and you can unsubscribe at any time!
$25/month - Unlimited Starter: 20GB of high-speed premium data
$40/month - Unlimited Essential: 50GB of high-speed premium data (previously included 40GB), with 5GB of hotspot data included. Priced as low as $30/line/month for three or more lines.
$50/month - Unlimited Premium: 100GB of high-speed premium data, free international data, and 50GB of mobile hotspot data. Priced as low as $40/line/month for three or more lines. Plus, you'll receive a streaming subscription Perks for three or more lines. Users on old plans that got one perk for three lines and two perks for four lines will be grandfathered into those perks for the time being.
After the high-speed data limit is reached with each plan, throttled speeds will be at 1Mbps. US Mobile did in the past also offer 1Mbps throttled speeds.
Previously, the Unlimited Premium plan offered just 35GB of data if you were using it on the T-Mobile network, so the change to 100GB is a huge improvement. The mid-tier unlimited plan included 25GB of high-speed data on the T-Mobile network, so the change to 50GB is also big.
For some customers, the new plans may come with a slight price increase, particularly for customers with three or more lines. Below is a table comparing the pricing of the old plans vs the new plans. The old plans did have additional charges for taxes and fees which varied by state. The new plans have taxes and fees included.
New Plans vs Old, Old Plan Pricing In Parenthesis

| | | | | |
| --- | --- | --- | --- | --- |
| | 1-line | 2-line | 3-line | 4-lines |
| Unlimited Starter | $25 (n/a) | $50 (n/a) | $75 (n/a) | $100 (n/a) |
| Unlimited Essentials | $40 ($35) | $70 ($60) | $90 ($75) | $120 ($80) |
| Unlimited Premium | $50 ($45) | $90 ($80) | $120 ($105) | $160 ($120) |
Although in some instances, the price increases seem pretty drastic, they probably aren't, and maybe for some aren't an increase at all. US Mobile did charge quite a bit for taxes and fees on their old plans. However, if you are a new customer with more than 3 lines you are likely paying a bit more than you would have before.
For the time being, new numbers can get the Unlimited Starter plan for 50% off their first month dropping the price to $12.50.
US Mobile Shared Data Plans Have Changed
Previously, US Mobile offered what it called "Pooled Plans." Pooled plans were priced at $9/line plus $2/GB of shareable data and had literally just a few cents in taxes and fees on top. You could add data endlessly at $2/GB and have an endless number of lines on your account. The plans were only available on the Warp 5G (Verizon) network. Now they can be used on both the T-Mobile and Verizon network and customers with multiple lines can mix and match networks.
Plan pricing has changed a bit with the new shareable data options. US Mobile is still charging $2/GB for shareable data. However, per-line pricing has dropped down to $8/line. There are also some new pre-configured shareable data allotments available that aren't priced at $2/GB. There are three such plans available shown below. The pricing shown is for a single line with the given data allotment.
6GB - $18/month
12GB - $25/month
30GB - $50/month plus $16 for an additional 10GB
Although the new shared data plan pricing has been improved, not all is better. US Mobile did previously offer some pre-configured plan options that didn't include shareable data. Those plans have been eliminated. In some cases, they offered a better value for single lines than these new pre-configured shareable data plans that have taken their place. For instance, with the old plans you could get a plan with 15GB of data for $20 or $25 for 25GB before taxes and fees. Taxes and fees added anywhere between $2-5 to the total cost of the plan. However, the new Unlimited Starter plan at $25/month for single lines may be a better value anyway with data speeds reduced to 1Mbps after 20GB gets consumed. Under the old pre-configured plan, data was shut off after the high-speed allotment was reached. So which plan was a better value to you is probably more of an individual personal preference.
The new shared data plans also allow hotspot usage. You can also use the plans with your tablets, modems, or any other devices that you may have.
Both the new Unlimited plans and the shareable plans include c-band and 5G mmWave access and premium data on the Verizon network. It is unclear if premium data is available with the T-Mobile network.
Interested in the new US Mobile plans? You can get them here, or take their network for a free test drive.
---
---