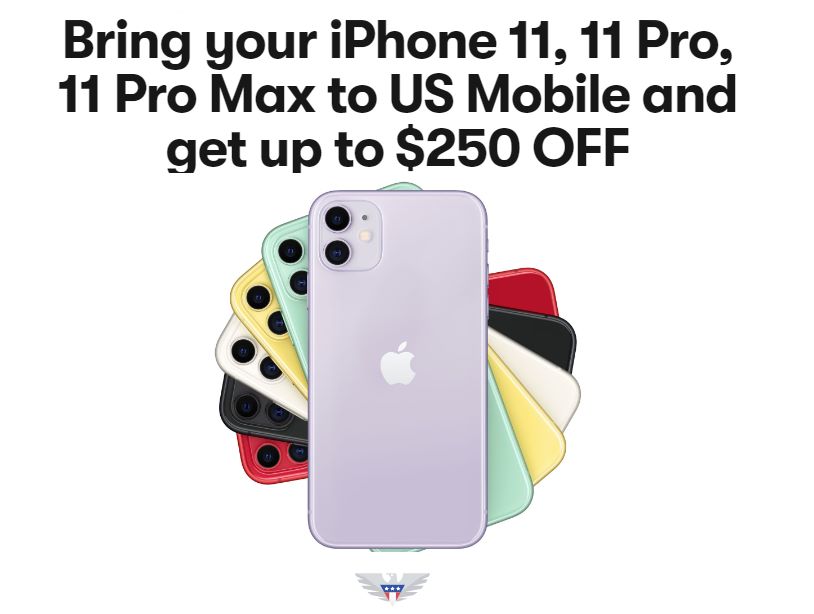 ---
US Mobile is one of the first MVNOs to offer a deal revolving around the launch of Apple's new iPhone 11 series of devices.  Customers who bring their own qualifying device to the network will receive up to $250 back in the form of monthly account credits.
US Mobile iPhone 11 $250 Back Promo Details
US Mobile operates on the Verizon and T-Mobile networks and customers can choose which network they'd like to use upon subscribing to the service.  This promotion is only available to those who subscribe to a Super LTE network US Mobile plan.  The Super LTE network is the name US Mobile gives to its Verizon based plans.
Be informed of the latest deals, plans and promotions from T-Mobile and every one of its MVNO's when you subscribe to the T-Mobile weekly newsletter. No spam and you can unsubscribe at any time!
Customers who purchase an iPhone 11, 11 Pro or 11 Pro Max from the retailer of their choosing can bring it over to US Mobile and activate it on any US Mobile Super LTE network plan (shown below) in exchange for up to a  $20.83/month account credit for up to 12 months.  That works out to a maximum of $250 in account credits.  US Mobile Super LTE network plans start at $18/month plus tax and fees, so subscribers could theoretically get a free wireless plan for one year through the offer.
US Mobile Super LTE Network Plan Options
Talk
200 min.

$8

1,000 min.

$10

unlimited

$20

Data
1GB

$10

5GB

$15

10GB

$25

unlimited

$35

Data Speed
1Mbps

$0

5Mbps

$5

Unrestricted

$15
Customers on a US Mobile Super LTE network plan choose the amount of talk and data and the data speed they'd like for their plan from the options shown.  Taxes and fees are extra.  All plans include hard capped data except for the unlimited data plan where the first 15GB of data is available at 4G LTE data speeds before throttling to 2G data speeds.  Top-ups with rollover are available for the plan options that don't include unlimited minutes or data.  Mobile hotspot is available with all plans for an additional $10/month.
The offer will be available until September 30, 2019 or while supplies last.  It is only available to new customers or current customers who activate a new line of service.
How To Claim The Offer
To claim the offer you will need to order a US Mobile Starter SIM kit using the promo code APPLE250 at checkout.  When you do, you will receive an email containing another promo code.  When you activate your line of service, choose the Super LTE network plan you'd like to use and apply the second promo code during the activation.  And that's it.  You'll start receiving monthly account credits of up to $20.83/month.  To receive the full $20.83/month credit you'll need to activate on a plan that costs more than $20.83/month.  If you are on a plan that costs less than that denomination, you will only receive enough account credits to account for the cost of the plan.  However, the account credits can only be used to pay for the base plan.  So whether you have a plan that costs more or less than $20.83/month, you will still be responsible for paying for any taxes and fees associated with your plan and you will still have to pay for any top-ups that you'd like.  Customers who forget to pay their bill one month and get their service shut off will forfeit their remaining account credits.  US Mobile recommends customers enable auto-pay billing on their accounts to avoid forfeiting the account credits.
There will likely be a lot of deals available surrounding Apple's new iPhone 11 models.  What will likely separate this offer from many of the others that will become available is that there are no contracts or locked devices involved with this one.
---
---