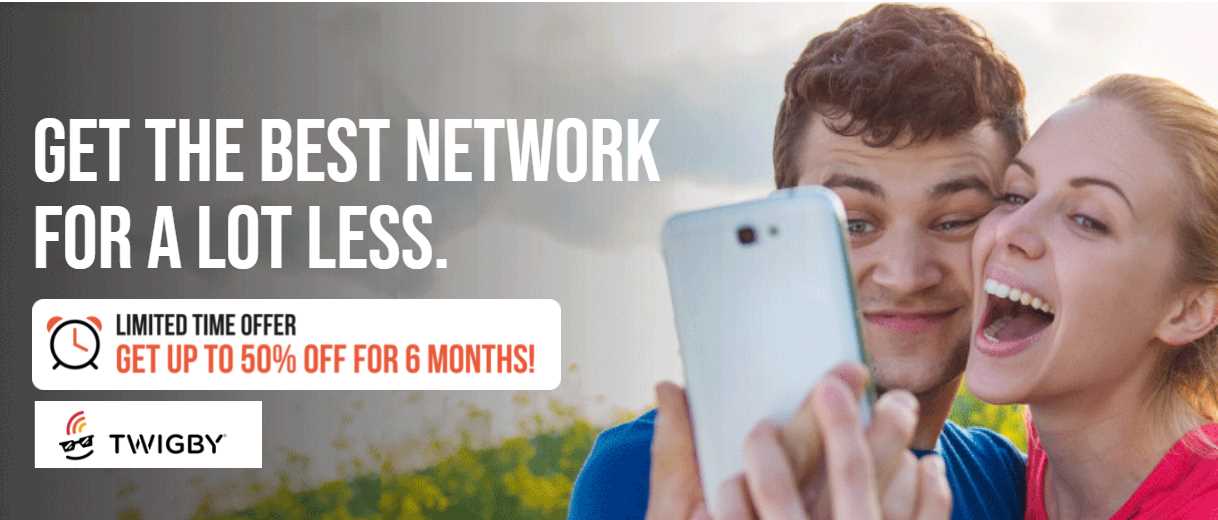 ---
Twigby has launched a new promotion. Customers that port their numbers into Twigby will receive 50% off their wireless service for a period of 6-months. Customers who activate new lines of service with Twigby but do not port-in will still receive 25% off for 6-months. I believe Twigby has been running the 25% off promo for a few years, so this is the first update to that offer in quite a while.
Promo Details And Fine Print
Fortunately, this offer really doesn't have any dig deep to find, hard to read fine print. It's pretty straightforward. It works just like this. When a customer activates with Twigby, they'll instantly receive 25% off and get the discount each month for 6-months. If the subscriber successfully ports their number to Twigby they'll receive an additional 25% off for 6-months. So that totals 50% off for 6-months.
Twigby asks its subscribers to allow up to 5 business days to process the additional 25% off deal for switchers. If for some reason the port does not successfully complete within 30 days after activation, the additional discount will not be applied. A maximum of 10 credits can be redeemed per account/person/household.
Twigby Phone Plans That Qualify For The Offer
All Twigby phone plans qualify for the deal. Twigby offers preconfigured "smartphone value plans" as well as the option for customers to create their own plans. The smartphone value plans will offer the most value to people. So let's take a good look at those. Twigby's smartphone value plans with the discounted pricing highlighted are as follows:
$10/mo (reg $20) - 3GB high-speed data
$12.50/mo (reg $25) - 5GB high-speed data
$17.50/mo (reg $35) - 10GB high-speed data
All Twigby phone plans just described include unlimited talk, text, and data with the specified amount of data available at high speeds before throttling to 2G data speeds. The plans also include international calling and texting, and hotspot. Voicemail is available in both English and Spanish. Twigby operates as a Verizon MVNO.
Twigby's updated promotion offers great value to consumers. But you don't have to take my word for it. You can compare Twigby to other Verizon MVNOs, cheap phone plans, and phone plans on sale to see how their offer stacks up to the competition. Of course, the big holiday shopping season is just around the corner, so we may soon see a lot more great offers from wireless providers.
---
---