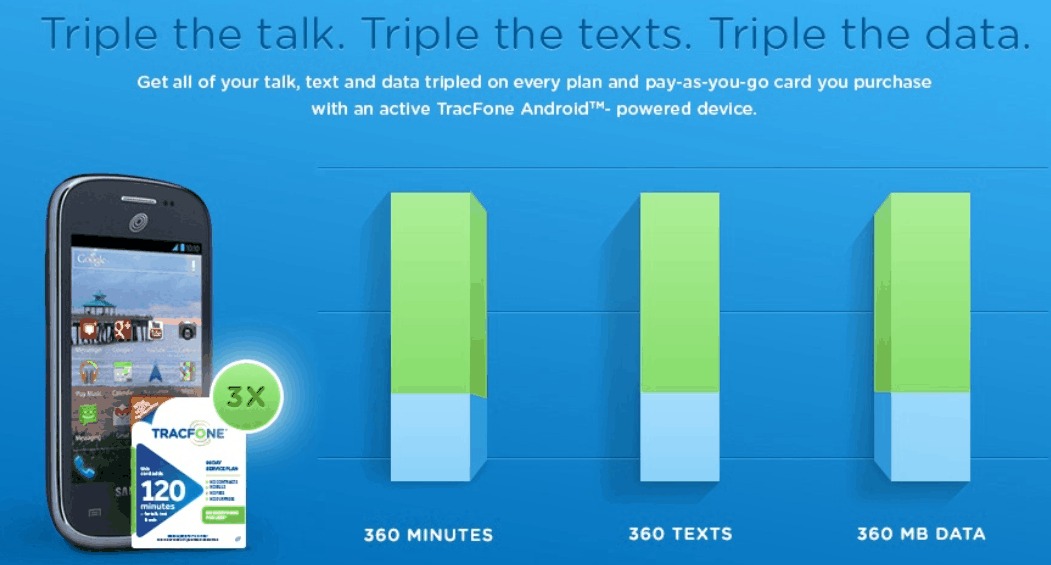 ---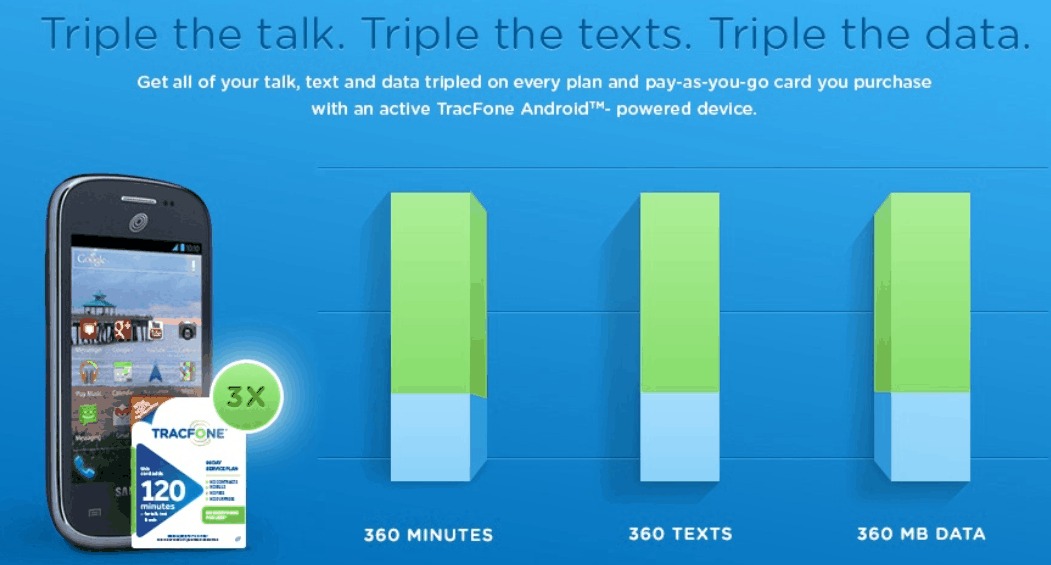 UPDATED: 7/27/2015 Tracfone Now Also Includes Service on ATT's Network Exactly as Described Below for Verizon Based Service

For those of you looking to switch over from Verizon, Tracfone may provide an excellent value for you.  Tracfone operates as a Verizon MVNO and if you're willing to dish out a good chunk of change up front Tracfone Wireless offers one of the best all around values on the market for low usage users seeking 4G LTE coverage on Verizon's network.  Although not spelled out clearly on its shop airtime page, all Tracfone Pay as you Go airtime cards when used with a smartphone include triple the amount of minutes listed on the card as well as the equivalent amount of text and 4G LTE data.  Let's take a look at exactly how this works.
Be informed of the latest deals, plans and promotions from Verizon and every one of its MVNO's when you subscribe to the Verizon weekly newsletter. No spam and you can unsubscribe at any time!
How Does Tracfone Work?
As an example, when you buy the $199.99 365 day airtime card which includes 1500 minutes that automatically triples to include 4500 minutes, with 4500 texts and 4500 MB of 4G LTE data added on.  If used evenly during the course of the year you'd average out to having 375 minutes of talk, 375 texts, and 375 MB of 4G LTE data to use per month at a monthly cost of $199.99/12 = $16.67 (+tax).  Extra airtime and data cards are also available.  A 2GB data add on card (does not triple) is available for $50 $30 that would increase your total upfront cost to $249.99 $229.99 and monthly data allotment to roughly 546 MB of LTE (4500 MB + 2048 MB)/12.  With the data add on card your averaged out monthly cost would increase to $20.83 $19.17 + tax ($249.99/12) ($229.99/12).  At the time of this writing you can't get this much LTE data on the Verizon (or ATT) network elsewhere for less!
UPDATED 8/3/2015: Tracfone is now offering a 4 GB data add on card for $50.  Purchasing that you could obtain for $20.83/month (which includes the 365 day airtime card) 716 MB of LTE data monthy.
A breakdown of Tracfone's base 365 day yearly plans is explained in the following table:
TracFone Yearly Plans Summarized
All plans include carryover as long as service remains active
Airtime Card
(Minutes)

 Talk
 Text

4G LTE Data
(MB)

 Cost
 Buy Airtime
400
1200
1200
1200
99.99
800
2400
2400
2400
119.99
1000
3000
3000
3000
159.99
1500
4500
4500
4500
199.99
Tracfone also offers what they call

monthly value plans

.  The monthly value plans also include triple talk, text and data.  As an example one could purchase a $29.99 30 day card that includes 200 minutes of talk and receive 600 minutes of talk, 600 text and 600 MB of data when used with a smartphone.  If you have your payments set to auto refill you would receive an additional 10% off the price.  Monthly value plans as well as pay as you go 

plans (30, 90, and 365 days) also include carryover, so any unused talk, text and data will get carried over to your next month of service.  A monthly value plan airtime card can also be used to supplement a pay go plan such as the 365 day plan previously described with additional talk, text and data.
TracFone Monthly Value Plans
Plans are for 30 days and all include carryover for as long as your account remains active
Airtime Card
(Minutes)

 Talk
 Text

4G LTEData
(MB)

Cost
 Buy Airtime
50
150
150
150
9.99
125
375
375
375
19.99
200
600
600
600
29.99
You could also save more money on the yearly plans by just focusing on obtaining more data if needed and by simply using Google Voice or FreedomPop to make free phone calls and send free text messages as opposed to buying more minutes.  Those calls and texts would then be routed over your wi-fi or cellular data connection.
There are many other combinations of minutes and data that you can purchase through Tracfone, too many to actually list here.
What I've instead done is just give a few examples of plans that would qualify for my cheapest plans table if they were true monthly plans rather than 365 day pay in advance/pay as you go plans.
Currently Tracfone is running a promotion where you can receive $15 off your 365 day plan through June 17th, 2015 by using promo code 99138.  A 10% discount is also offered to those who keep their accounts on auto-refill.
Tracfone supports bring your own phone (BYOP) and you can activate Verizon postpaid phones as long as they have been paid off and are free from contract.  They also offer a limited selection of phones that you can purchase.  As previously described, pay as you go and monthly value plans both come with triple talk, text and data.
Like with all Verizon MVNOs, LTE download speeds are limited to 5 Mbps, and upload 2 Mbps.  An LTE sim activation kit, and a Network Access Code (NAC) are needed to obtain 4G LTE service with Tracfone.  Also be aware that the double minutes for life cards listed on the Tracfone website do not apply to Tracfone smartphone users. That is, you cannot by a double minutes for life card and have your Tracfone service minutes, text, and data get increased 6 fold it will only stay triple minutes talk, text and data.
Get a CDMA LTE Activation Kit + 120 Minute Card for $30.98 at TracFone Wireless!
Tracfone also offers 90 day pay as you go plans as shown in the following table:
TracFone 90 Day Plans
Include carryover for as long as service remains active
Airtime Card
(Minutes)

 Talk
 Text

4G LTE Data
(MB)

 Cost
 Buy Airtime
30**
90
90
90
9.99
60
180
180
180
19.99
120
360
360
360
29.99
200
600
600
600
39.99
450
1350
1350
1350
79.99
**=30 day airtime card
Get the LG 305C for only $29.99 - Including Triple Minutes for Life FREE from TracFone Wireless!
---
---