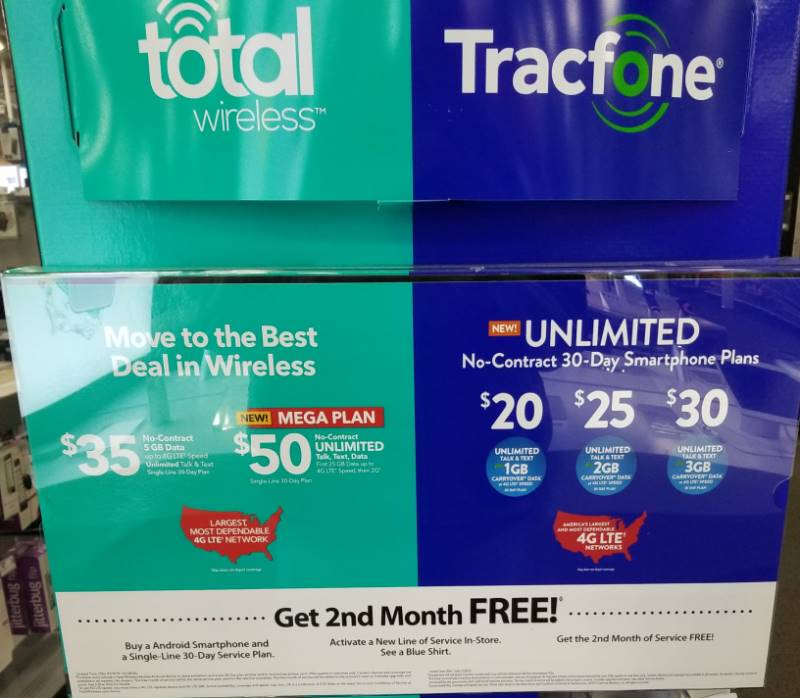 ---
Best Buy is currently running a low-key in-store promotion involving several Tracfone brands including Tracfone, Simple Mobile and Total Wireless.  Customers who purchase a new Android device and activate in-store get their second month of wireless service free of charge.
Offer Details And Fine Print
This is an in-store only offer.  It is not being advertised online as nothing can be seen on Best Buy's Tracfone, Total Wireless or Simple Mobile landing pages.  It may not even be promoted at all Best Buy locations.  Despite several trips to a particular local Best Buy over the summer and through September I had never seen the promotion advertised.  However, a trip to another local Best Buy yesterday turned up the offer which is dated as being available from 7/19/19 - 02/28/20.
This offer comes with quite a few restrictions and here they are.
The offer requires customers to purchase a new Android phone in-store and to activate it in-store.  It is for single line plans only.  The offer is available to new lines of activation only.  It is not available to current customers seeking a new phone and may not even be available to new customers who wish to port in a number.  The fine print explicitly states "excludes upgrades and ports."  Customers who can meet the eligibility requirements will receive their second month of wireless service free of charge.  The free month will be for the same service plan that the customer activated on.
Total Wireless operates exclusively on the Verizon network, Simple Mobile on T-Mobile, and Tracfone operates on AT&T, T-Mobile, and Verizon networks.
Phone Deals
Customers looking to take advantage of this offer can choose from a wide variety of high end to budget Android phones including those that are currently on sale.  Right now there are 5 phones available at a discount and they are as follows:
Simple Mobile LG Journey - $59.99, regular price $79.99
Simple Mobile TCL A1 - $19.99, regular price $24.99
Tracfone LG Premier Pro - $59.99, regular price $99.99
Tracfone Alcatel TCL LX - $29.99, regular price $39.99
Total Wireless LG Rebel 4 - $29.99, regular price $39.99
As an alternative to this Best Buy offer, Tracfone's official eBay store continues to offer phone plus airtime bundles with the purchase of select Simple Mobile, Total Wireless and Tracfone phones.  Some of the offers include a Total Wireless LG Rebel 4 with a $35 airtime plan for $39.99, Tracfone Alcatel TCL LX with a $40 airtime plan for $39.99, and a Simple Mobile Samsung Galaxy J7 Sky with a $50 airtime plan for $75.
---
---