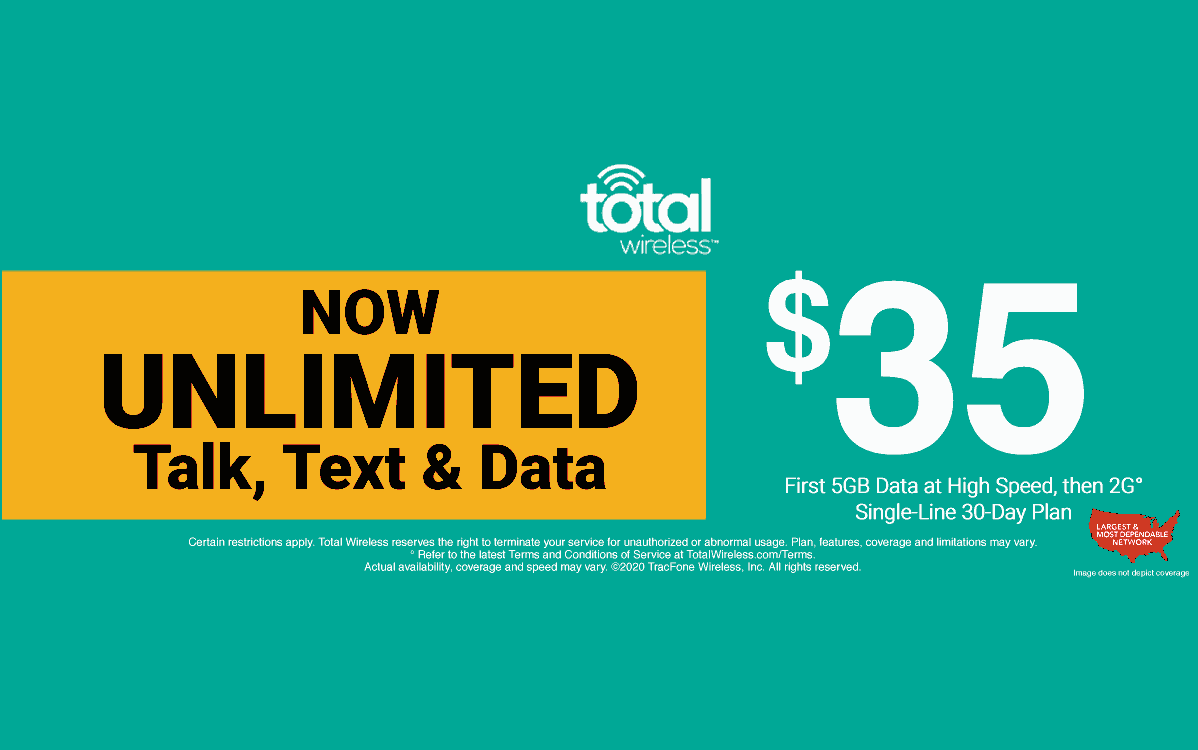 ---
Total Wireless has made a long-overdue change. The company's $35 phone plan finally comes with unlimited 2G data after subscribers consume the plans high-speed data allotment of 5GB. The plan also comes with unlimited talk and text.
Back in January, Total Wireless updated its plans by adding unlimited data with the first 1GB at high-speed to its $25 plan. That left the MVNO's $35 phone plan to be their only offering to not come with unlimited 2G data once the plans high-speed data allotment ran out. Savvy shoppers such as Gilbert Lopez were forced to work around the limitation by subscribing to Total Wireless's $25 plan and adding a $10 5GB data add-on card to it to give them unlimited data with the first 6GB each month at high-speed at the same $35/month price point.
Be informed of the latest deals, plans and promotions from Verizon and every one of its MVNO's when you subscribe to the Verizon weekly newsletter. No spam and you can unsubscribe at any time!
With the plan update, all Total Wireless phone plans now include unlimited talk, text, and data with the specified amount of data at high-speeds before throttle to 2G data speeds. You can review all the plans below.
$25/month ($23.70 with autopay (AP))- 1GB high-speed data
$35/month ($33.20 with AP) - 5GB high-speed data (6GB if purchased at Walmart)
$50/month ($47.50 with AP) - 25GB high-speed data
$90 3-month plan - 5GB high-speed data every 30 days
$60/month ($57 with AP) - 30GB shareable high-speed data for up to 2 lines
$85/month ($80.70 with AP) - 60GB shareable data for up to 3 lines
$100/month ($95 with AP) - 100GB shareable data for up to 4 lines
Plans priced $35 and up all include mobile hotspot. On the $35 and $90 plans subscribers can use their entire data allotment for hotspot if they so wish. On all other plans, a maximum of 10GB of data per line can be used for mobile hotspot.
Current Total Wireless Deals
Total Wireless continues to run a few phone deals. Device financing options are available with each deal and the deals are outlined below.
iPhone 6S 32GB - $99.99, reg $149.99
iPhone 6S Plus 32GB - $149.99, reg $199.99
Samsung Galaxy A10e - $99.99, reg $139.99
Samsung Galaxy A20 - $179.99, reg $229.99
LG Journey - $49.99, reg $79.99
LG Solo LTE - $69.99, reg $129.99
LG Stylo 5 - $129.99, reg $199.99
Keep in mind if you purchase one of the devices it will be locked to the Total Wireless network until you use it on the network for a period of 12 months. After that time you can have it unlocked for use on another network.
The iPhone SE generation 2 in red will launch at Total Wireless on April 24th starting at $22.29/month with device financing or $399.99 outright.
---
---