Total Wireless Has Finally Added Unlimited 2G Data, But Only On The $50 25GB Plan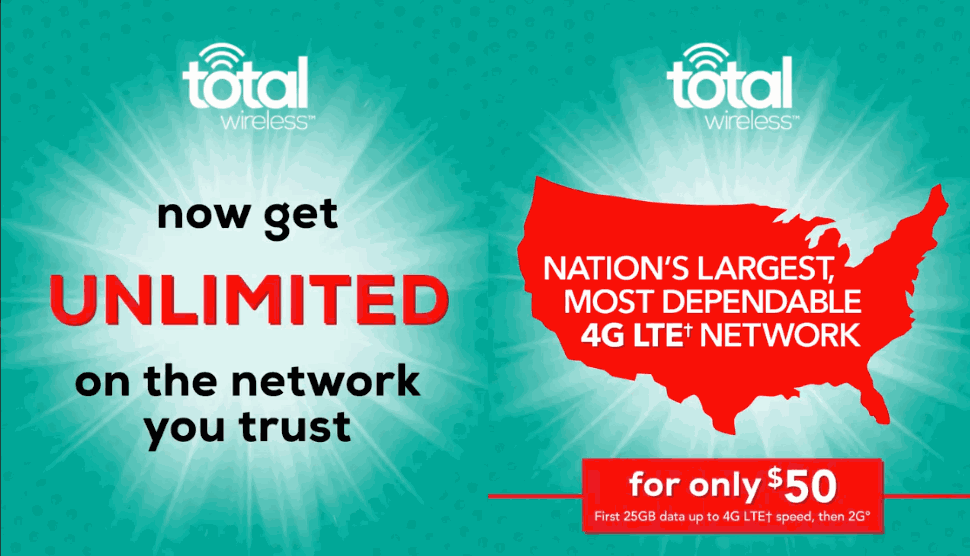 A long-awaited feature has finally arrived at Total Wireless.  The Tracfone owned brand has finally removed its hard data cap, but unfortunately, it is only for one plan.  Customers who subscribe to Total Wireless's $50 plan will now get unlimited talk, text, and data with the first 25GB at 4G LTE data speeds before throttling to 2G data speeds.  The plan is $47.50/month with auto-pay billing enabled.
Previously, customers had their data cut off once they reached 25GB of data consumption in a month.  Those that needed more data had no option but to purchase a Total Wireless data add-on card priced at $10 for 5GB of LTE data with data carryover. The data add-on card will still likely be a popular option for those that run out of high-speed data during a billing cycle, but now customers will be able to at least perform basic tasks on their phone such as check email and send and receive MMS if they run out of data.
Unfortunately, another desired feature, using your device as a hotspot is still not officially allowed.
Total Wireless's other phone plans remain unchanged.  However, we'll have to keep an eye on them to see if they get upgraded at a later date.
Be informed of the latest deals, plans and promotions from Verizon and every one of its MVNO's when you subscribe to the Verizon weekly newsletter. No spam and you can unsubscribe at any time!
In addition to the plan change, Total Wireless continues to run a couple of promotions.
New subscribers to any Total Wireless phone plan will receive a free 3 month trial of Pandora Premium.  This one is scheduled to be available until 6/30/19.
Total Wireless Bonus Data Offer Continues
The other offer that continues to run is a bonus data offer.  New subscribers that port in from a brand that is not related to Tracfone will receive 50% more data for life on any Total Wireless phone plan except the $50 plan.  There has however been one interesting twist reported on the offering.
For a long time, those who subscribed to Total Wireless's $35 phone plan through Walmart have always gotten bonus data.  Customers were given 6GB of LTE data to use each month for life instead of the plan's regular allotment of 5GB.  Now Walmart is starting to advertise in store that its customers will get the 50% bonus data offer on top of the 1GB bonus data their plans already come with.  So that means Walmart shoppers will get 9GB of data to use for life on that plan, instead of the 7.5GB that is being given to subscribers who signup for the plan elsewhere.  According to a SlickDeals post, for as long as Total Wireless has been offering the 50% bonus data promo, shoppers at Walmart have been able to get 9GB of data with their plan.  What's changed is that Walmart had not been actively promoting that offer until now.  Mil Hustles captured a photo at his local Walmart highlighting the promo.  I've recently visited a few local Walmarts and have yet to see any new signage regarding the promo.  I've also noted that historically, my local Walmarts have often been slow to upgrade signage for new plans and promos.
Fortunately, if you are interested in the bonus data offer, you do not have to go to your local Walmart to get it.  It can also be purchased through Walmart online. The offer is scheduled to be available until 7/2/2019.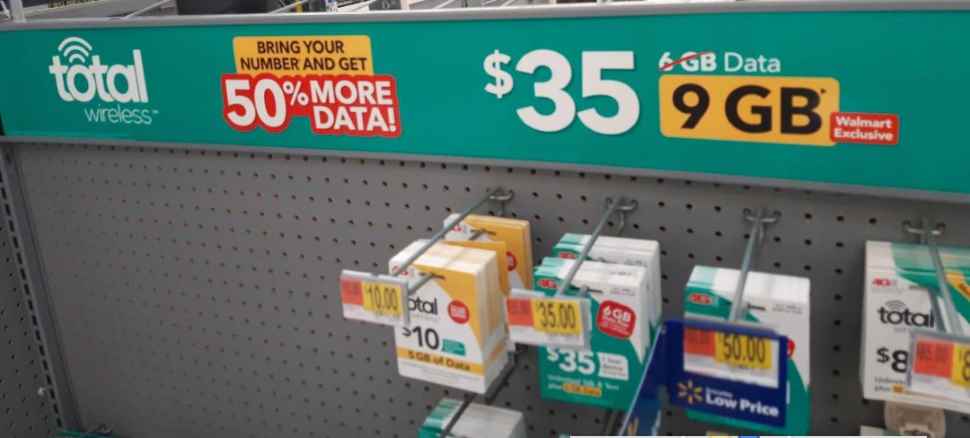 ---
---