Teltik Once Again Offering 3 Months Of Unlimited LTE Data For $30/Month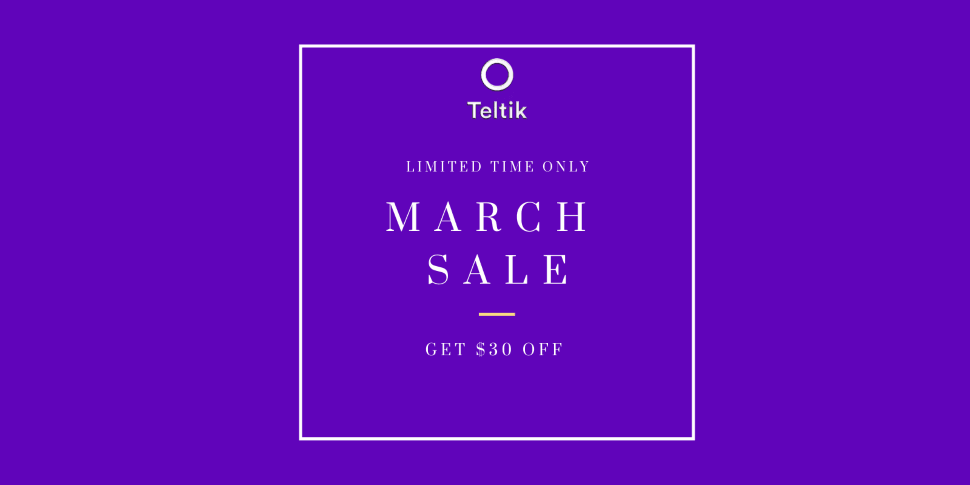 Several times now Teltik has offered a promo featuring unlimited talk, text, and LTE data for $30/month for a customer's first 3 months of service.  The last time the offer was available was in February 2019.  Teltik has now brought the offer back, and it is scheduled to be available until the end of March 2019. (Update 4/2/2019 - this offer has been extended until 4/30/19.  Update, offer extended until 5/31/2019.)
Offer Fine Print
Teltik is a T-Mobile business plan reseller.  Consequently, to subscribe to one of their wireless plans you will need to either be self-employed, a sole proprietor, or run a business. Teltik will verify that you meet one of those requirements by requesting your Tax ID or EIN when you attempt to signup for service.
A promotional code is needed to take advantage of this offer.  In order to get the promotional code, Teltik asks that you subscribe to their email list.  When I subscribed to it, I was given the code UNLITALK. This is the same code that Teltik used for their offer last month, so it does not appear that they are generating unique offer codes for each person that subscribes to their email list.
After the 3bmonth promotional rate expires, customers will pay $40/month for the plan.  Taxes and fees are not included in the price, they cost extra. In my area, they amount to about $3.50/month.
Besides offering unlimited LTE data, the plan also comes with unlimited talk and text.  WiFi calling and texting are also included.  Video streaming is limited to a maximum resolution of 480p.
There are a few optional add-ons that can be added to the plan.  International calling to over 70 countries is available for $15/month.  Caller ID is available for $5.00/month.
Since Teltik is a reseller of T-Mobile business plans, all Teltik phone plans come with the same perks that you would get if you subscribed directly to T-Mobile.  Such perks include T-Mobile Tuesday's and T-Mobile Digits.
Unfortunately, if you are already a T-Mobile subscriber you cannot port directly into Teltik.  So if you are interested in this offer and are a T-Mobile subscriber, you will first have to port your number elsewhere before you can port into Teltik.
---
---