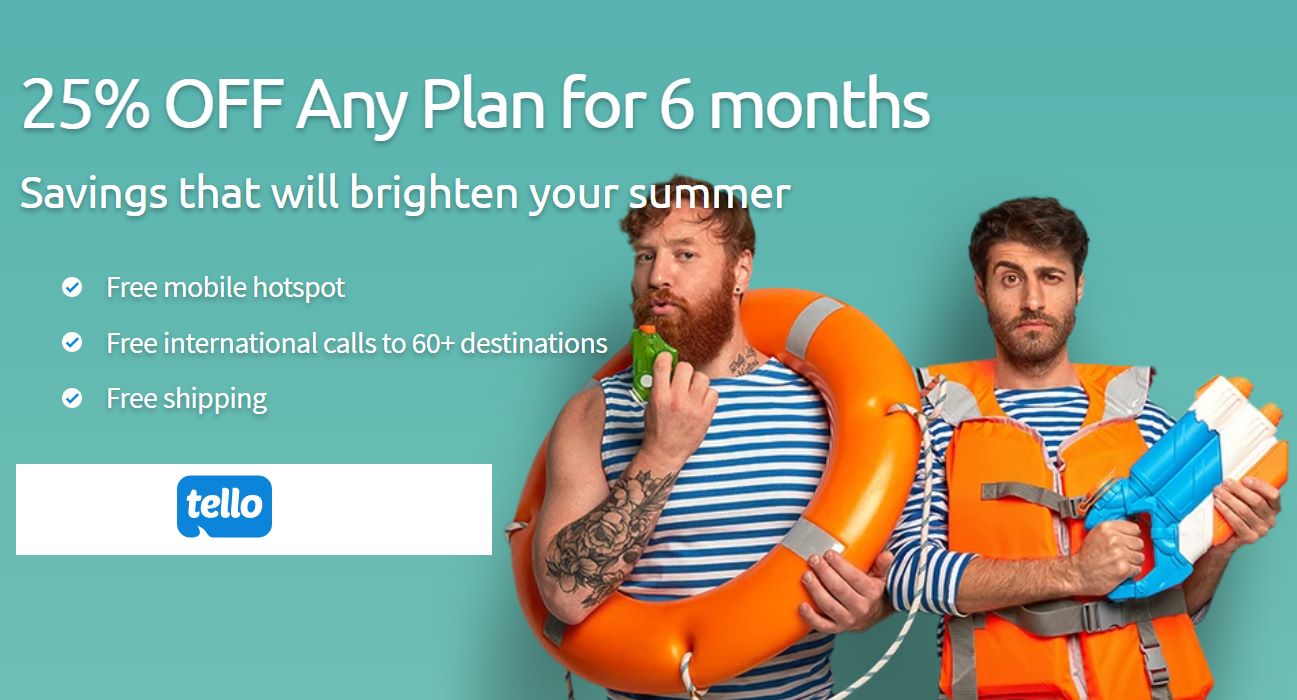 ---
Tello Mobile has just launched what it calls a summer sale. New customers can get 25% off any Tello plan for their first 6-months of wireless service. That means qualifying customers can get a plan with unlimited talk, text, and data with the first 4GB of data available each month at high-speeds plus unlimited international calling to over 60 countries for just $14.30/month. Taxes are extra. Mobile hotspot usage is included. Current customers can add a new line of service to take advantage of the promo. The deal is scheduled to be available at least until June 30th, 2021. Update: The offer has been extended until July 31, 2021. Update 2: The offer has been extended until August 31, 2021.
While you can custom build your own Tello plan, some of the more popular plan options include the following:
Discounted promotional pricing is highlighted
$7.50/month (reg $10) - 1GB high-speed data
$10.50/month (reg $14) - 2GB high-speed data
$14.30/month (reg $19) - 4GB high-speed data
$18.00/month (reg $24) - 6GB high-speed data
$21.80/month (reg $29) - 8GB high-speed data
$29.30/month (reg $39) - 25GB high-speed data
The same features are available with all plans as described in the opening paragraph for the 4GB plan. Data speeds are throttled to 2G or 64Kbps - 128Kbps once the high-speed allotment gets used up. iPhone users may not yet have access to Tello's 5G network. Tello uses T-Mobile's towers to provide coverage to its subscribers.
For those interested in the 2GB plan option, Stack Social may provide a better deal for you. Customers who use the code WELOVEDAD at checkout on Stack Social can get the plan for just $6.53/month when they prepay for 6-months of service in advance. That works out to a total upfront payment of $39.20. This deal is also only available to new customers. After the 6-months of service is up, customers will pay for the plan on a monthly basis at it's regular $14/month rate.
Tello Is Running Another Video Ad
Tello lately has been investing in video ads that run through digital platforms. A new ad that is on display in Tello's YouTube channel has amassed over 400,000 views since being released a little over two weeks ago. Tello's YouTube channel has just 3.83k subscribers. The new ad tells viewers they are welcome to "enjoy great coverage with fast data speeds and affordable plans from $5 to $39/month." The 2GB plan is highlighted. You can watch it below.
BestMVNO previously reported several weeks ago on another digital ad from Tello that amassed over 150,000 views.
---
---